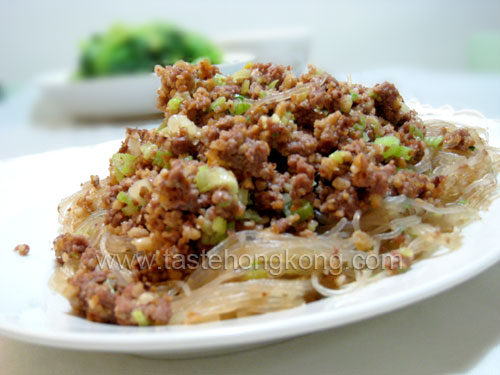 This dish is also nicknamed as 'Ants on a Tree'. However, neither are we going to cook any insects nor ants, it is actually a dish originated from Sze Chuen (or Si Chuan in Mandarin) with an imaginative name associated with its appearance. Ants are ground pork; tree is bean threads. I have here several big classes of ants (clumps of fried meat) climbing up a tree.

Do they look like 'Ants on a Tree' to you?
Ingredients
50g bean threads
~75g ground pork
1 tsp finely chopped ginger
1 tsp finely chopped garlic
1 tsp cooking wine
1 tbsp finely chopped spring onion
1 tsp hot bean paste or chilli paste
Marinades for pork
a pinch of ground white pepper and corn starch
few drops of soy sauce and oil
Seasonings
4 tbsp water
1 tbsp oil
1 tsp sugar
1/4 tsp salt
1/2 tsp soy sauce
1/4 tsp ground peppercorns
Method
1) Marinade minced pork for about 15 minutes. Blanch bean threads in hot water for about 30 seconds, drain water and immediately rinse it in cold running water again for about 30 seconds. Loosen the bean threads and let them stand in a colandar for a while in order to drain all excess water.
2) Heat wok over low heat with 1 table spoon of oil, sauté ginger and garlic until fragrant. Add in ground pork and hot bean paste, stir fry until almost done. Toss in bean threads and turn to medium heat, pour in all seasonings and sizzle wine on wok; then quickly stir well. Covered, with low heat, simmer for about 1 minute or until the water dried up. Mix in spring onion, dish up and serve hot.
Tip
To avoid bean threads getting strangled together when serving, it is best to cut them into sections of no more than 15 cm.
To get immediate updates and new recipes from my blog, you may also SUBSCRIBE them via RSS feeds. See you there.