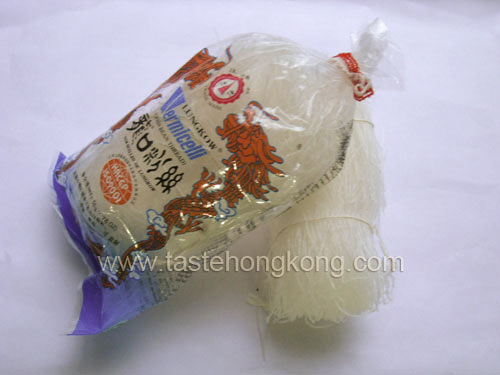 Cellophane noodles, Chinese vermicelli, silver noodles, and fun si 粉絲 (Cantonese) are also names for bean threads. Made from mung beans (green beans), same as the one used for sprouting, they are hairy but rather brittle strands also known as mung bean threads.

Bean threads are so popular in the Asia, including China, Korea, Japan, Philippines, Taiwan, Thailand, Vietnam and undoubtedly H.K., that we may easily find them in supermarkets, grocery stores, and etc. In Hong Kong, they are usually sold in bundles and packed in cellophane bags. It is not too easy to split a portion from the bundle as the threads are always nested together and fly in the air when cut. So try to place the threads inside a larger bag and scissor.
Like many dried items, bean threads are themselves tasteless and therefore they are seldom served alone. Once soaked, they become slippery, translucent and are ready to take up flavors from sauce or stock. Many recipes suggest to soak bean threads for at least 15 minutes, yet my preference is to scald them in hot water for just half a minute and immediately rinse with cold water and drain. This should help retain the chewiness of the threads. When used for deep frying, do not wet or soak the threads, just placed them in heated oil and fry as you would. Then the threads should puff up in seconds. Deep fried bean threads can be bedded for sauces.
To get immediate updates and new recipes from my blog, you may also SUBSCRIBE them via RSS feeds. See you there.