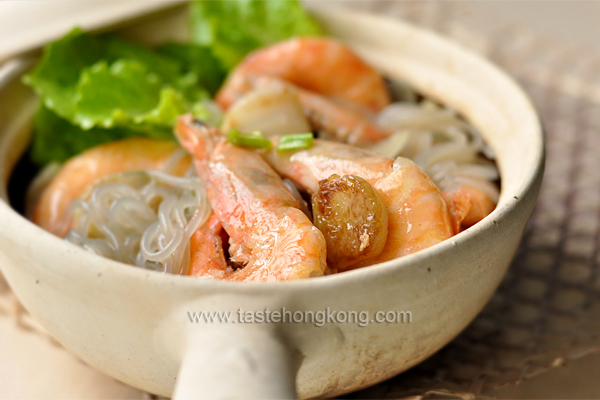 I have cooked this dish with a food which is always used to symbolize happiness. Yes, it is shrimp 蝦, a word we pronounce as 'ha' in our language.

The Chinese New Year is approaching in a few days, on January 23. Taking an advantage of this cooked Shrimp Casserole, may I wish you a prosperous Year of Dragon and always 'ha ha siu 哈哈笑' – smiling happily.
In the traditional Chinese recipe of 粉絲蝦煲, bean threads (aka vermicelli or glass noodles) and shrimps are time-honored pairing. Here I have introduced dangmyeon, in place of bean threads, to the partnership. The replacement doesn't disappoint me, it just 'sucks' much flavors as the old partner did.
Yet, be it the Chinese or Korean noodles, they both will turn too soft if sitting too long in a hot broth. Avoiding such does not have to be complex; simply no over-cooking will do.
Before cooking shrimps with noodles in a clay pot, I fried them in a wok because that would help brown them evenly. If your pot or casserole could do the same, just cook all ingredients from step one without the need of transferring.
I believe most, if not all, casserole dishes are best to be served hot. This one is no exception, and repeat, do eat the noodles before they turn too soft and lose their chewiness.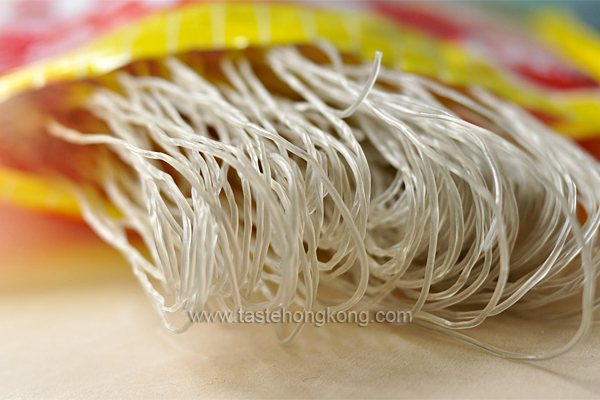 Ingredients
6 frozen shrimps, ~150g, thaw thoroughly
80g Korean sweet potato noodles (dangmyeon)
4-5 shallots, skinned and halved
2 sprigs coriander, chopped
a few pieces lettuce, optional
1 tsp white wine
1-2 tbsp cooking oil
~ 1 tbsp corn starch paste (corn starch : water = 1 : 2 tsp)
Broth
3/4 – 1 cup stock (I use dashi)
1 tsp oyster sauce
1/4 tsp salt, or to taste
1/2 tsp fish sauce
1/2 tsp soy sauce
Marinades for shrimps
1/4 tsp salt
pinch of ground white pepper
Method
Soak sweet potato noodles in cold water for about half an hour, or until soft. Drain, scissor them into sections if too long.
Rinse thawed shrimps, trim off feet and sharp end of the shrimp heads by using a scissor.
To devein a shrimp, scissor (or use a knife to cut) its shell along the back from the head end to the tail end. Then, use the tip of your knife (or a toothpick) to take out the black vein that runs along the center of the back. Rinse the deveined shrimps under cold running water to remove further dirts. Pat dry.
Marinade shrimps for about half an hour (better to keep them in fridge).
Heat wok (or skillet) over medium heat with oil, sauté shallots until brown and fragrant.
Gently lay shrimps flat in wok. As the down sides turn pink, about a minute, flip and fry the other side the same way.
Cook till shrimps are just opaque, about 1 to 2 minutes on each side when you shall also smell their aromas float, sprinkle wine (I used Tianjin Meiguilu Chiew 玫瑰露酒) along sides of wok near the shrimps.
Dish up shrimps when done, leave shallots and any excess oil in wok (you may lower heat to avoid rushing or burning). Add in coriander, stir well broth and pour in. Bring it to a boil.
Drop noodles into the broth. While they simmer again, transfer to a casserole (mine is a clay pot), add in shrimps. Give them a brief boil, about half to one minute, then thicken with well-mixed corn starch paste. Stir well. Add lettuce toward the end if using.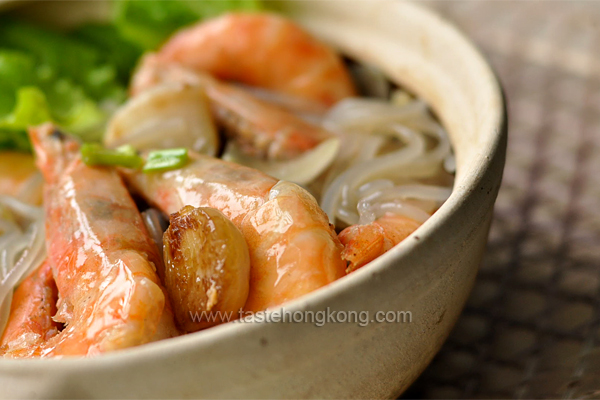 Serve hot and enjoy!
Note:
You may cook the same way with bean threads if not using sweet potato noodles.
To get immediate updates and new recipes from my blog, you may also SUBSCRIBE them via RSS feeds. See you there.