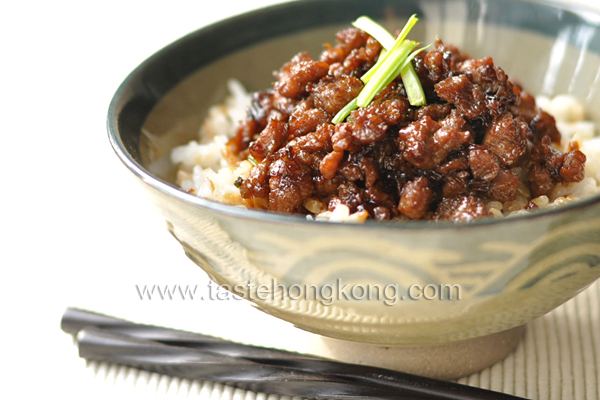 I first encountered this Pork Sauce Rice 肉臊飯 as a snack. It was in a Taiwan night market where I guess there were close to a hundred hawker food stalls. Although it had been ages, I could still recall that my portion of rice was served in a saucer-like bowl with a thin layer of meat sauce poured over it.
That it was a snack, how could I doubt?!

But the taste was amazingly impressive and uniquely Taiwanese. Now I am also in love with my version which I serve in a larger amount as a simple one-dish meal.
I cook this with rice barn oil but if you want yours to come closer to the Taiwanese style, just replace the oil with lard or use diced pork belly than ground pork. Besides, you may also want to serve this with a few pieces of fried tofu or hardboiled eggs as some Taiwanese eateries do.
For a quick meal with vegetable, you may even try multiplying the sauce here and use it for braising a simple dish like this.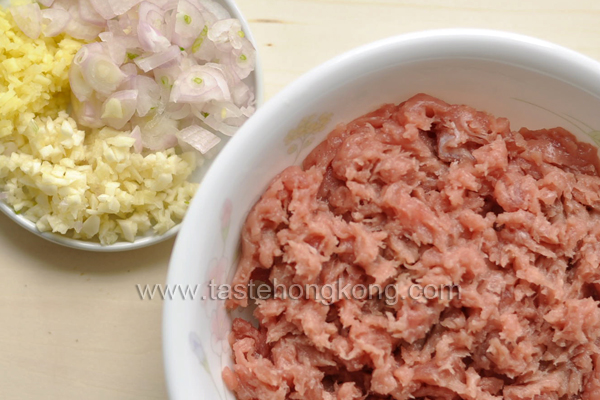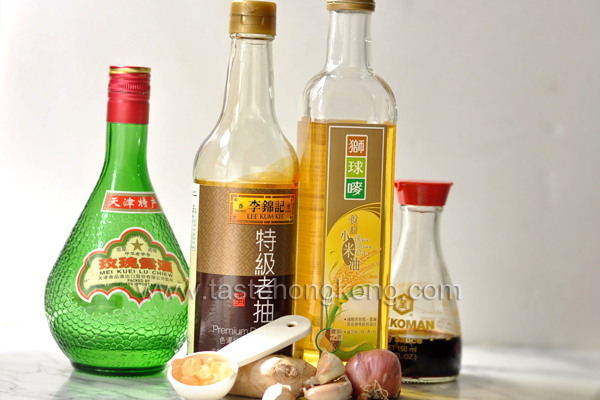 Ingredients
200g ground pork
2-3 cloves garlic, finely chopped
2-3 cloves shallot, finely sliced
1 tsp finely chopped ginger
1 tbsp cooking oil (I used rice barn oil)
1 sprig spring onion, finely sliced
2 bowls cooked rice
Sauce
1 tsp dark soy sauce
1 tsp light soy sauce
1 tsp rice wine
1 tbsp rock sugar
1 cup water
Marinades for pork
1/4 tsp salt
1/8 tsp ground white pepper
1/4 tsp corn flour
1 tsp oil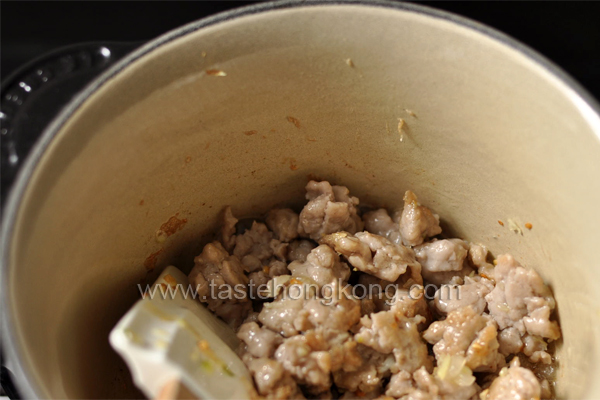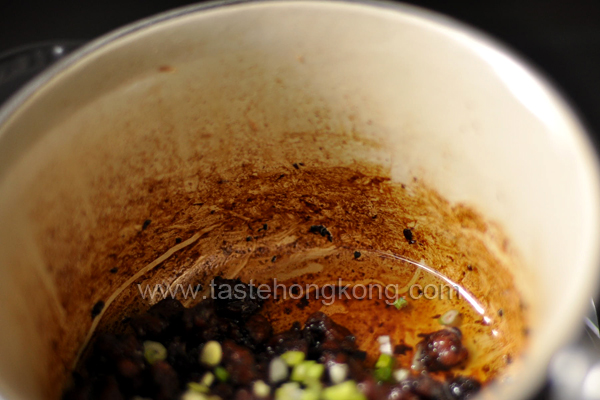 Method
Marinade pork. Add salt and ground white pepper first before coating it with corn flour and oil; leave for 15 to 30 minutes.
Heat 1 table spoon of oil in a pan over low to medium flame. Sauté garlic, ginger, shallot until fragrant. Add in marinaded ground pork and stir fry.
When the meat turns lightly brown, mix in ingredients for sauce. Even out the pork, cover and simmer for 8 to 10 minutes. You may uncover halfway to flip and turn the meat and to make sure there is enough sauce.
(Update 2013 Sept 5: you may want to read both Sandra and Tim's feedback below to make variations for this step)
As sauce is reduced to 1 to 2 table spoons, sprinkle in sliced spring onion and mix well. Check taste, dish up the meat sauce including any residual oil (which carries lots of flavors) in the pan and serve hot with rice.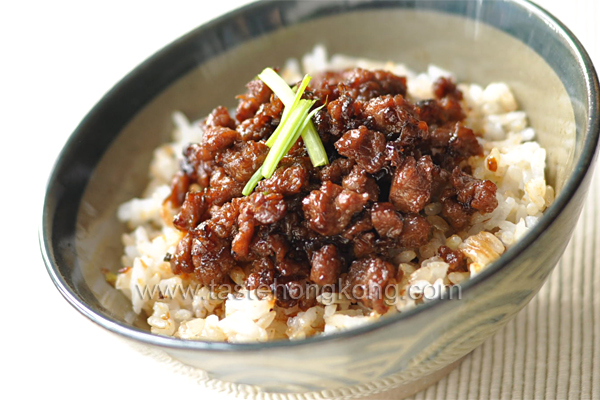 For variations : Consider adding some reconstituted dried mushrooms and/or chilies to cook with the pork.
Enjoy!
To get immediate updates and new recipes from my blog, you may also SUBSCRIBE them via RSS feeds. See you there.