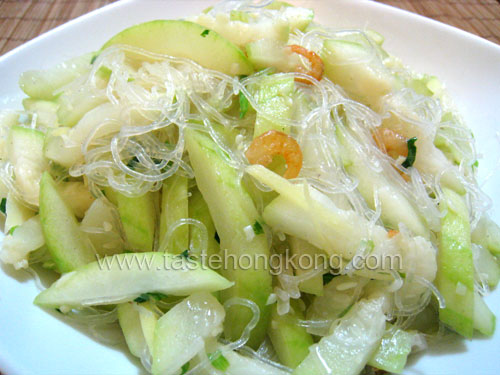 Probably this is a dish every mother in Hong Kong will cook for her family. Dried shrimps and vermicelli are simple, inexpensive ingredients, and can be conveniently stocked up in kitchens. Yet, maybe this is too well-known and basic that we seldom find it included in recipe books.
Ingredients

2 fresh fuzzy melon (~500g)
2 tbsp dried shrimp
1 pack bean threads (~50g)
1 tbsp each of finely shredded shallot and ginger
1 1/2 tsp salt
1/2 tsp ground white pepper
1/2 tsp sugar
1 tsp cooking wine
Method
1) Soak dried shrimps for 10-15 minutes and drain all water. Soak vermicelli in hot water for ~1 minutes and tranfer it into cold water for a while (so doing will soften the bean threads yet retaining its chewiness); scissor the bean threads into shorter sections if it is too long. Drain water and set aside.
2) Peel the fuzzy melon. Cut them horizontally into slices of ~1/3 cm thick, then cut the slices into ~1/3 cm strips.
3) Heat 1table spoon of oil in wok or deep skillet. Saute ginger, shallot and dried shrimps until fragrant.
4) Toss in melon, add ground white pepper, sprinkle in wine and mix well. Pour in ~1/2 cup of water , cover wok and let the melon simmer over low-medium heat for ~2 minutes or until the melon turn transparent and tender.
5) Put in vermicelli (optional: add some water in case the sauce has dried up), add salt, sugar and stir fried for another 1-2 minutes.
Tip
We seldom use a peeler to peel fuzzy melons because it will remove most of its tasty green skin. Instead, a small knive is used to rub their skin lengthwise such that only the outer hairy surface is remove. See a picture on peeled fuzzy melons.
To get immediate updates and new recipes from my blog, you may also SUBSCRIBE them via RSS feeds. See you there.