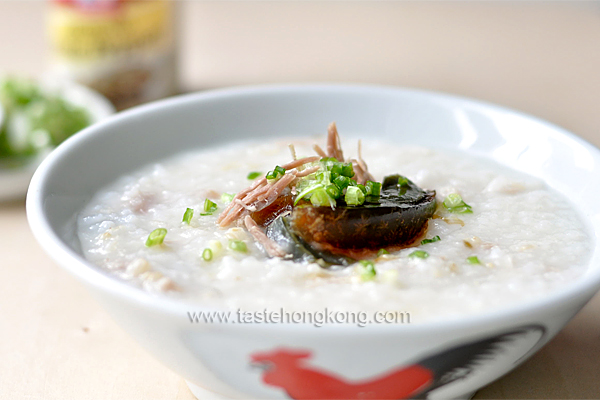 Making rice porridge is simple and easy – this is what I hope my reader who asked me for this recipe would think the same. I also hope this post would get you interested in making one and see the benefits of eating porridge aka congee, in case you are not familiar with it.
A simple congee is a thick soup, usually creamy, made from boiling rice in water or stock. And, combining other ingredients in it for variations is nothing but an easy task.
In congee shops here, if you are ordering this Congee with Salted Pork and Century Egg 皮蛋瘦肉粥, you might hear the waiter or waitress send your order to the open kitchen by shouting 'Ha For 下火', literally lowering fire. Nick-named such, because this savory rice soup is said to be able to tame body inflammation caused by eaten too many heaty (e.g. deep-fried, grilled) foods.
Congee is usually served as a light meal here. Often than not, we eat it during breakfasts with Chinese cruller. Some restaurants even have it listed on their dim sum menu.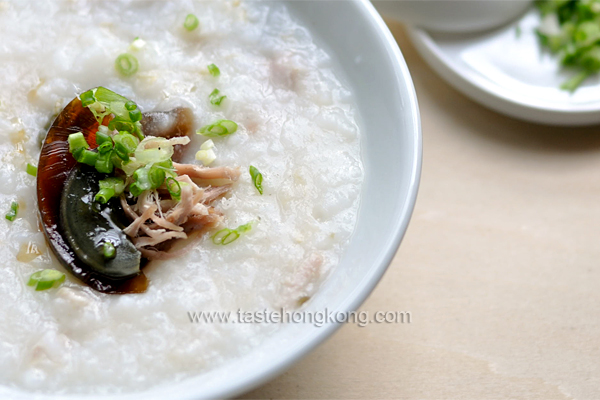 Choosing rice
In general, I like using white short grain rice, which requires minimal or no soaking but gives the porridge a creamy texture.
You may not necessarily cook porridge with one single type of rice, just try your own mix and enjoy. In this recipe, I have mixed brown rice into the white. Not that I like its chewiness and nutty flavor; I always feel good to have some whole grain in my diet. Basmati, a type of rice that hardly breaks down even after prolonged boil, however is one I would not recommend for making this.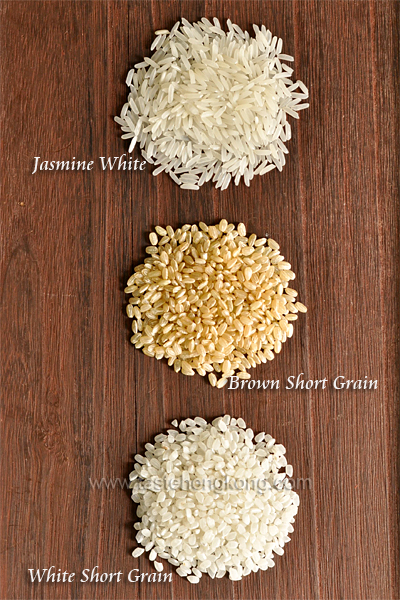 Marinating first
Jasmine (fragrant) rice is another type I frequently used. But, like using short grain, it too has to be marinated before cooking. The marinades include only salt and oil but they help make the porridge milky and smooth.
Timing for adding rice
The next crucial step is to bring the water or stock to a boil before putting in rice. This would help prevent the rice from depositing to the bottom and get burnt. Have you ever heard that putting a China spoon in the pot would help minimize sticking too (cause the spoon spins while the soup is being boiled)?.
Having your basic congee
As the rice is cooked to very soft and the soup turns milky, there you have the simplest form of rice porridge, what we call 'white congee' – pak jook 白粥 in our language. Apart from serving with Chinese cruller, we too like eating plain jook with pickled foods, Sichuan mustard is one.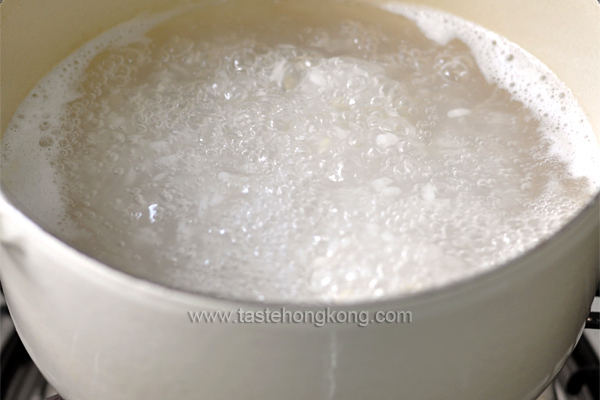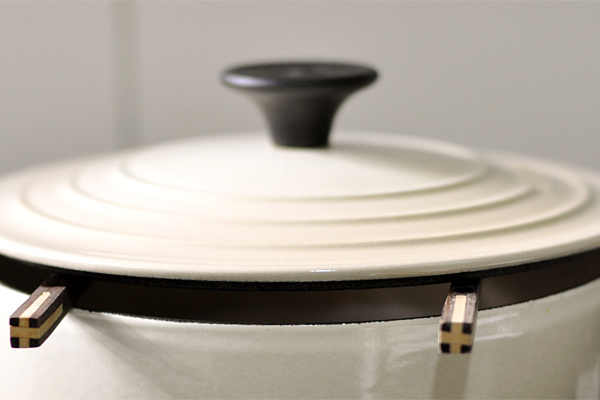 Adding meats
You may add your preferred meats, seafood, vegetable, mushrooms to the porridge, possibly with endless choices (tomato with scallop is one I like). When to add the selected item is dependent on how long it needs to be cooked and how much flavors you want it to infuse into the rice soup. Say, I would add pork slices earlier than beef and fish slices.
Using sliced pork vs hand-pulled pork
Hand-pulled pork in this congee, they old-fashion way, is what I like most. But I can't lie that I too would do this with sliced or ground pork if I could not do it in advance.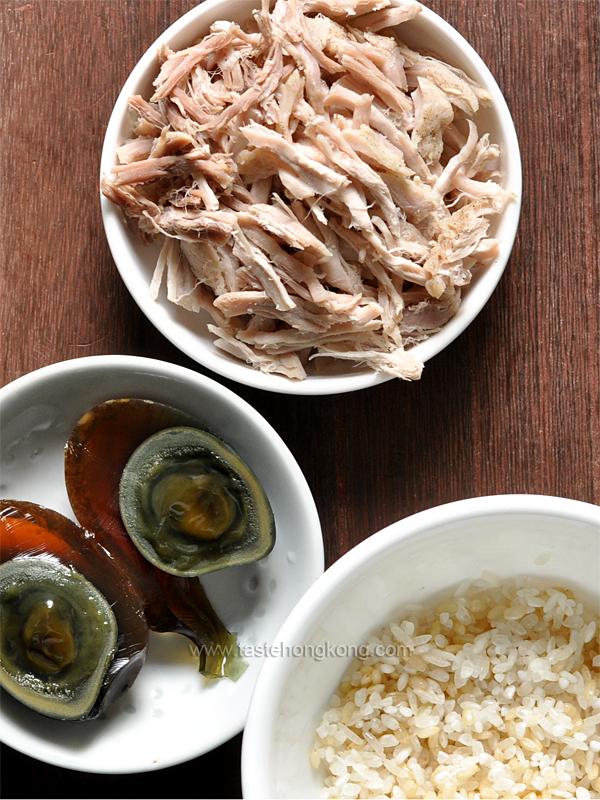 Ingredients
75g rice, white rice : brown rice = 4 : 3
(a measuring cup like this)
100 g lean pork with 1 tsp sea salt
1 century egg, shelled, sectioned or diced
5 cups water or stock
1 tbsp finely slice spring onion, optional
salt to taste
ground white pepper to taste, optional
Marinades for rice
1/4 tsp salt
1/4 tsp cooking oil
Homemade salted pork
Wash and pat dry lean pork (keep it in one single piece). Rub salt all over it. Then keep it in fridge for 1 to 2 days, that is, you have to prepare this in advance.
Briefly rinse pork to remove salt on its surface, pat dry. If you are using frozen meat, blanch it in hot water to get rid of any unpleasant smell.
Method
Steam salted pork for 15 to 20 minutes or until done. Let cool, pull it apart (I prefer using hands) into shreds.
Rinse rice and change the water a couple of times until the water becomes clear. Soak the rice, if required, according to package. Reserve water for boiling.
Marinade rice with salt and oil, and let it stands for about 15 to 30 minutes.
In a heavy pot, covered, bring water or stock to a boil. Always use a pot that the rice and water filled in it would not exceed two third of its capacity.
Uncover, add marinaded rice, give some stirs to prevent rice sticking to the bottom. Keep boiling for about 10 to 15 minutes, turn to low heat, and leave the lid ajar. Simmer for another 30 to 40 minutes when the rice turned mashy and the soup, milky (note that the cooking time may differ depending on the type of pot used; mine is a cast iron pot).
Add in diced century egg and shredded salted pork. Switch to moderate heat and simmer for a few minutes more, stirring regularly.
Season with salt and ground white pepper (though optional but is highly recommended). Garnish with spring onion and serve hot.
Enjoy!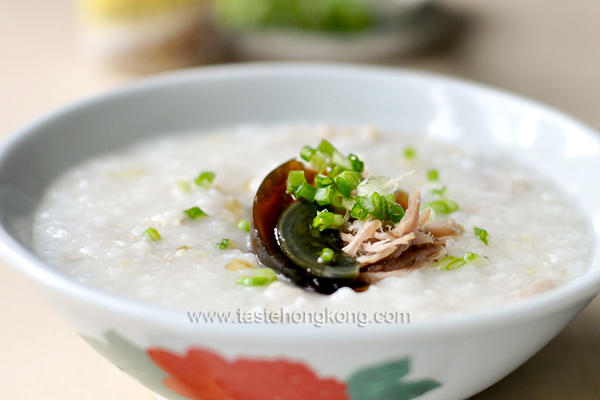 Note:
The serving here is for two, you may cook more and store the leftovers in fridge. And you may make another light meals by re-boiling the cold congee in minutes.
To get immediate updates and new recipes from my blog, you may also SUBSCRIBE them via RSS feeds. See you there.