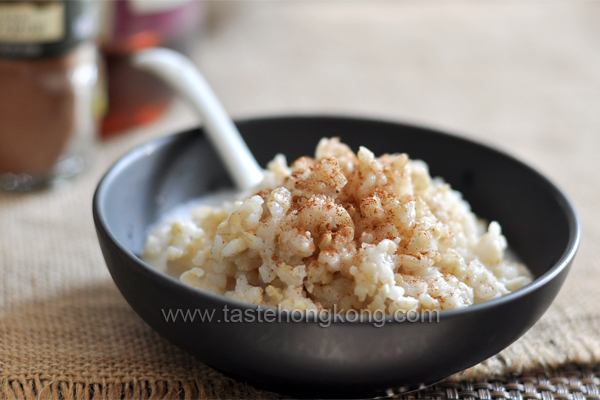 I have to tell you upfront that this is my cheated version of rice pudding. I didn't boil milk over my stove and simmer the rice there. Nor did I do any stirring while the rice was being cooked.

I went no-flame, but not with my rice cooker, which is good at cooking rice or porridge than pudding.
Yes, it was again my slow cooker, and I didn't have to work hard to do this. The cooking took more than two hours, but what I did was to soak rice and measure out the almond milk, and let them cook in the appliance.
Though without stirring, I particularly like that all the brown rice are evenly exploded when cooked, exposing their soft, white interiors and infused much of the flavors from the almond milk.
I like doing this cheat also because I could make the pudding beforehand, and rest until a few minutes before the breakfast to reheat or warm the cooked rice and put together everything.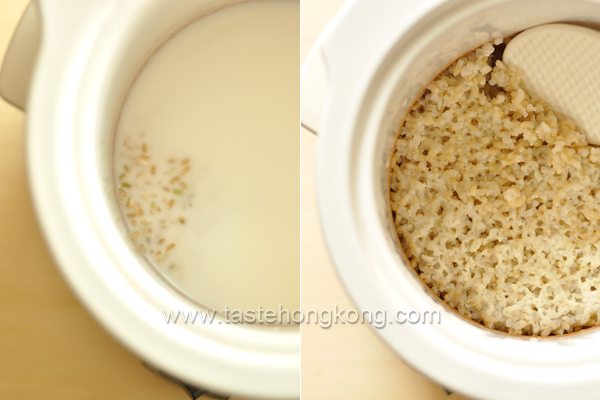 It is also easy-to-customize, you may change it up with the type of milk you like (I used almond milk here) or even soy bean milk for a dairy free version. Or, you may finish off under the grill with a beaten egg on top. Either way, it is wheat-free, suitable for people who are gluten intolerance.
I have recently been trying to include brown rice, an excellent source of manganese which plays important roles in skin and bone formation, more frequently in my meals. Hope you will enjoy it , and benefit from it too.
By the way, in case you find any stains on the sides of your slow cooker, you may try to clean it with some baking soda like this.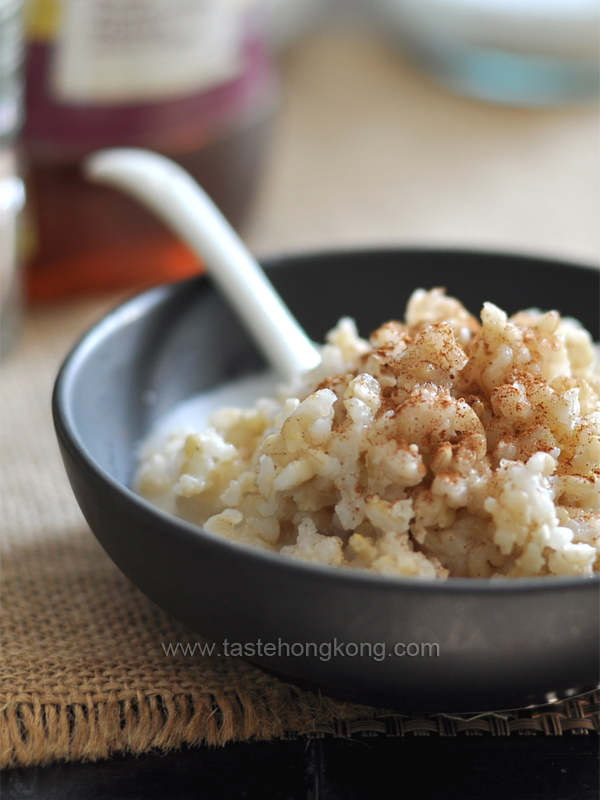 Ingredients
2/3C brown rice
1 2/3C almond milk (milk:rice = 2.5:1)
honey to taste (I add molasses sugar too)
ground cinnamon to taste
~1 tbsp roasted cashew nuts, lightly crushed
3-4 servings
Method
Prepare rice according to package directions. After washing the rice a couple of times (until water ran clear), I soaked it in water for several hours.
Discard soaking water before cooking. Pour rice into slower cooker, add almond milk (homemade version can be prepared like this, but you may want to skip adding the sticky rice and sugar for use in this recipe).
Cover, cook for about 2 hours and a half. I suggest that you check it out after 2 hours to make sure the water has not dried out. I would usually peep through the glass cover than uncovering it. If there is enough liquid, you shall see the rice at a gentle simmer. In case you need to add more milk or water, use hot one.
Serve hot with honey, ground cinnamon and your preferred nuts. Plus some more warm milk if desired. I would store any leftover pudding in fridge, covered, and reheat the needed amount with milk as required.
Note: My slow cooker is the 1.5L (110W) type, if yours is much larger, do make sure the rice and milk reach the minimum level. And, you may need to check earlier if the rice is cooked to your desired texture.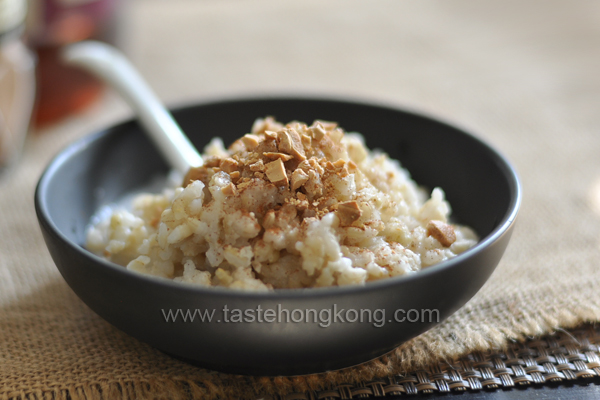 Enjoy!
To get immediate updates and new recipes from my blog, you may also SUBSCRIBE them via RSS feeds. See you there.