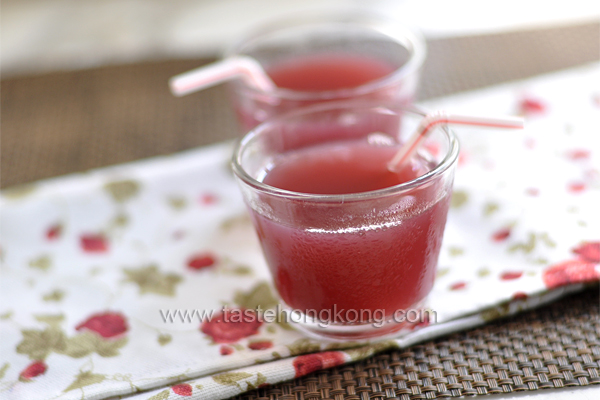 I usually serve this as a hot savory soup. "This is so nice after chilled,' if not looking at him, I would have thought that it was a kid telling me how he liked his ice-cream than was a feedback I received from hubby for my little experiment.

He is right, this is also a nice sweet drink. I actually enjoy it too, with or without the add of honey. Its natural sweetness has pampered my sweet tooth enough (I always lean on the light side when it comes to desserts or sweet soups).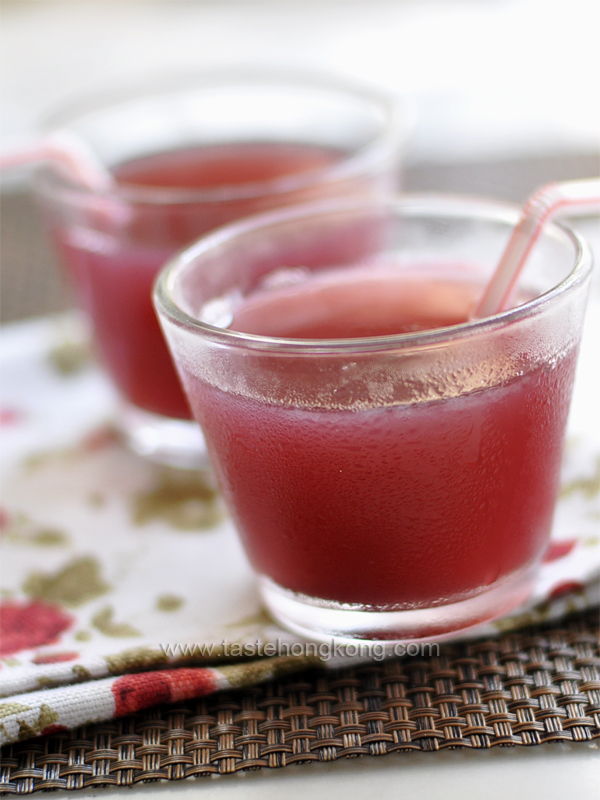 I make this fuss-free beetroot soup with only three ingredients, which are all vegan and need no processing or pureeing before cooking. And so does its beverage version.
It requires boiling, but of the simplest kind. Soak the beans, cut the root and fruit, then give some patient for things to work out in the slow cooker.
After boiling, I would discard both the apple and beetroot. When enjoying it as a savory soup, my habit is to include some beans, but it is really up to you.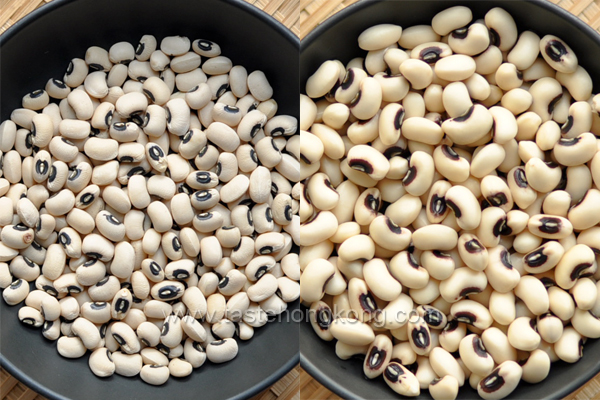 I didn't weigh the ingredients. Fact is, we don't need to, just estimate them in terms of volume, the beetroot, the apple and the peas in total are more or less the same.
Ingredients
1 medium size apple
1 beetroot, I used organic type, about the size of the apple
black eye peas, amount in the size of the apple
~2L water
salt to taste
honey to taste, optional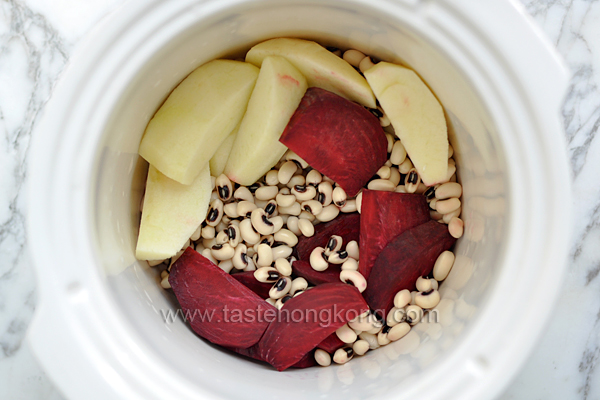 Method
Rinse black eye peas. Cover them with several cm of water, and soak for about 2 to 3 hours. Discard water.
Cut off beetroot stems, leaves, wearing gloves to avoid stains on hands. Peel beetroot and apple; cut them into wedges, discarding core of apple.
Put all ingredients in a slow cooker, add water and cook, leaving minimum 4 to 5 cm room from the top. After it reached a boil, continue boil it for another 2 hours.
To serve as a soup, season with salt and enjoy hot. To serve as a cold beverage, let cool (without the add of salt) and store in fridge for at least several hours; add honey to taste if desired.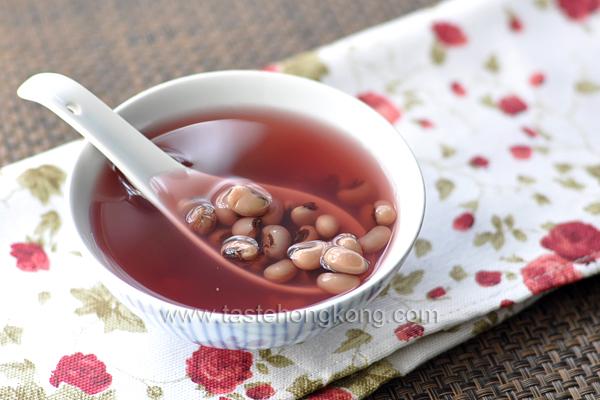 Enjoy!
To get immediate updates and new recipes from my blog, you may also SUBSCRIBE them via RSS feeds. See you there.