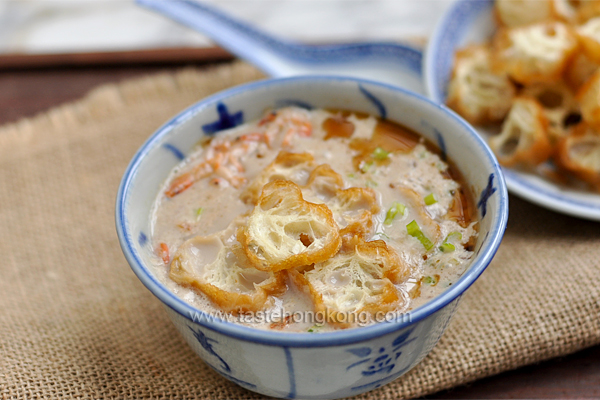 This savory Chinese soup is made from unsweetened soy milk plus a few humble ingredients that add both flavors and texture. Basically, there are pickled mustard, Chinese cruller, green onions, and dried shrimp skins.

Adding meat floss is a variation I frequently have. For something different, try adding dried kelp and even an egg. You may even choose to drizzle some vinegar into the soup to turn its texture from creamy to thin-porridge looking.
Still, the key to a good bowl of this savory soup lies in the quality of soy milk. Store bought organic soy milk is nice to have, but having it made from scratch, you will have full control over the consistency and flavor, be it of yellow or black bean soy milk.
As long as the soy milk is made ready, this soup could be cooked almost as convenient as preparing instant oats.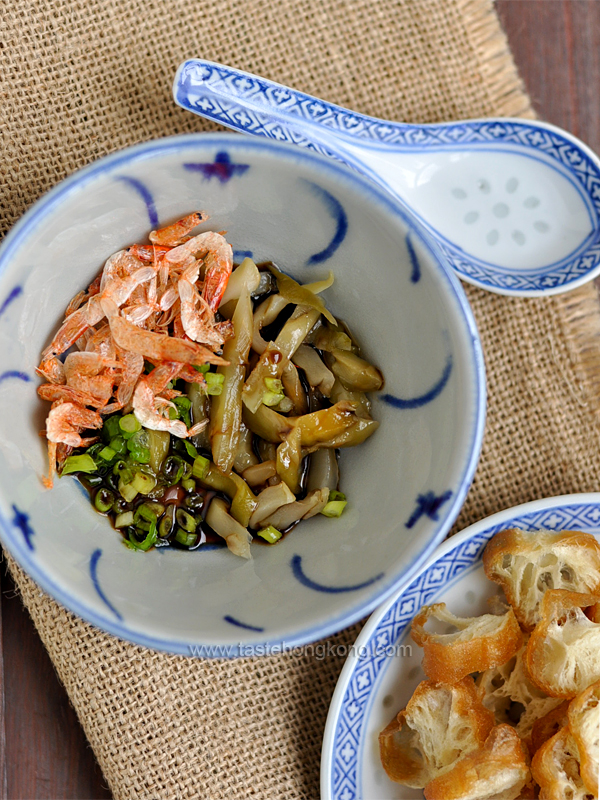 Both types of soy milk taste similar and look milky, the one made from the yellow beans is slightly stronger in flavor and looking purer. But it is the black soy beans cost more, about twice of the yellow ones. That might explain why most eateries who serve soy bean milk, sweet or savory, seldom offer grayish black soy milk. In terms of nutrition value, however it is said that black soy beans have a better anti-oxidant property.
Although I do not eat this savory soy milk as often as its sweet version, it is always a good light meal for me during breakfast, lunch or even late night supper – a one-bowl dairy-free and sugar-free (or low sugar) meal too.
Ingredients
2 C unseasoned (yellow or black) soy milk
1 Chinese cruller (you tiao, 油條)
2 tbsp shredded Sichuan pickled mustard
1-2 tbsp dried krills or dried shrimps
1 tbsp sliced spring onion
1 tsp sesame oil
soy sauce to taste, 1 to 2 tsp
1 tsp sugar, optional
1 tsp Chinese black vinegar, optional
chili oil to taste, optional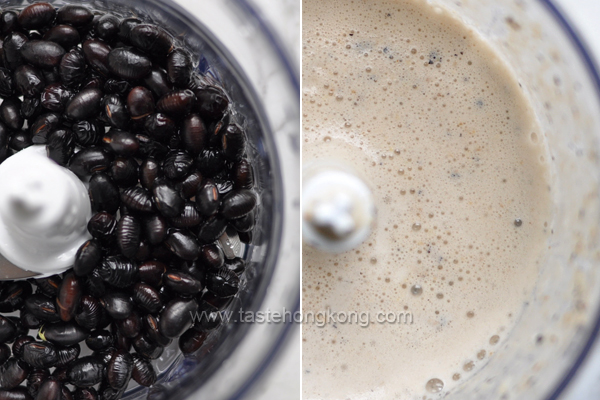 Method
Slice Chinese cruller crosswise into about 1/2 cm thick. Briefly toast them in oven (1-2 minutes) or until the surface is crisp but inside remain slightly chewy.
If using dried shrimps than dried krills, cover them with water and soak until soft, 15 to 30 minutes, discard water and pat dry. Also grease the dried shrimps with some sesame oil and toast them in oven until fragrant.
Bring soy bean milk to a simmer (if you are making it from scratch, do make sure the milk is cooked through).
Divide all remaining ingredients into 2 bowls, pour in hot soy milk. Skip adding vinegar if you want the soup to remain creamy. If vinegar is included and after the soy milk is mixed well with it, the texture of the soup shall be 'thickened (curdled)' like a thin porridge.
Serve hot with toasted Chinese cruller slices (eat and add batch by batch to prevent them from turning too soggy), mix well and drizzle some chili oil to your liking.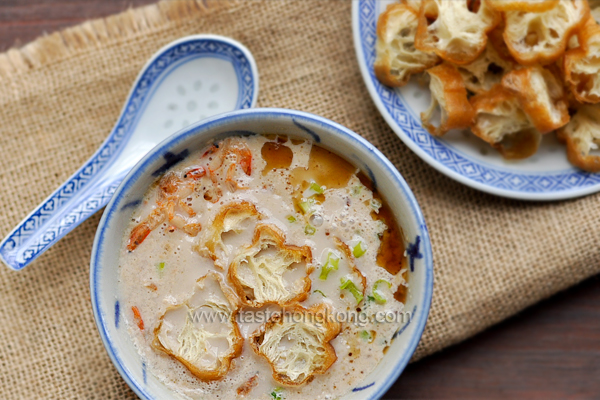 Enjoy!
To get immediate updates and new recipes from my blog, you may also SUBSCRIBE them via RSS feeds. See you there.