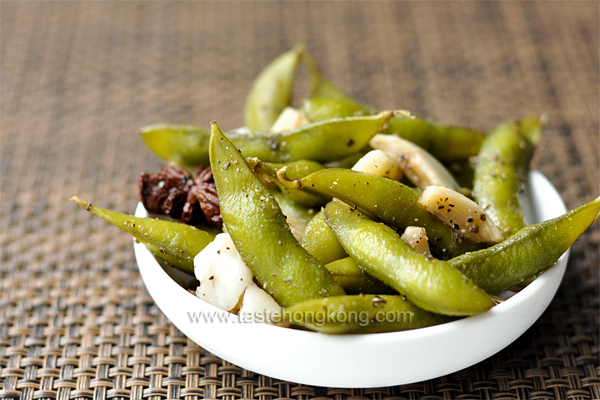 The best appetizers probably are the simplest.
This is especially true when I need to free myself for watching the Olympic games but want something good to snack on.

So I cooked this, which is both a popular Chinese and Japanese appetizer, called mao dou (毛豆) and edamame (枝豆) respectively. Either style, they are made pretty much the same way: you boil them in water, a little seasonings (usually salt), then cook them until tender.
In the salted water, I added a couple of Chinese star anise which gave the dish a distinct aroma. You may also drizzle in some sesame oil for added flavors.
Anticipated that we would constantly play with our TV remote controls while snacking on the beans, I skipped greasing them. All because we ate them with no chopsticks or forks, but simply, our fingers, holding an edamame pod and gently squeezing out the beans. Yet it is fun!
It is a healthy snack, too. Whether it is called mao dou, meaning "hairy beans", or edamame, "beans on branches", both of them refer to the same food: fresh soy beans. Which also means, it contains many benefits that dried soy beans have: isoflavones, soy proteins, fibers, and etc.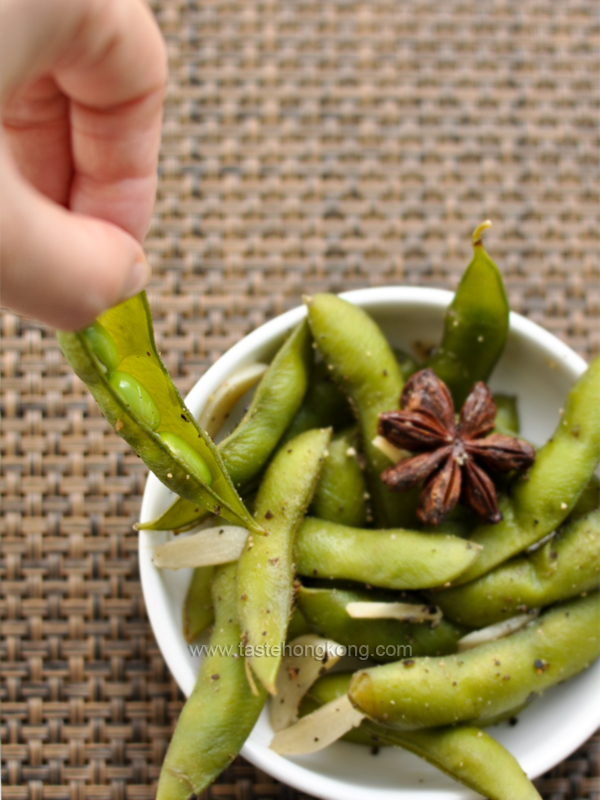 This appetizer is often served cold, but honestly, I can't help munching a few of them as soon as they are cooked and marinaded (when still warm). Irresistible though, I must say it is worth waiting a few hours in order for the flavors of marinades to develop in the cooked beans. For variations, just replace black peppers with Sichuan peppercorns for an unique tongue-numbness taste.
Ingredients
300g unshelled edamame
1 tsp whole black pepper, freshly cracked
6 cloves garlic, crushed or sliced
1 1/2 tsp sea salt
3 cups water
Marinades
1/2 tsp sea salt, or to taste
1 tsp black pepper, freshly cracked
1 tsp sesame oil, optional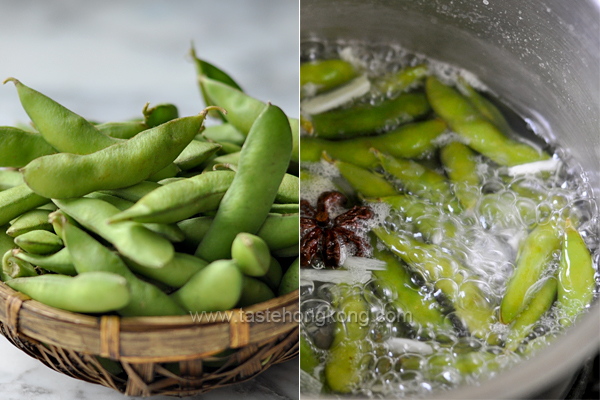 Method
Wash edamame pods. If their skins are tough and dusty, you may wet them a bit and rub their pods with some coarse salt before washing (wear hand gloves to avoid them scratching your skins) .
In a pot, pour in 3 cups of waters with salt, crushed black peppers and garlic, bring it to a boil. Add unshelled edamames and continue to boil under tender. You may start checking doness in 7 to 8 minutes. I cooked mine for about 10 minutes.
Discard water.
Add marinades to the edamames, mixing well.
Let cool; store in fridge for a couple of hours or overnight. Serve cold (I enjoy it warm too, and reheating is nice for me).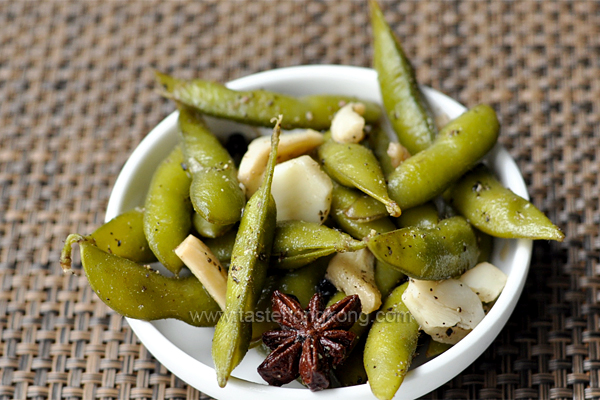 Enjoy!
To get immediate updates and new recipes from my blog, you may also SUBSCRIBE them via RSS feeds. See you there.