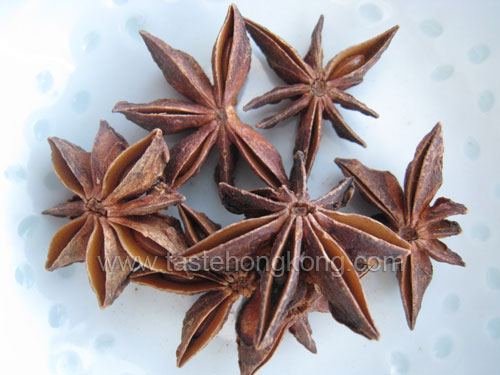 Typically, a whole piece of star anise has eight rays resembling the shape of a star. It is always used dried, and is available from the market in whole and ground form.

Star anise, having a liquorice-like aroma, is not related to anise. However it is similar to but more robust than the taste of anise. Being one of the essential ingredients of the Chinese Five Spice Powder, it also dominants the flavor. Star anise usually pairs well with peppercorns to add pruduent flavors to braising or slow-cooking dishes, Sichuan style in particular . To keep star anise pods in good condition, store it in cool, dark place and in an airtight container.
To get immediate updates and new recipes from my blog, you may also SUBSCRIBE them via RSS feeds. See you there.
Recipe(s) Mentioned Star Anise: