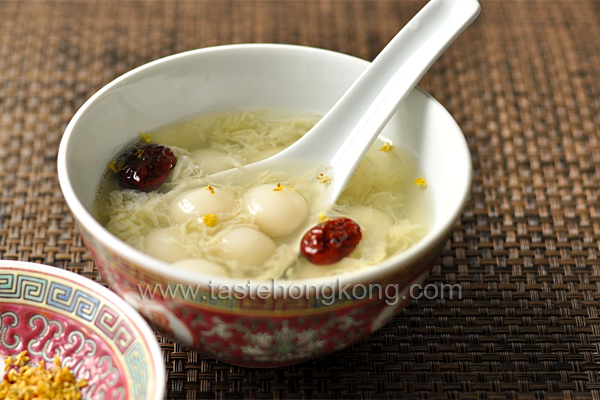 Perhaps I should name this as Mock Fermented Glutinous Rice Wine with Rice Balls, a boozy dessert also known as 酒釀丸子 or 酒釀圓子 in Chinese. This is mock because I was using Japanese sake than the Chinese fermented wine.

I love glutinous rice wine but unlucky it was out of my stock. The replacement, sake, however has got me excited to tell you that it is also good for making an exquisite dessert. At the same time though, I must admit that this is not perfect. With the Japanese wine, you would not be able to enjoy the fluffy and sugary rice from the Chinese wine, but then this different recipe is lighter and maybe a more convenient alternative, in terms of availability.
Here, sake is available in most supermarkets; yet for the Chinese fermented glutinous rice wine, I doubt if I should risk my time shopping around except in established ones or in Shanghainess grocery stores. Happy thing is, Chinese fermented glutinous rice wine could easily be homemade, and hopefully I will be ready to take shots of it next time and share the recipe with you soon.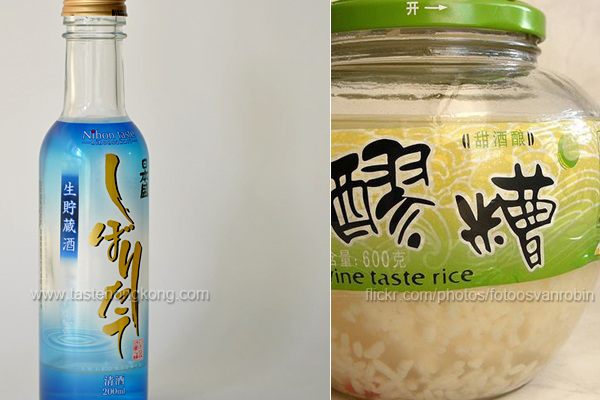 source: flickr.com/photos/fotoosvanrobin
Tang Yuan 湯圓 and Yuan Xiao 元宵
We are still in the first month of Chinese New Year. The Chinese calendar called this lunar month Yuan (元) and in the older days people called night Xiao (宵). On the fifteenth night when the first full moon appears, the most auspicious tradition is to celebrate it with decorative lanterns. Thus the name Lantern Festival or Yuan Xiao Festival (元宵節).
Eating tang yuan has been a custom during the Festival because its round shape is a symbol of wholeness and completeness. That is why tang yuan 湯圓 is also known as yuan xiao 元宵. In this year of Rabbit, we shall be seeing the first full moon on February 17; remember to enjoy tang yuan whether for family reunion or simply for pleasure.
* I shall be packing up soon for a break in Malaysia, where hubby and I are going to explore their hawker foods again and also to spend the Yuan Xiao Festival there. I would read your comments from time to time, but do excuse me if I will be late in responding.
Ingredients for rice balls
80g glutinous rice flour/sticky rice flour
65g warm water
yields about 40 small rice balls
Ingredients for boozy, sweet soup
1/2 tsp dried osmanthus
40g rock sugar
3 cups water
1 egg, beaten
4 tbsp sake
8 stoned dried red dates , optional
yields about 4 rice bowls of soup with rice balls
Why red dates
You may often see Chinese wearing in red and having decorations at home also in red. Red means luck to us; even with cooking, we have a habit to include some red ingredients, like red dates, in New Year dishes.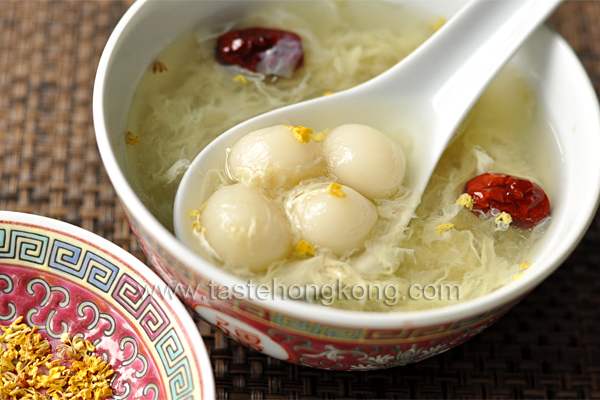 Method
Add about 95% of warm water to the flour in a mixing bowl. Blend them together to form dough. If some of the flour is too dry to form into a mass, work with more water by half teaspoon. As the dough becomes soft, pliable and somewhat not sticky, turn it onto a clean and lightly floured board.
Roll the dough to form a cylinder of about 3/4 to 1 cm diameter. Cut it into equal lengths as its diameter. Roll into balls.
In a pan, add in rock sugar, red dates, dried osmanthus and 3 cups of water. Bring it to the boil. Stir until sugar dissolved over medium to high heat.
Use a large spoon, swirl the boiling soup in one direction. While the soup runs in a circular motion, gently drop in the glutinous rice ball one by one. As the soup is moving, the ball won't stick to the bottom.
Stir occasionally. Cook till the rice balls float to top, about 3 minutes, which means they are done. Blend in sake; and stir in the beaten egg and swirl it like this to form a feather-like pattern, which we call it egg flowers. Remove from heat and serve hot.
Note for dried osmanthus
If you don't want to chew the boiled osmathus (like tea dust) in your mouth, boil it water first and strain it away, then add sugar and red dates. Before boiling the dried osmanthus, remove any dirts or debris among them if you see any.
To get immediate updates and new recipes from my blog, you may also SUBSCRIBE them via RSS feeds. See you there.