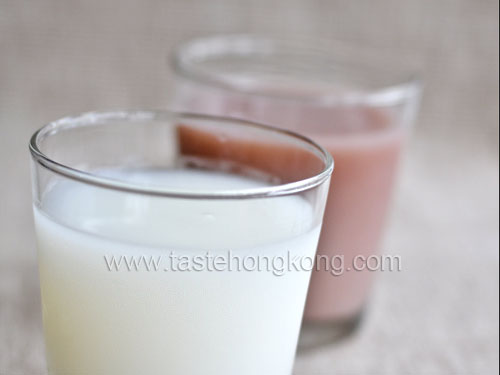 I prepare this soup by borrowing the skills of making drinks from soy beans, sesames, almonds, etc. Likewise, the ingredients used are also simple including only brown rice, water and some seasonings. So I would have no objection if you call this a drink than a soup. Anyway, a cup of it has warmed me through and that extra warmth seems to have lasted for hours which is especially significant during this chilling temperature.

When I first treated husband and father with this soup, they both asked separately 'What is this? …. tastes good.' They eat rice almost every day, yet without recognizing that it is a soup from rice. So, if brown rice appears to be a bit rubbery to you even after cooked, this should comes as a tasty alternative yet enabling you to enjoy the many nutrients it offers.
Benefits of Brown Rice
The more I read, the more I am impressed that brown rice is good for health. And I am going to highlight a few below, which means, yes, I am persuading you to try this soup.
Women who eat whole grains weigh less (source: The World's Healthiest Foods )
Help prevent cancer and heart disease (source: Pregnancy Weekly )
Help prevent diabetes (source: Harvard School of Public Health and Scientistlive )
If not Brown Rice
In addition to the milky-looking brown rice soup, as you can see from the top picture, I have made another one in red behind it. But there is no coloring, may I assure you … I just also soak some red rice at the same time, and cook another few cups of soup from it, which, though without any spice added, is slightly more fragrant if not creamier than the milky one.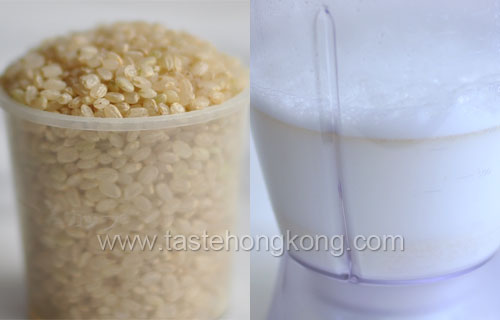 Ingredients
brown rice, 75g
water, 3 cups
Seasonings
pinch of cinnamon (I ground a tip from the whole stick)
sugar to taste
Method
Rinse brown rice and soak it in two cups of water overnight. Put soaked rice and water in a blender and add the remaining one cup of water into the machine. Blend until the mixture turns milky (about 30 seconds).
Line a cheese cloth inside a strainer and let the blended mixture go through it. To get the last bit of liquid from the rice pulp, carefully pick up edges of the cheese cloth with the residuals sitting in the center, and give it a final squeeze.
In a pan or pot, bring the soup to boil over medium heat, add cinnamon, turn the heat to the lowest and boil for another two to three minutes. Remove from heat before the soup become too foamy. Add sugar to taste, serve hot. Boiling 3 cups of this soup shall take about 10 minutes which is much faster than cooking the brown rice into congee (or porridge).
Soaking Brown Rice
Brown rice is firmer in texture than white rice so it needs to be soaked before cooking. And the soaking time, usually ranging from half an hour to two hours, are specified on most of their packages. For preparing this soup, however please put aside this instruction because you would really need to soften the grains before blending, which is different from cooking rice.
Saving the Rice Pulp
After blending and straining, the remaining mass is still good for eating. As I cook rice at home very often, so I will simply save the pulp and cook it with the rice. If not, you may have it added to various types of patties.
I Wish to Thank Two Ladies
Thank you Melody Fury of gourmetfury.com and Christine of christinerecipes.com for alerting me that my rss feed was not working on one of the browsers. I am sorry if it had also once caused you troubles. The problem has already been located and fixed, please just click here to subscribe to my new posts again. Thanks.
Healthy 2010 Every One!
To get immediate updates and new recipes from my blog, you may also SUBSCRIBE them via RSS feeds. See you there.