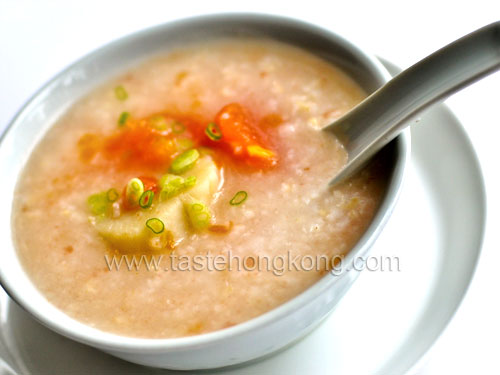 "No milk, no spicy foods, no grape or orange, no …" This was what my dear doctor mentioned after he gave me a shot and diagnosed that I was attacked by flu. However, by the time you read this post, I trust I should be fully recovered because while writing this, I already feel energized after taken a couple bowls of this congee (or porridge). I am so thrilled to share this here because it is neither an usual congee I would make nor a traditional Chinese porridge, but it is unexpectedly good to taste. Special to me though, this congee is just a new mix of ingredients, humble ingredients including brown rice, tomato, and scallops, which are often available in my kitchen.

I have not that prepared to get this recipe posted, so here are just two pictures to share. But I must say you would not go wrong with this cause it is too simple to cook.
Ingredients
75g brown rice
5 cups water
4 frozen scallops, deforsted
1 each tomato, cut into sections (I didn't measure it, but is larger than a tennis ball)
salt and sugar to taste
1 tsp spring onion, finely chopped (optional)
You may choose to use white rice instead, which requires no soaking in advance thus is more convenient. I simply love to seize every chance to cook brown rice because of its benefits to health.
Method
Rinse brown rice. Soak it with a cup of water for about an hour (check the instructions on the package of your brown rice). Bring 5 cups of water to boil (including one from soaking), then add in the rice and keep boiling them over medium heat.
After the rice is added in, gently stir it for a while to prevent sticking to the bottom of pot.
As the starchy content emits from the rice while boiling, the congee will easily spill over. To minimize such, you may use a large stock pot of which the capacity should be at least two times the amount of the water you are going to boil. Or, let the lid half open (I do this by resting a pair of wooden chopstick between the pot and the lid, hopefully I shall have some photos to show you in the coming recipes).
After boiling rice for about 15 minutes, turn to low heat and keep boiling for another 30 minutes or until the thickness of porridge suits your preference (as the congee gets thick, it is easy to get stuck at the bottom and be burnt, so do give a few more stirs to prevent sticking toward the end) . Put in sections of tomato and scallops and cook for another 5 minutes or so. Add salt to taste, top congee with spring onion for garnishing or added flavor. Serve hot.
Having had the first slurp, I found that the congee was a bit sour with the tomato flavor. As a remedial action, I sprinkled in some sugar, after which the taste was perfect to me.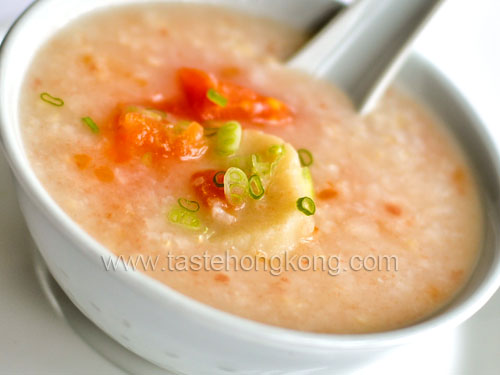 I took the above soup for preventing flu in end December but fact is I have got a flu in this first week of February. Obviously, the prevention has an expiry date if we still believe its effect. Just a reminder to share.
To get immediate updates and new recipes from my blog, you may also SUBSCRIBE them via RSS feeds. See you there.