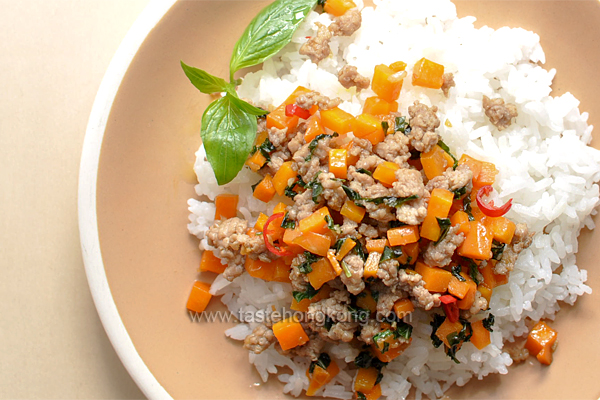 The classic Thai Basil Pork is very meaty and has a strong aroma of the fresh herb. As the name suggests, pork and basil are the only key ingredients in the original recipe.

When I cooked this with diced carrots the first time, I did expect a less pungent dish. But I was incorrect. The resulting dish with the root was equally fragrant, reducing only the protein content (yet adding more vitamins) but not the beguiling flavors.
Two cups of Thai Basil leaves are added in this recipe, but they look a few in the dish as the leaves have kind of melted down after cooked. To enhance its flavor in this speedy stir-fry, I 'chopped' the leaves by hand (my fingers were thus made fragrant), tearing them down into smaller pieces.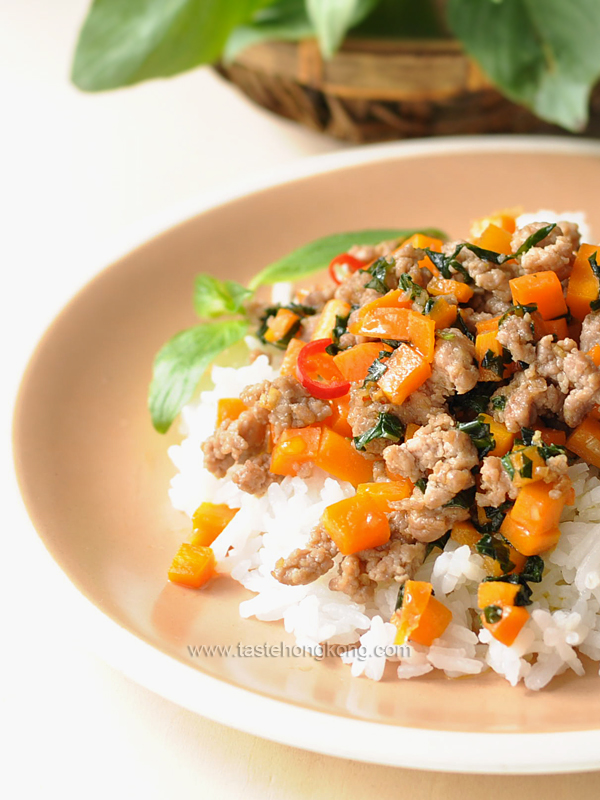 Bad news is, tearing or cutting tends to discolor the basil leaves faster. So it is best to prepare them just before cooking.
With rice, it can also be served as a one-dish meal that should take you minutes to cook. I was serving this together with another veggie dish for two, so you may need to multiply the amount as required.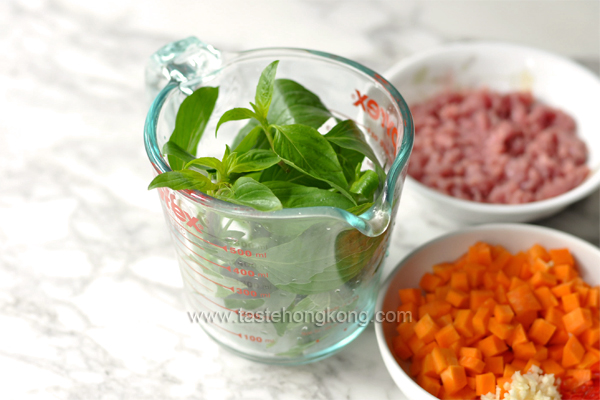 Ingredients
100g ground pork
100g carrot, peeled and diced
2C Thai Basil leaves, reserve a few for garnishing
2 cloves garlic, finely chopped
1 bird eye red chili, cut into rings
2 tbsp cooking oil
Sauce
1 tbsp fish sauce
1/2 tsp sugar
Method
Wash Thai basil and drain dry. Plucked leaves from stem, patting them dry to remove any moisture which might cause oil to splash during stir-frying.
Roughly stack the leaves in one to two batches, and tear them into smaller pieces. You may chop them by knife. I do it by hand as I do not mind putting on the smells of Thai basil on my fingers.
Over medium flame, heat one table spoons of oil in wok or skillet. Sauté garlic till lightly brown; add ground pork. Leave the meat to brown on one side first. Then flip to the other side, breaking it up with the edge or back of the turner. Toss in Thai basil. Keep stir-frying till the leaves shrink and the pork is done.
Dish up meat and basil. Heat remaining table spoon of oil in the same wok (or skillet) and put in diced carrot, stirring it constantly for about a minute. Add about two table spoon of water and simmer. Cover lid if you want to soften the carrot more.
As 80% of the liquid are reduced, toss in pork and basil, followed by the mixed sauce and chili. Give them a few more stirs to mix well. Check if you need to add more fish sauce to taste.
Dish up, garnish with Thai basil and serve hot.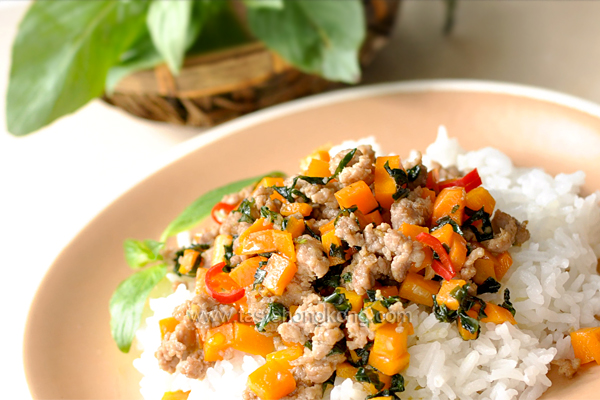 Enjoy!
To get immediate updates and new recipes from my blog, you may also SUBSCRIBE them via RSS feeds. See you there.