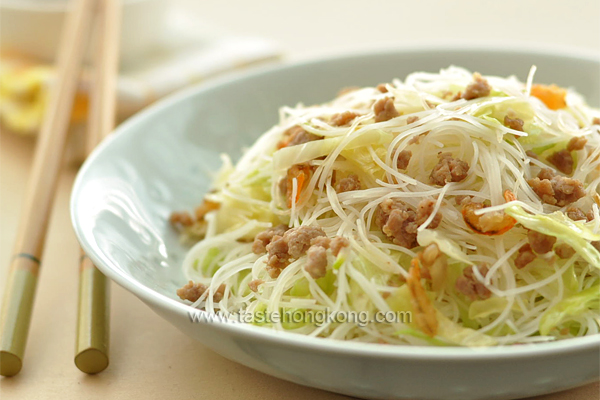 Even without a sauce, there is a simple way to infuse flavors into these tasteless-looking rice noodles.

First, the ground pork are marinated with a heavier seasonings than those would be cooked with a sauce. Then, it is seared with garlic and shallot in slightly excess oil. The flavors from meat and aromatics are thus infused into the oil. And there we go with an easily-made flavored oil for cooking with the rice noodles.
The serving size here is not huge, roughly good for serving two as a light meal. But a larger skillet or a Chinese wok is a better vessel for cooking this dish because we not only need to flip and turn the rice noodles but also the space-occupying cabbage shreds at the same time.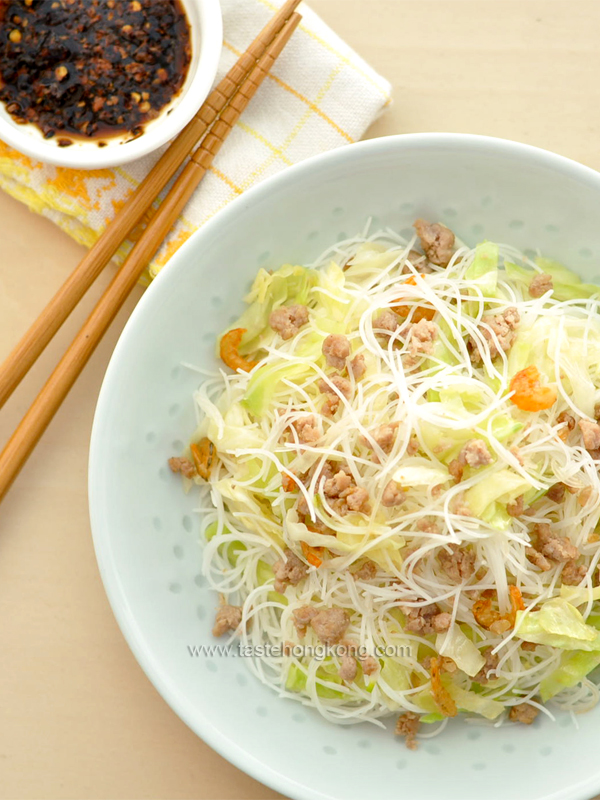 This perhaps is the simplest version of the Taiwanese Stir-Fried Noodles with Ground Pork 肉燥炒米粉. You may always include julienned mushroom and/or carrot without fear. No matter which version I cook, I have been kept using this very thin type of rice noodles from Taiwan.
I mean the noodles are now available here in many supermarkets. Which also means, even I am not able to pay a visit to Taiwan, I have a nice remedy for my missing of their street foods.
Ingredients
120g dried rice noodles
100g ground pork
300g cabbage
1 tbsp dried shrimps
2 cloves garlic, thinly sliced
1 shallot, thinly sliced
~3 tbsp cooking oil
1/2 tsp salt, or to taste
pinch of ground white pepper, optional
Marinades for pork
1/4 tsp salt
1/2 tsp sugar
1/4 tsp soy sauce
1/4 tsp water
pinch of ground white pepper
few droplets of cooking wine
pinch of corn starch
dash of sesame oil
Marinades for rice noodles
1/2 tsp salt
1 tsp cooking oil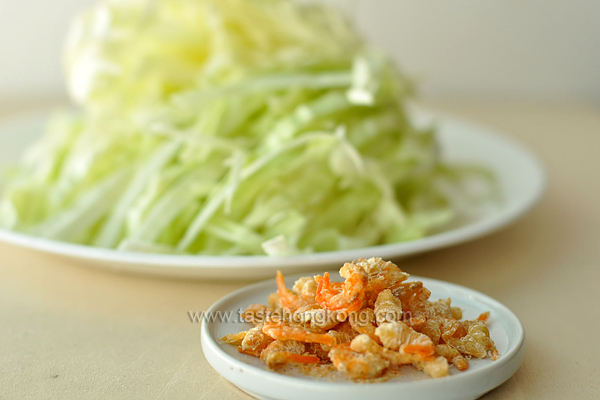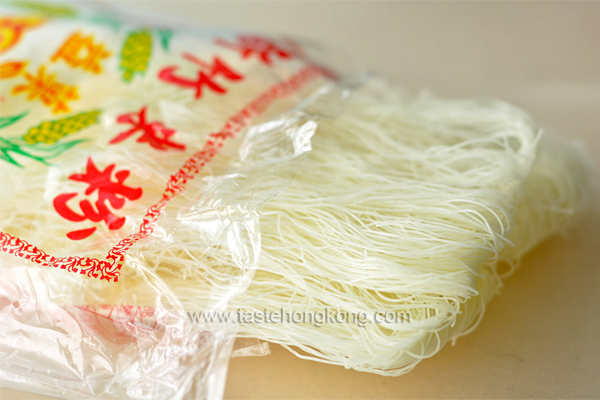 Method
Marinade ground pork (add corn flour and oil after other seasonings),and let it stand for at least 15 minutes.
Wash cabbage, drain dry, and shred.
Scald dried rice noodles in hot water until they just get softened. My thin rice noodles are ready in about 30 seconds. Loosen them in a colander; blot dry, or air dry (or fan dry) it. Then season noodles with salt and oil. (Here explained why I prepare the rice noodles with all these steps.)
Soak dried shrimps for about 15 minutes, rinse, discard water and pat dry.
Over medium flame, heat oil in wok. Sauté sliced garlic and shallot until lightly brown. Add in marinaded pork and stir-fry, also until golden brown, about 1 to 2 minutes. When stir-frying, mash the ground meat into separate pieces with the back of your turner if they lump together.
Push aside (or dish up) the pork, allowing the oil to drain back to center of wok. Sauté dried shrimps a bit to fragrant, then toss in cabbage shreds and keep stirring until they start to tender. Sprinkle in salt, stir well.
Drop in rice noodles, stir in pork, and quickly mix well with cabbage, about a minute (add 1 to 2 spoons of water should you find them too dry to stir). Finish with a pinch of ground white pepper.
Serve hot (with a chili sauce if your prefer).
Enjoy!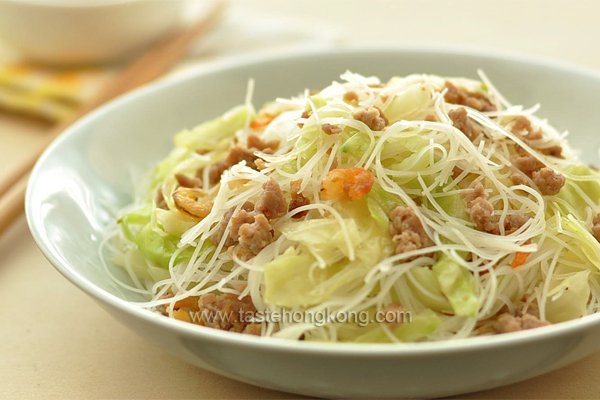 To get immediate updates and new recipes from my blog, you may also SUBSCRIBE them via RSS feeds. See you there.