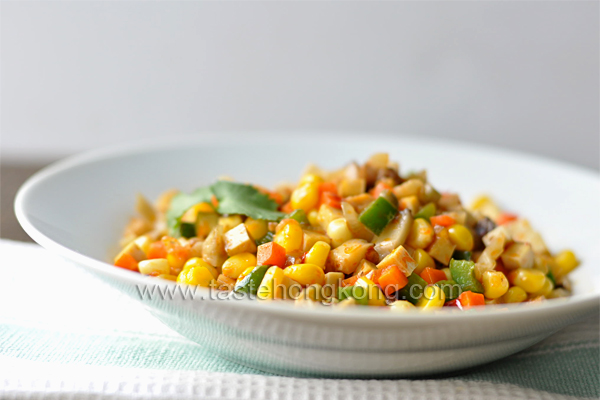 I didn't make this dish with very special ingredients to have it looked colorful. Be it yellow, orange, green, lime and black, each ingredient is inexpensive and possibly is among the common leftovers in our fridge.
This is a vegetarian dish made of colors. But let me tell you, I actually copied its name from a video called 'A Day Made of Glass', which as of this moment has recorded more than 12 million views on YouTube. Embedded it here because I wish to credit the source for its inspiration and, hopefully you will find the visual tour entertaining. Anyway, be relaxed after your kitchen tasks.

Back to cooking. I have no objection that this is simply a stir-fry, yet it still challenges us with good planning. We don't just assemble and fry ingredients in wok all at once. Instead, there is a sequential order to follow.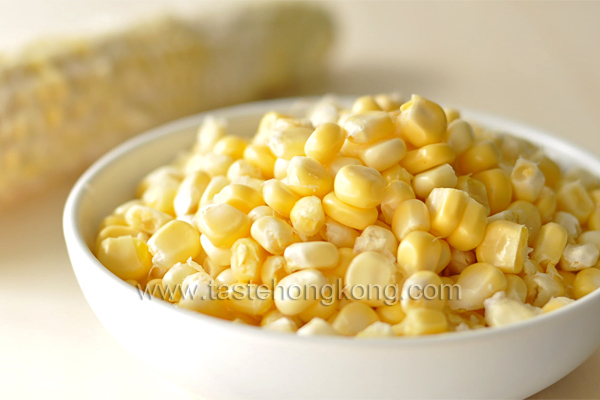 Mushrooms require longer cooking time, so they go in the wok first. Corn kernels, dry tofu, and carrot, though can be quickly cooked, are simmered together with the mushrooms for taking up more flavors. Bell pepper loses its crunchiness if over-cooked, therefore it is dished up after briefly cooked and seasoned. Because the pickled mustard already tastes salty, that is why it is added after the sauce is combined with other ingredients.
If you are not a strict vegetarian, you may add more flavors to the dish by replacing part of the chili sauce and soy sauce with oyster sauce. If meat fits your appetite, just sauté it with mushrooms and have it simmered all way through. Needless to say, the choice of vegetables can be adapted to suit personal taste or to take the biggest advantage of seasonal produce.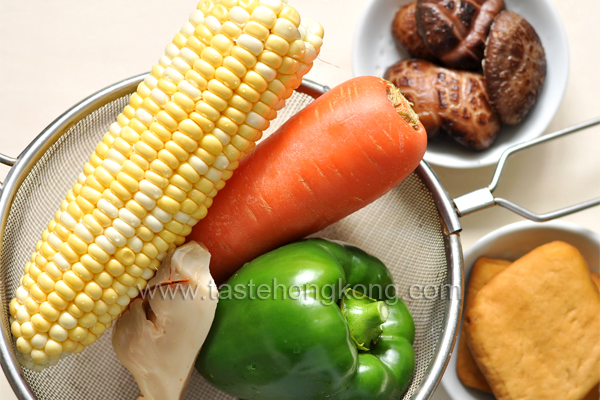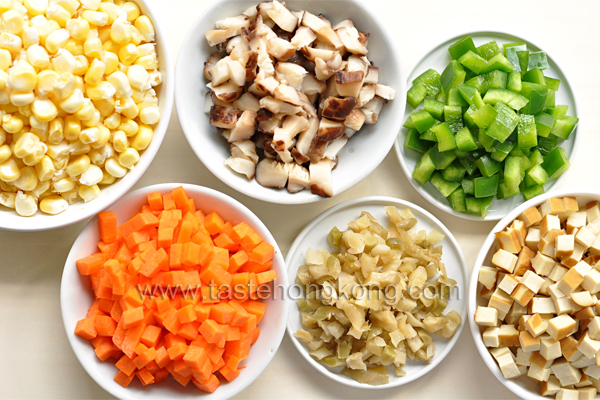 Ingredients
1 ear sweet corn,
1/2 pc carrot, diced
4 dried black mushrooms, rehydrated and diced
1/2 green bell pepper, diced
2 pcs dried tofu, diced
2 tbsp diced Sichuan pickled mustard
1 clove shallot, finely sliced
2 tbsp cooking oil
1 tsp wine
before cutting, wash vegetables as required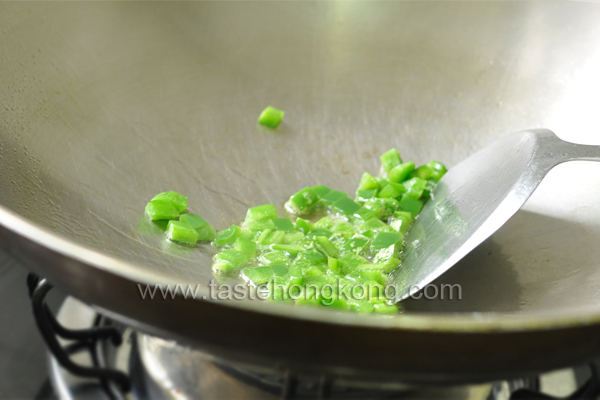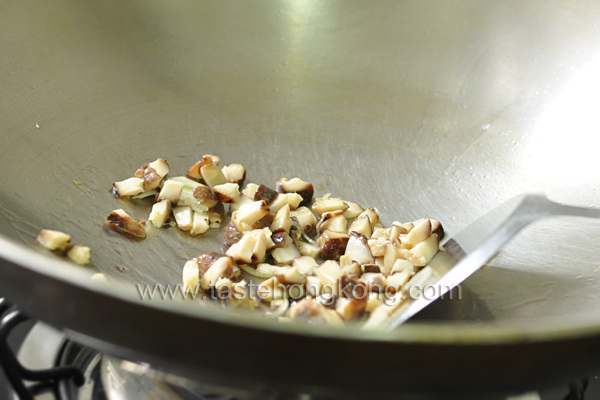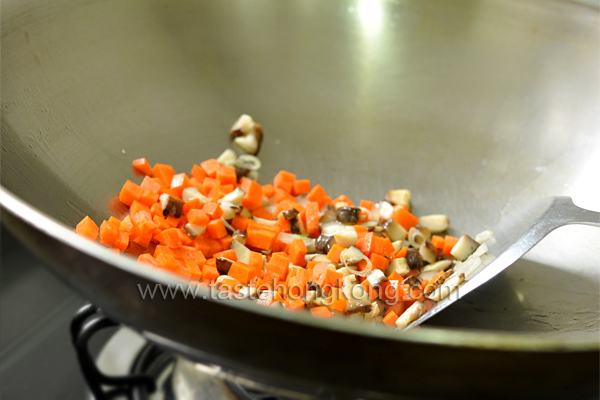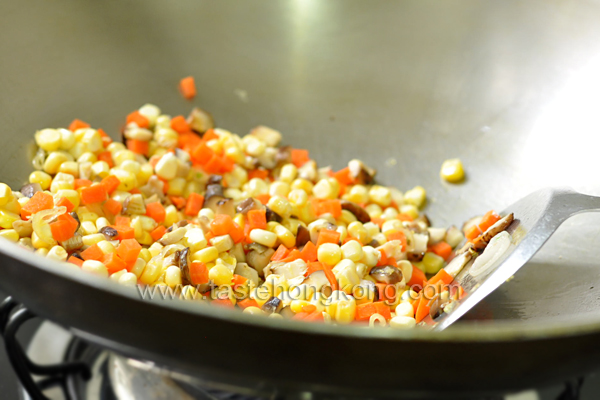 Method
Cut corn kernels off the cob like this, and have all vegetables and mushrooms readily diced.
Over medium flame, heat one table spoon of oil in wok. Sauté bell pepper, about half to one minute, season it with a pinch of salt. Dish up.
Heat remaining table spoon of oil. Sauté shallot, add mushrooms; stir fry and sprinkle in wine on sides of wok. As they are lightly browned, about two minutes, add dried tofu, carrot and kernels. Keep stirring as adding each of them into the wok. Then, mix well all seasonings and pour in. Bring to a boil. Turn heat to the lowest, cover and simmer for 5 minutes or until 2 to 3 table spoons of sauce remain.
Uncover, flip and turn the ingredients. Check if you need to season with some more salt.
Return green bell pepper to wok and toss in Sichuan pickled mustard. Stir well and dish up.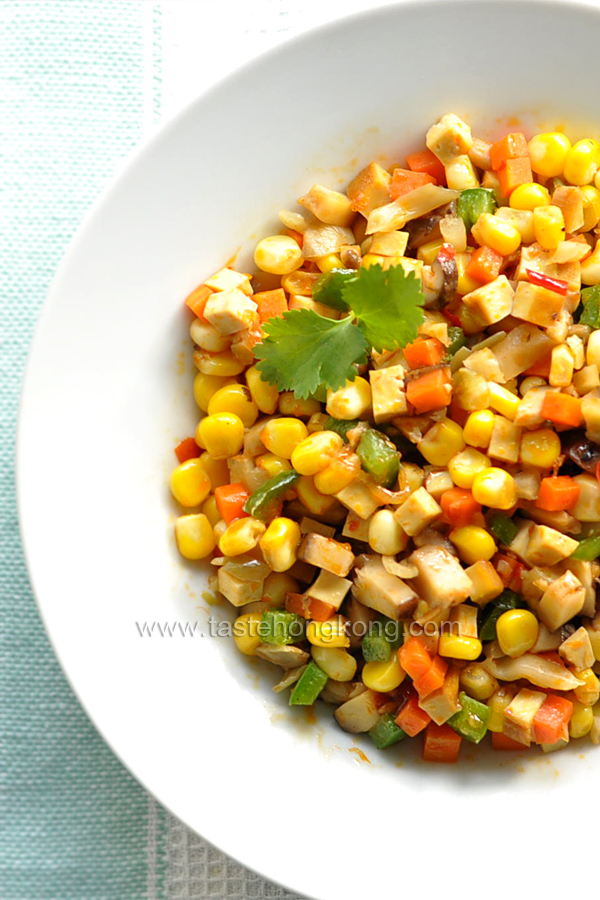 Serve hot and enjoy!
A Day Made of Glass… by Corning Incorporated
To get immediate updates and new recipes from my blog, you may also SUBSCRIBE them via RSS feeds. See you there.