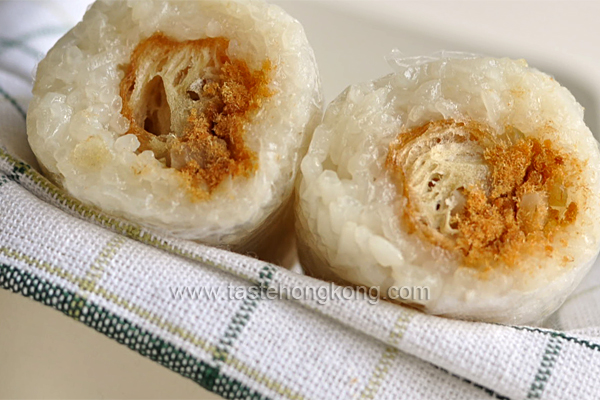 Some people suggest that this rice roll (in Chinese 粢飯) is originated in Shanghai and famed as a breakfast item usually served with soy milk. Yet it seems to me that it is more popular in Hong Kong and in Taipei, where I may buy it (which sometimes are even made to order) during or after lunch.

To get ready for making this, I witnessed more efforts from my feet than from my hands. What I mean is, I was shopping at different places for the ingredients needed for this recipe.
I bought meat floss from a specialty store selling various kinds of Taiwanese foods; I got the Sichuan pickled mustard from a grocery store. Then I picked a bag of sticky rice from a supermarket and, on the day I was ready for cooking this, I walked to one of the nearest eateries for porridge (aka congee) where I took away one Chinese cruller.
But you don't need to behave like me; I was too particular about getting the brands I preferred or more accurately finding excuses to shop around and exercise my legs. The pork floss, pickled mustard and sticky rice in effect can all be found in sizable supermarkets here.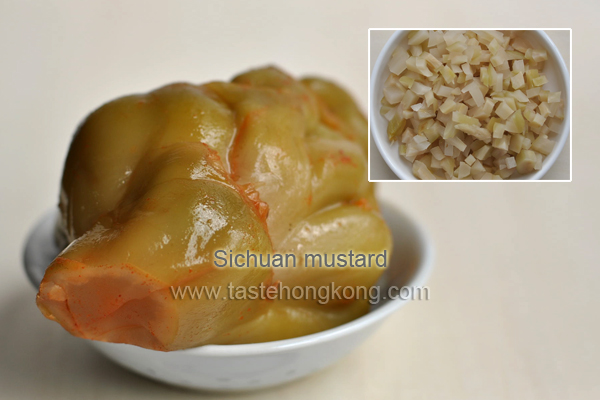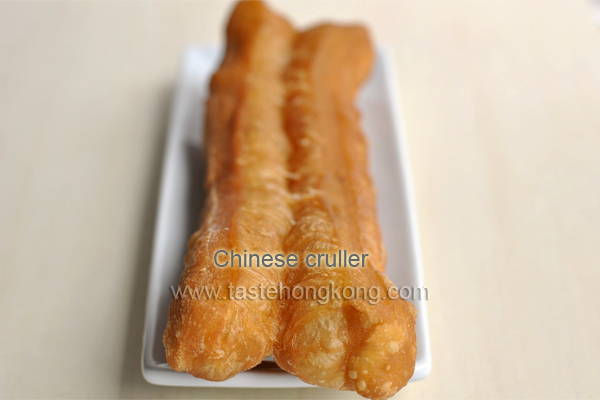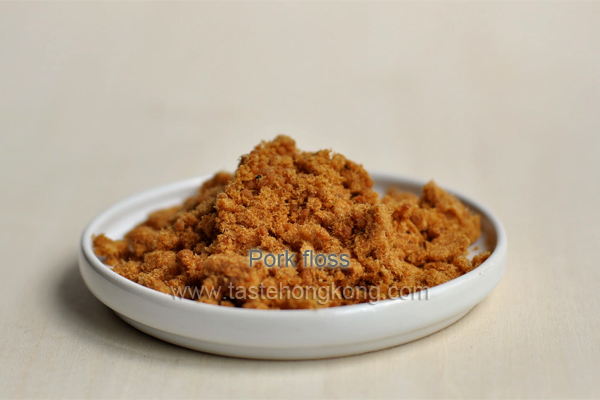 Ingredients
Yields 2 rice rolls
1 Chinese cruller (油條 or 油炸鬼)
150g sticky rice aka glutinous rice or sweet rice
(makes ~ 2 cups cooked rice)
3 tbsp finely diced Sichun pickled mustard (四川榨菜)
3 tbsp pork floss or fish floss or any meat floss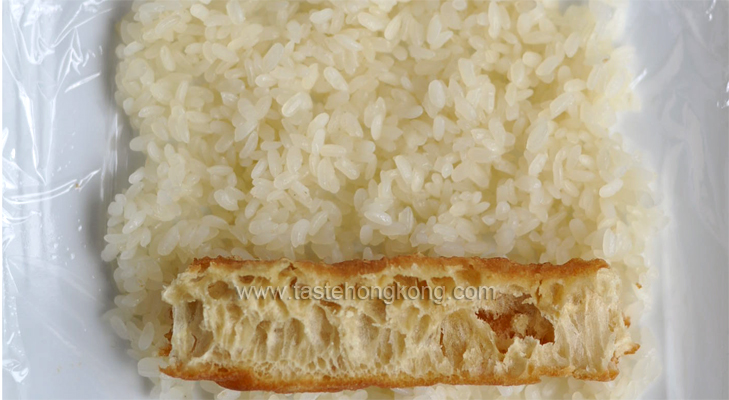 Method
Rinse, soak, cook (or steam) sticky rice according to instructions on package.
Rinse pickled mustard, soak it in water for about half an hour, strain dry, slice out needed amount and finely dice it. Then briefly sauté the diced mustard with a dash of sesame oil. You may omit this step by buying readily prepared pickled mustard, which is usually shredded and in vacuum packed.
Tear the cruller into two sticks lengthwise along the middle groove and cut out a section of about 10cm long. Because my cruller is pretty thick, I half it further lengthwise.
Lay a piece of cling wrap large enough to handle your rice roll on a flat plate.
Spread about 1 cup of cooked sticky rice on the cling wrap and flatten it evenly and with a surface enough for wrapping the fillings.
Place the cruller near one edge, then top it with mustard and meat floss. With the help of the cling wrap, roll up rice from the end with the fillings. Wrap it as tight as possible while rolling. Best to serve it warm. Enjoy!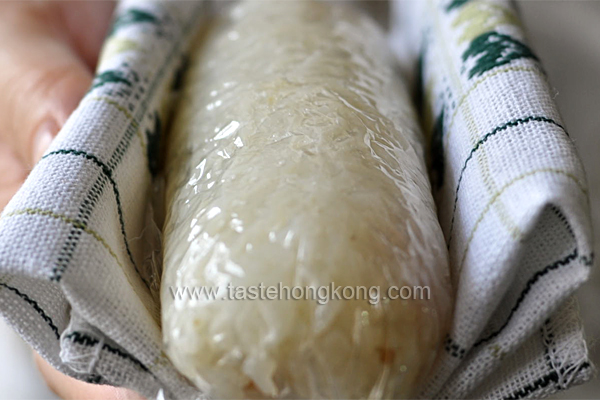 Tip
Soaking hours for different types of sticky rice varies. As a general rule, it requires no less than a couple of hours. Here is the directions I have on my sticky rice package, "Place sweet rice in colander or sieve; wash under cold running water, stirring with hand until water is almost clear. Place sweet rice in bowl; cover with fresh water. Let stand 12 hours or overnight. Drain. Spread sweet rice in thin, even layer in colander, sieve or steam rack lined with cheesecloth. Cook covered, over rapidly boiling water 25 minutes. Steam 20 to 25 minutes longer, or until tender and translucent. (And add extra boiling water to steamer pan if necessary.)"
If you own a rice cooker, use it (and following its directions on manual) to cook the sticky rice is also a nice and convenient alternative.
No worries if the only Chinese crullers you could access are packaged rather than fresh. Just reheat it like you would prepare a toast, the cruller will turn crisp again.
Having made two rice rolls, there should be some leftovers of the cruller. You may consider slicing it crosswise like thin discs and toasting them in toaster or oven and add them to soy milk, beancurd sweet soup or even porridge.
To get immediate updates and new recipes from my blog, you may also SUBSCRIBE them via RSS feeds. See you there.