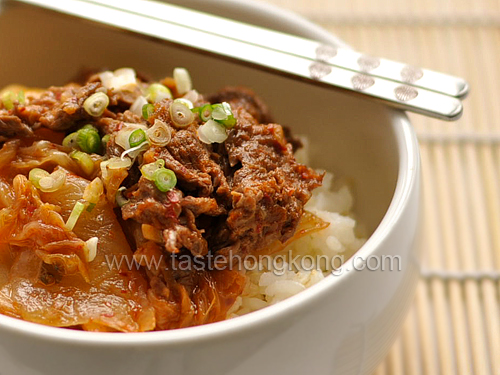 Either cold or hot, it is good.
I'm saying my feeling for the cabbage kimchi which are often savored cold as a side dish. But it gets me equally additive be it served alone or as part of a dish. It is generous. It always passes its intense flavors on to other ingredients with which it is being cooked together. I like pairing it with rice cake, fried-rice, and adding it in spicy tofu soup. Today, I have it go hand-in-hand with beef, which is just a leftover item in fridge.

It took about one to two minutes to complete chopping the garlic and marinade the sliced beef. The pan frying is neither any longer. Then there is a dish ready to me, though simple.
Ingredients
~100g thinly sliced beef
~2 flat tbsp cabbage kimchi
1 clove garlic, finely chopped
Marinades for beef
1 tsp kimchi sauce (the sauce is available with the cabbage kimchi)
1/4 tsp soy sauce
1/4 tsp corn starch
1/4 tsp oil
1/2 tsp oil for frying
Method
Marinade beef first with soy sauce and kimchi sauce, then add corn starch and oil for sealing the flavor and juice of the meat. Mix well.
Heat wok over medium heat, add oil. When heated, sauté garlic until slightly brown, toss in beef. As it is half done, add in cabbage kimchi, stir well till beef is done. That's it and, you shall see how fast you could have this cooked. Serve hot – like enjoying bibimbap (Korean rice bowl), I simply mix the beef and kimchi in a bowl of hot rice.
Lucky me, almost effortlessly, I have a hot and comfort meal while hearing so many of them are hard to get a simple shelter.
To get immediate updates and new recipes from my blog, you may also SUBSCRIBE them via RSS feeds. See you there.