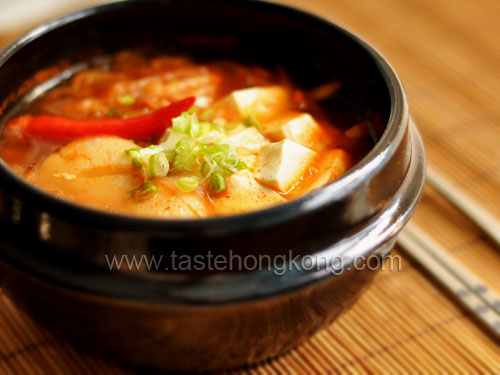 I am quite a fan of Korean cuisine. One of the must-order dishes when having a Korean meal was spicy tofu soup. Perhaps due to my repeated trying of this same dish at different restaurants and making comparisons to those tried in Korea, I become more picky and find myself hardly pleased. I then start cooking this tofu soup in my kitchen and increasingly I have reduced the frequencies of ordering it when dinning out.
The skills required for preparing this soup are minimal, but several ingredients, including kelp, cabbage kimch, Korean chilli paste, to me are essential for making a decent stock. Beyond these, I make variations from time to time, more often with scallops, oysters or clams and occasionally combining shrimps with some glass noodles (bean threads) .

To the best of my knowledge, Korean loves using dried anchovies for cooking broth or stock. I should have used this authentic Korean ingredient if there are not so many nice dried silver fishes residing in my fridge for quite a while. As a replacement for the anchovies, however, I double the amount of silver fishes and add some fish sauce to make up for their mild flavor.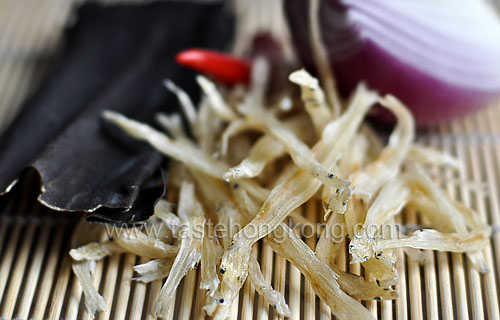 Ingredients
1 pcs soft tofu, ~200g, diced into ~1cm cubes
1 tbsp garlic, finely chopped
100g beef, finely sliced
4 pcs large frozen scallop, defrosted
2 tbsp cabbage kimchi
salt to taste
1 tsp finely chopped spring onion and 1 red chili (for garnishing)
Marinades for beef
1/2 tsp soy sauce
1/2 tsp wine
1/2 tsp sugar
1/2 oil
For Fish Stock
1 pc dried kelp, ~15x5cm
1/2 an onion, shredded
20g dried anchovies (I replaced them by 40g dried silver fish)
1 tsp chili paste
1 tbsp sweet white wine
1 tbsp white vinegar
2 tsp fish sauce
2 tbsp sugar
2 cups water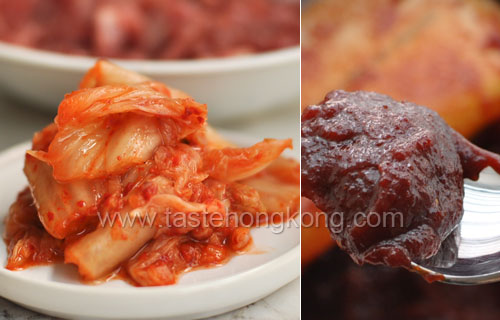 Method
1) Marinade sliced beef for about 10 to 15 minutes.
2) Briefly rinse kelp and silver fishes, drain dry. In a pot or saucepan, bring 2 cups of water to boil, stir in all other ingredients including kelp, fishes, shredded onion and seasonings for making the stock. Keep boiling them over medium heat for about 15 minutes. Strain fish stock and set aside (I usually discard the kelp but keep the onion and fishes in the stock not only because I believe much nutrients are still there but it would also be a wastage to throw away something that are still edible).
3) Sauté garlic until fragrant, followed by beef and pour in the stock. As the soup boils up again, put in kimchi, tofu, scallops and cook for another 3 to 5 minutes. Add salt to taste and garnish with spring onion and chili.
From sautéing garlic, beef to boiling the soup altogether with tofu and scallops, I use the same clay pot (brought back from Seoul) for cooking and even have it served on table. With it, the soup has been kept hot longer than usual. Enjoy.
Thank You CNNGo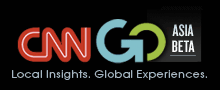 Thank you for featuring this blog under Hong Kong Local Blog Buzz at www.cnngo.com/hong-kong/localviews, your other picks interest me as well.
To get immediate updates and new recipes from my blog, you may also SUBSCRIBE them via RSS feeds. See you there.