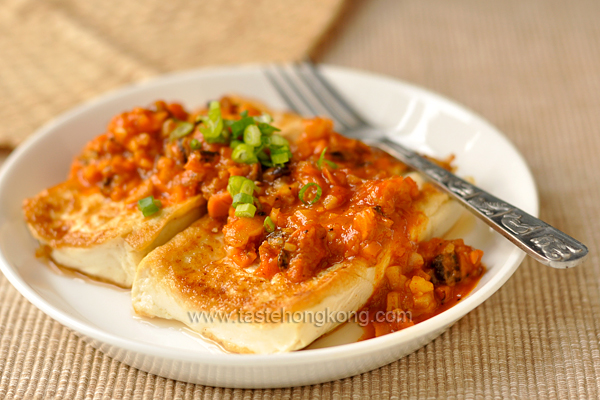 Spicy, slightly saline plus some plump little bites of chopped mussels is what I like about this sauce. A simple, nice idea is to serve it with plain noodles. And here, this hot sauce is poured over crispy fried tofu, serving us as a main dish with rice. But I would have no objection at all if they are served like steak with knife and fork.

There are two foreign ingredients on my list: mussels from New Zealand and chili sauce from S. Korea. But they are among the 'old' residents in my fridge than new to my kitchen that I would otherwise make a separate trip to the supermarket. Tofu? I got them from the wet market where I bought my fresh vegetables and carrot.
The mussels, though inexpensive and frozen, have given a nice umami kick to the sauce. I even collect the juice leached from them on the cutting board to make the umami taste more assertive
You may pan fry tofu slices with crusts like this, making them crunchy on the outside and soft inside. If you prefer a quicker version, simply cut (or dice) the tofu into smaller pieces and briefly cook with the sauce as you would cook Mapo Tofu.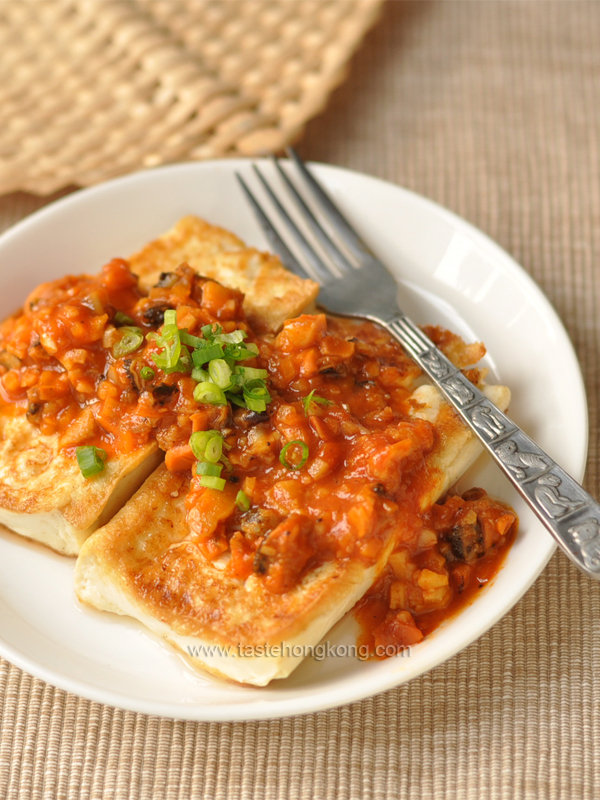 Ingredients
~400g firm tofu
6 mussels, I used frozen ones, each measuring about 5cm each in length
1/4 carrot
5-6 cloves garlic, finely chopped
1 knob ginger, about half of thumb size, finely chopped
1 tbsp cooking oil
1 sprig green onion, thinly sliced
Sauce
3/4 tbsp Korean chili sauce
1 tsp soy sauce
1 tsp sugar
1 tsp rice vinegar
1 tsp sesame oil
3/4 cup water
salt to taste
1-2 tsp corn starch paste (corn starch : water = 1 : 2), optional
Method
Thoroughly thaw mussels, de-bread if any. Wash and pat dry. If they don't smell fresh (the clean ocean smell) enough, blanch them in boiling water for a few seconds. Drain and pat dry. Don't buy or use mussels that smell fishy.
To chop the mussels, lay them flat on chopping board, slice each horizontally into two equal pieces. Cut the sliced mussels length-way into thin strips, then rotate them 90 degrees, lining up evenly, and chop, resembling about 1/3cm dices. Collect any juices leached from the mussels.
Peel and cut carrot into similar size of chopped mussels.
Mix chili sauce, soy sauce, sugar, vinegar, sesame oil and any liquid collected from the chopped mussels with 1/2 cup of water; set aside.
Slice tofu into about 1 cm slices, prepare (salt, bolt dry) and pan-fry them like this. Dish up.
Heat oil in wok over medium heat, sauté garlic and ginger until fragrant and lightly brown. Toss in carrots and mussels, stir-frying constantly, again until lightly brown, about 1-2 minutes.
Pour in chili sauce mixture, stirring well. Bring it to a boil, add salt to taste, thicken with corn starch paste to your desired consistency (or add remaining water if required). If you prefer to have the tofu (fried or not fried) completely coated in the sauce, do it (simmer them together) before the salt is added and the sauce is thickened.
Arrange fried tofu on dish and pour sauce over it. Garnish with green onion, serve hot.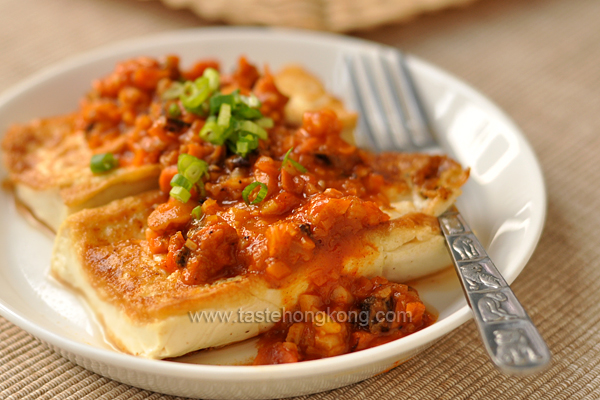 Enjoy!
To get immediate updates and new recipes from my blog, you may also SUBSCRIBE them via RSS feeds. See you there.