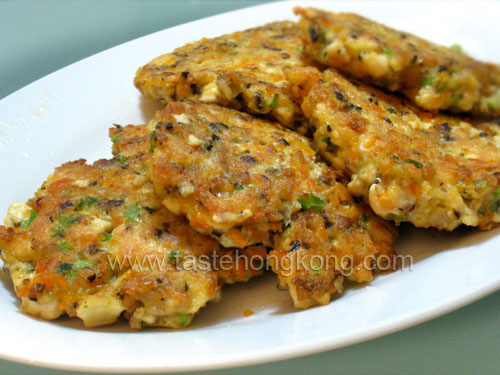 Love preparing this dish quite often partly because it is nutritious and the costs are minimal. Besides, I may even opt to pan-fry the cakes or simply steam it all in one piece without any alternation on the ingredients. Here is "one recipe two cooking styles" at your own discretion. See tip provided.

Ingredients
2 pieces dried black mushroom
2 pices hard tofu (bean curd)
2 eggs beatened
100g carrot
Seasonings
1 1/2 tsp salt
1 tsp sugar
2 tbsp cornstarch
a pinch of white pepper
some chopped sping onion
Method
1) Soak the mushrooms in water until soft. Remove stem and squeeze away all water.
2) Finely chop mushrooms and carrot. Fry them with 1 table spoon oil over low heat for about 3 minutes.
3) Boil tofu for about 2 minutes. Dry it thoroughly and mash. Mix it well with other ingredients and seasonings.
4) Heat some oil in pan over low heat; use a table spoon to get a portion of the tofu mixture into pan. Gently flatten out the mixture and cook for about 5 minutes until the bottom side is set. Then turn to another side and fry for another 5 minutes. Repeat making more cakes from the remaining mixture.
Tip
1) Have the cakes cooked as soon as the mixture is ready because water will seep out from tofu thus diluting the mixture. In case you find the cake is diluted and difficult to set, try add a little bit more of corn starch into the tofu mixture.
2) You may choose to steam (than to fry) the cake, just transfer the tofu mixture into a plate of minimun 3 cm height and even it out into equal height. Then cover the plate with foil and steam over medium heat for 8 minutes.
To get immediate updates and new recipes from my blog, you may also SUBSCRIBE them via RSS feeds. See you there.