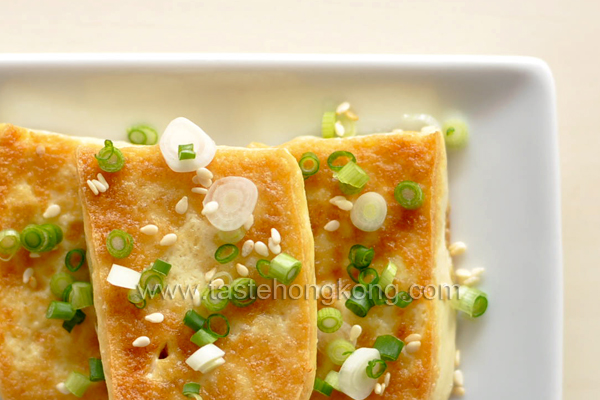 With one table spoon of oil, we will be able to fry these tofu and yield crisp golden crusts. I did not coat it with egg, batter or any flour. It is just naked firm tofu (bean curd). A non-stick pan is neither necessary.

'Be gentle and don't rush' may best describe how we are going to cook this.
The tricks are, if I have to put it in that way, simply blot dry tofu, heat pan enough, and flip tofu only when the first side is done. After frying, the pan will still look clean, also meaning that cooking could also be a graceful task.
I like pan-fried tofu cause it is always good on its own. The one you see here is served with spring onion, toasted white sesame seeds, and with some soy sauce for dipping. Be honest, I just love having tofu in my different dishes.
Ingredients
2 pcs firm tofu, ~200g
1 tbsp oil for frying
~1/4 tsp salt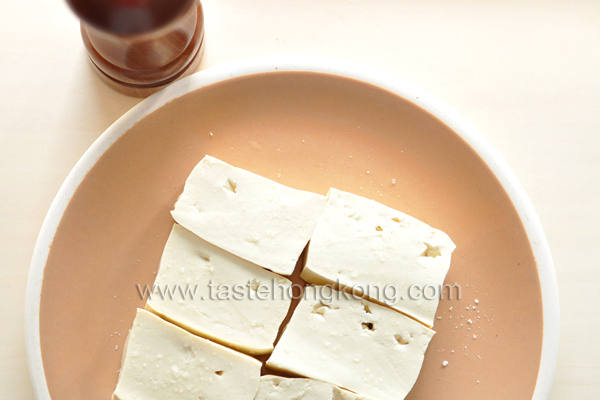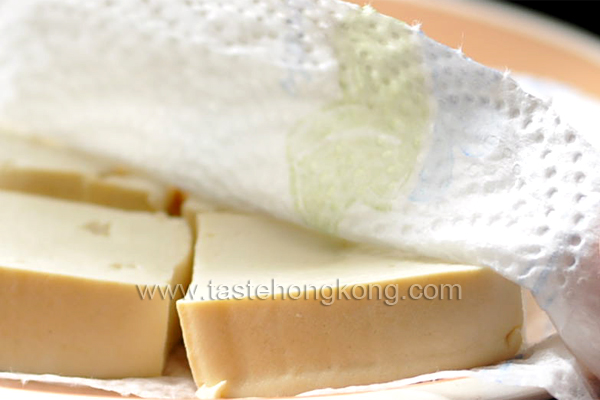 Method
Salting tofu
Slice tofu into about 1 cm thick. Sprinkle salt over both sides of tofu slices, and let them stand for about 15 minutes.
Salting tofu though not necessarily helps build a crust, it does help draw moisture and firm up the texture a little bit while seasoning the tasteless tofu . This step is recommended especially you are going to serve the fried tofu on its own.
Blot dry tofu
Moisture is both the enemy for oil and for forming a golden crust. Right before frying, blot dry tofu with clean towel or paper towel. Do not do this too early as tofu continues exudes water.
Heat pan enough
We don't need a thermometer for measuring heat like this, because there are clues here telling us when the pan and oil are heated enough for frying the tofu.
Over medium flame, heat pan to the point when your palm, resting several cm above it, can feel the heat. Then add oil and distribute it evenly by swishing the pan.
Wait till you see some wave-lines (gentle ripples) in the oil along the edge of the pan (see the top left picture below). Turn to low flame, gently place in tofu slices. As tofu is landed to the pan, do not flip it immediately until the down side turns golden, which takes about two minutes.
Use a turner and flip to the other side and keep pan-frying, again till golden.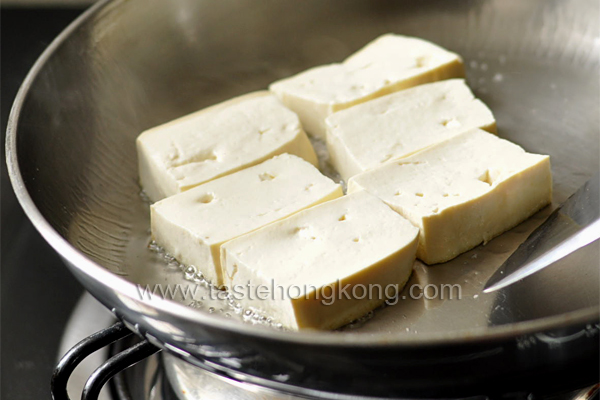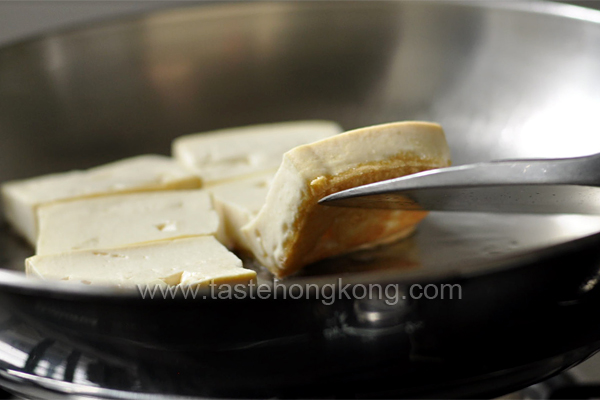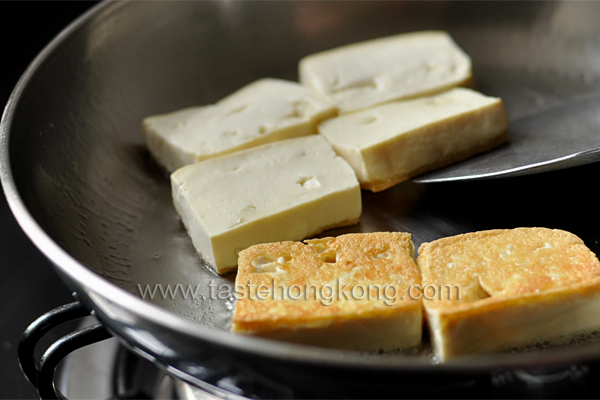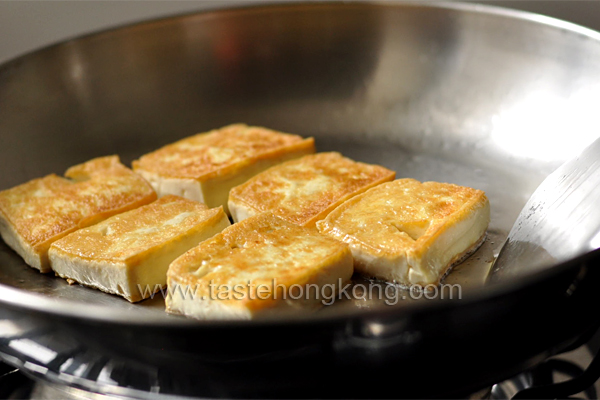 Serve hot or continue cooking the fried tofu with in other dishes. Say, cook it with a meat sauce, or simply to put it in a soup for further cooking… Whichever, enjoy!
Note:
When putting tofu into pan, do not throw them from height because that will cause oil to splash. Just gently land them to the pan.
Instead of measuring the salt in an exact amount, I actually sprinkle it with a grinder over both sides of the tofu slices.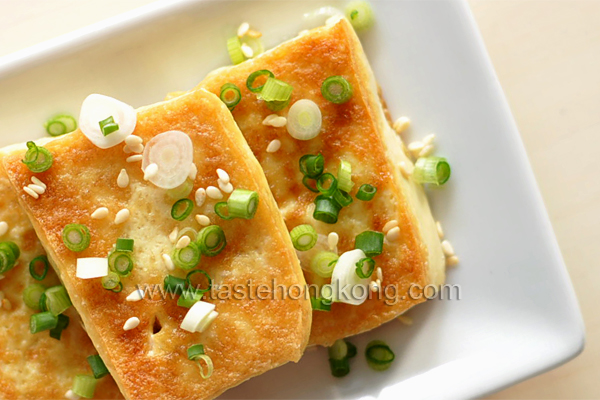 To get immediate updates and new recipes from my blog, you may also SUBSCRIBE them via RSS feeds. See you there.