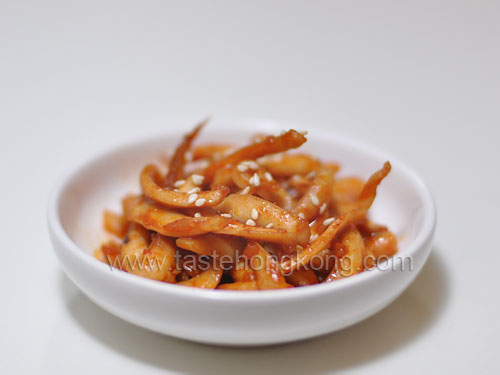 Since the last post, 'Visting Seoul' , I had not been able to update new recipes for more than three weeks, sadly. But happy things to me are, I still see bloggers and visitors dropping by, or leaving me a comment, or subscribing to my RSS feed or stretching their patience for my slow response. Thank you for being with me, I was doing my domain registration transfer and there was a delay, a simple issue yet had kept me distracted. The problem is now behind me. Feeling like putting off a fire, I am glad to share my pictures and recipes here again than merely working on those back end stuff.
Let me first show you a pack of dried squid and a box of Korean chili paste, which are among the small gifts, most of which are edibles, I brought back for myself from my last visit to Seoul, also the main ingredients for preparing this dish. With some grated fresh garlic, I have them stir-fried into an appetizer, a spicy small eat.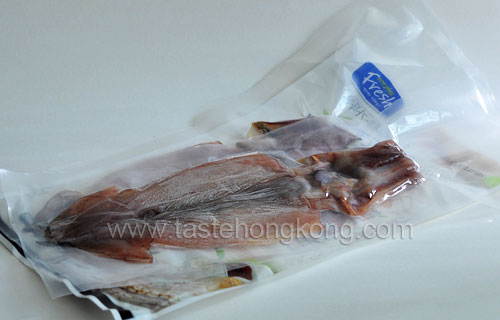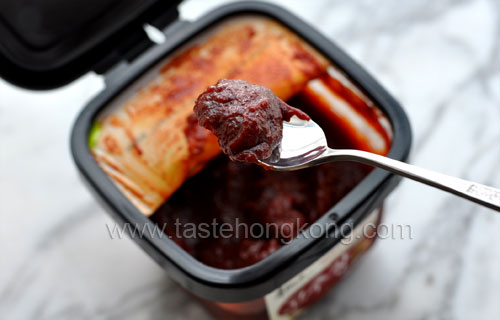 This is an appetizing dish, but may I suggest that it is better not to be taken in great amount in one meal. The cooked dried squid will call for strong teeth to chew and require our stomachs to work hard. Take a small amount and eat slowly shall appeal to your appetite while not overworking your digesting system. Enjoy.
Ingredients
2 dried squids, ~200g
4 tsp Korean chili paste
2 tsp grated garlic
1/2 tsp salt
some white sesame, optional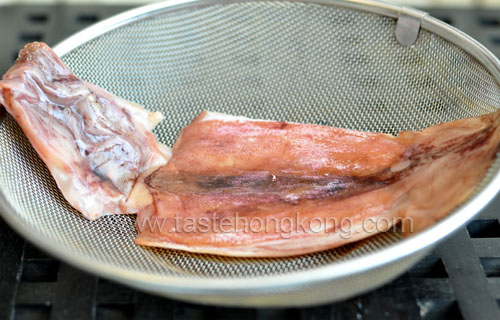 Seasonings
2 tsp soy sauce
1 tsp sugar
1 tsp salt
1 tbsp white wine
2 tbsp water
Method
Rinse the dried squids and soak them in 8 cups of cold water for 3 to 4 hours (or until they become soft).
Tear off their skins, rinse off any remaining dirts. Pat dry, have them cut into about 1cm thick strips (they will shrink after cooked) and marinated by 1/2 tea spoon of salt.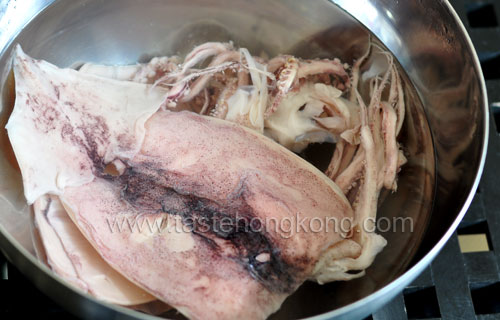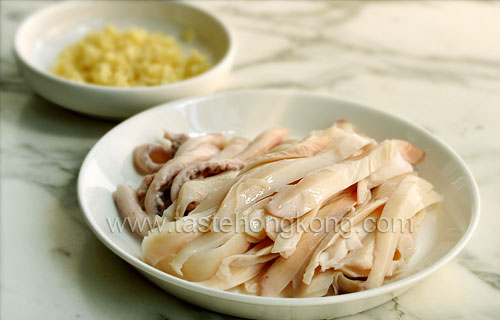 Heat a pan with about one table spoon of oil over medium heat. As the oil gets heated, sauté the grated garlic until fragrant. Toss in squid slices and constantly stir them for about 3 minutes. Mix seasonings (except salt) and pour in, stir until done and sauce is thickened. Add salt to taste. Dish up, sprinkle white sesame for added flavor.
Serve hot or cold, I enjoy both.
To get immediate updates and new recipes from my blog, you may also SUBSCRIBE them via RSS feeds. See you there.