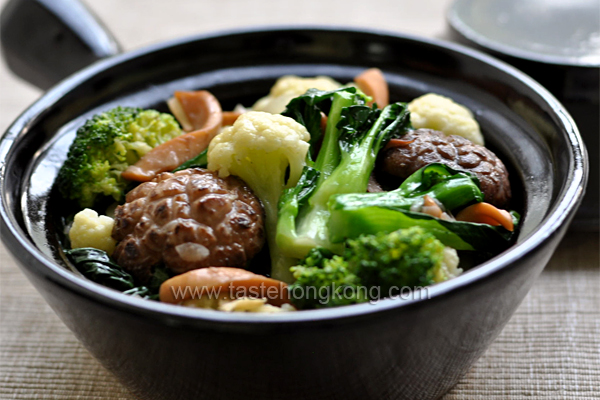 Having rested in a deep corner of my cabinet for several months, this little Chinese clay pot has its first assignment after the very long summer break. It helped me prepare a warming dish, a kind of Clay Pot Vegetables (雜菜煲) which is especially popular during winter here.
Many eateries in Hong Kong cook this dish with dried seafoods like shrimps, scallops and squids, for which they give a more elaborate name, 'Mixed Vegetables in Clay Pot with Dried Seafoods (海味雜菜煲)'.
I made something between the two, yet still trying to retain the contrast of textures in one pot. I therefore choose to have the plumpy cauliflowers and broccoli to mix with the leafy choy sum.
If I'm efficient enough, ideally, I would as well finish preparing the whole meal at the same time when these vegetables are still sizzling in the clay pot and ready to be served on the table.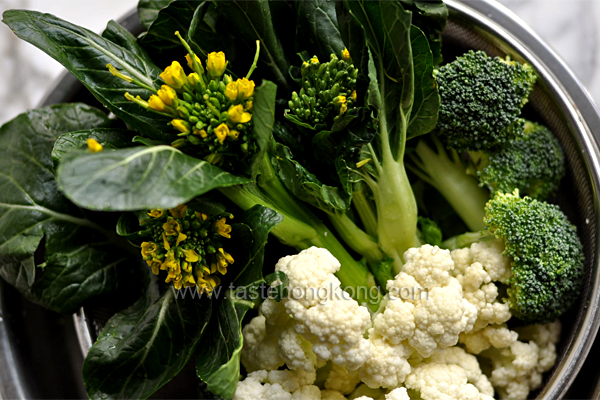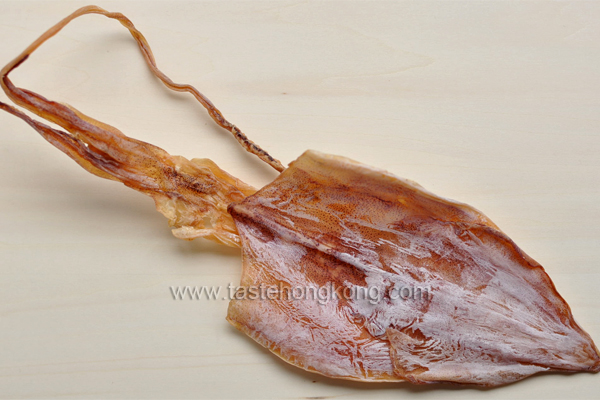 Ingredients
250g cauliflower and broccoli
150g choy sum
1 dried squid, ~40g
8 dried black mushrooms
3-4 slices ginger
1/2 tsp salt
1/2 tsp cooking wine
2 tbsp oil
Sauce
2 cloves garlic, finely chopped
1 shallot, finely chopped
1 tbsp oil
1 tbsp oyster sauce
1/2 tsp salt, or to taste
1/2 tsp sugar
1 1/4 cup water (or use the water reserved from soaking the mushrooms)
corn starch paste (corn starch : water = 1tsp : 2tsp)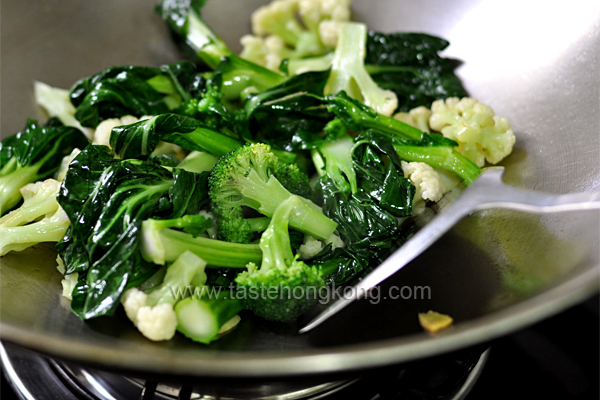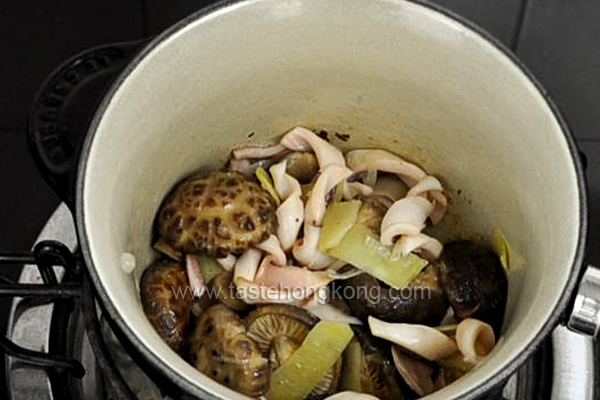 Method
Preparing ingredients
– Rinse vegetables. Cut cauliflowers and broccoli into florets, choy sum into a few centimeters chunks.
– Rinse dried squid, rehydrate, drain dry and cut them into strips like this.
– Rinse dried mushrooms, soak until soft. Discard tough stems. Squeeze excess water from mushrooms after rehydrated.
Cooking the sauce
– Heat oil in the clay pot (or in a pan) over medium heat, sauté chopped garlic and shallot until fragrant.
– Toss in squid and mushrooms, stir-fry until fragrant. Add in water, stir occasionally and bring it to a boil.
– Covered, turn to low heat and simmer until about 1/4 cup liquid remained. Add in oyster sauce, sugar, salt and mix well.
Stir-frying the vegetables
– As the sauce is about to reduce to 1/4 cup, heat two tablespoons of oil over high flame in a wok or large skillet, sauté ginger until fragrant, and toss in vegetables. While flipping them with a turner, sprinkle wine on side of wok and keep stir-frying for a while (add in one to two tablespoons of water can help soften the vegetables faster).
– Cover, turn to medium heat and let simmer for about a minute or until the vegetables are 80% to 90% done, sprinkle in salt and mix well.
Assembling all
– With the sauce, mushrooms, and squids heating in the clay pot, add in the just cooked vegetables. Thicken with corn starch paste.
Serve hot. Enjoy!
Tip
If the water used for soaking mushrooms will be reserved for making the sauce, then you may want to change the water soaked for the first hour to get rid of any impurities (some cultivated mushrooms are planted with chemicals or pesticides).
If your pot is not large enough for thickening the sauce, you may first do it in the wok or skillet and return all ingredients back to the pot for brief heating before served.
I have also been happy with similar dishes cooked by my cast iron cookware, but this clay pot make them look more Chinese.
This is also a dish good for using up leftover vegetables or even gourds. In case you find the amount of greens not enough, simply add some glass noodles to it.
For a simpler variation, you may use readily available stock than cooking up the sauce yourself.
To get immediate updates and new recipes from my blog, you may also SUBSCRIBE them via RSS feeds. See you there.