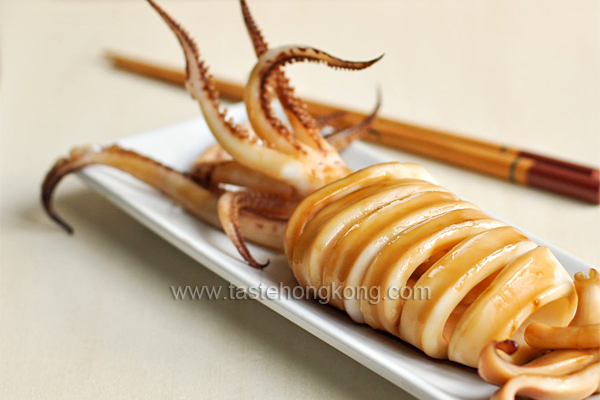 I think I am imitating the Japanese style of preparing grilled whole squid calamari, aka Ika Maruyaki. Like many Yakiniku Houses (Japanese BBQ restaurants) advertise their teriyaki sauce, I also want to claim that mine is also an original one, but from a tiny kitchen hosted by a home cook than a professional chef.

There is no bottled teriyaki sauce in my stock because I may simply cook it up from scratch in minutes. But the prerequisite is that I have to spare some space for stocking up the bottles of the needed ingredients, namely mirin, sake and soy sauce .
They are kept however not solely for making teriyaki, I get sake for making this, soy sauce for this and this, and mirin for broth, just for an instance.
I make cuts on the squid body before grilling to shorten the broiling time. You may choose to cut it into rings only after it is grilled but that may require it to stay in the oven for a couple minutes longer.
Broiling the squid in the oven is almost effortless. The most labor-intensive task perhaps is about cleaning the squid. If this is your first time doing such, I believe a reference, which is easy-to-follow, from about.com shall be of help; and here is just a shot borrowed from their page.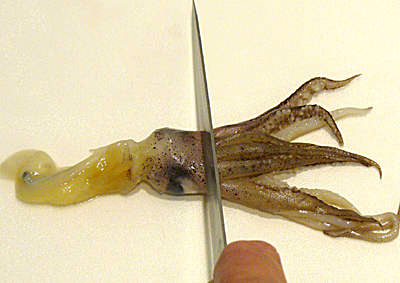 Ingredients
1 squid, ~230g
Teriyaki Sauce
2 tsp brown sugar
4 tsp mirin (Japanese cooking wine)
2 tbsp sake
2 tbsp soy sauce
thickening: 1/2 tsp corn starch mixed with 2 tsp water
Marinades for squid
1 tsp grated ginger
1/4 tsp salt
Method
Cleaning
Tear apart the head of squid from its body. Chop off the beak and eye portion but reserve the tentacles.
Discard the transparent bone inside.
To make washing the inner part easy, also cut off 2 to 3 cm length (but reserve it for grilling as well) from the base part of the body.
Tear off the thin membrane from the body tube and tentacles.
Wash, rinse the squid under running water until clean.
Drain dry
Before grilling
Massage the squid with marinades and let it stand for about 15 minutes
Bring about 3 to 4 cups of water in a pan to a boil (sufficient for submerging the whole squid). Briefly blanch the squid including the tentacles for 10 to 15 seconds, after which you shall find the meat contracted and the squid body turn into a relatively firmer tube. Dish up quickly in order not to over-boil it.
Pat dry.
Slice the body crosswise, about 1.5 cm apart, but having the cuts about halfway through so that the rings are still attached.
Preparing teriyaki sauce
In a saucepan, combine all ingredients (except thickening) for teriyaki sauce.
Over low heat, simmer, and gently stir with a spatula until sugar dissolved. Then thicken with thickener and remove from heat.
Grilling
Preheat oven on grill to 350 degree F. Brush about half of the teriyaki sauce all over the squid.
Lightly oil an oven-safe dish, arrange squid and tentacles on it. After grilled for 5 minutes, take out dish and glaze the squid with another layer of sauce.
Return to oven and grill for another 5 minutes, or till done.
Dish up and serve hot.
While grilled squids in Yakiniku Houses are commonly served separately as side dishes with cold drinks or sake, let's also make a happy deviation at home by serving them with rice or noodles. To enhance the flavor of this simple teriyaki, simply add some crashed garlic or chili powder into the sauce.
Enjoy!
To get immediate updates and new recipes from my blog, you may also SUBSCRIBE them via RSS feeds. See you there.