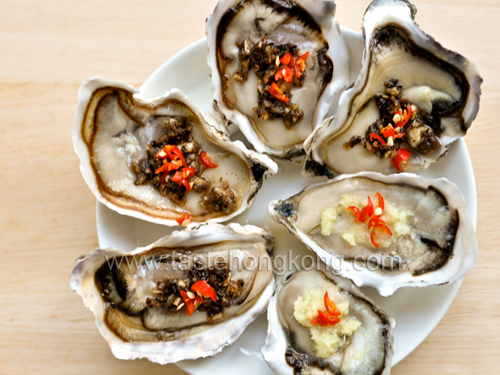 Oysters which are good to be eaten raw here, with least exceptions, are delivered to us by air un-shucked. To pay for their rides on the jets, therefore they are often pricey. At supermarkets, usually you shall expect a freshly shucked oyster to cost more than $30 in Hong Kong dollars (~USD4).
Honestly, I would not allow and would not forgive myself to eat any of those fresh oysters cooked. What you see in the picture here are all frozen ones, altogether costing me less than HKD40. But if you have any leftovers from your batch of fresh oysters that can't be finished in one meal, do consider to give this a try.
Truth is, I find these frozen guys perfect for making this dish (in Chinese 豉汁蒸生蠔) as they still come with half-shells, each of which so resembles a custom-made dish that the oysters are bathed well with other condiments when being steamed. And I don't even need to add much seasonings like sugar, or wine, to flavor the oysters.

'Summer is good for steaming' I always say to myself as this cooking method requires minimal efforts on my part in front of the naked flame. For this dish, the preparation time is even ridiculously short.
Ingredients
4 oysters
1 tsp fermented black beans
1 1/2 tsp coarsely chopped garlic
1 red chili, finely sliced
2 tbsp spring onions, optional, finely sliced
Sauce
2 tsp soy sauce, or to taste
2 tsp olive oil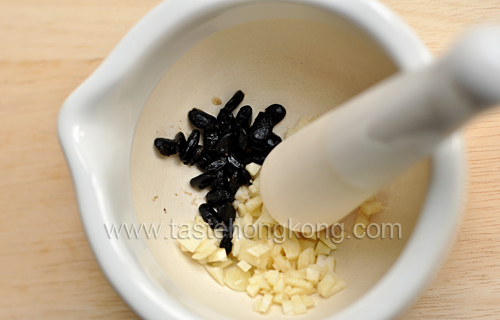 Method
Defrost frozen oysters. I just let them rest for 2 hours at the room temperature of about 30 degree C . Discard water leached from defrosted oysters, pat dry.
Put fermented black beans into a mortar with coarsely chopped garlic, then ground and pound them with a pestle until all of them are mashed well. Arrange the oysters on a dish good for steaming, spread similar amount of mashed garlic and fermented black beans on the center of each oyster, and top them with chili slices.
Set a rack in wok with about 2 cups of water as here, cover, bring it to a boil. Uncover, place the plate of oysters on the rack; cover and steam over high heat for 5 minutes. Heat off, uncover, if you like spring onions, distribute them on the steamed oysters and cover again for about half a minute to let the residual heat infuse their flavors into the oysters.
Mix soy sauce and oil, and pour them over the oysters right before serving (different fermented black beans may come with different levels of saltiness, so you may need to adjust the amount of soy sauce accordingly). The sauce together with the juice from the oysters, and the oysters themselves, are all great to go with rice.
Note
In the pack I bought, two out of six oysters looked dwarfed, which signaled me to single them out for an experiment again. I steamed them with some grated ginger plus a hint of chili. Verdict is, the one I ate was less pungent on the whole but with the flavors of oyster prevail more, which was good on its own.
I understand that places produce fresh oysters usually sell them in terms of dozens, so you may want to multiply the ingredients in this recipe. Enjoy!
To get immediate updates and new recipes from my blog, you may also SUBSCRIBE them via RSS feeds. See you there.