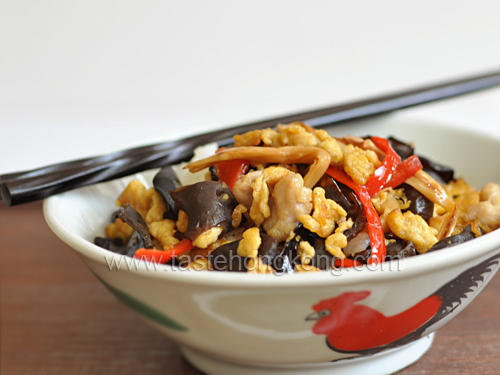 To honor the name of Moo Shu Pork (written as 木須肉 in Chinese), I understand that I have to make one of its ingredients, the scrambled egg, to look as if they are patches of small flowers resembling osmanthus.
I experiment. With the help of an electric mixer than a pair of chopsticks, I beat an egg almost into a foam. As the foamy egg is poured into the well-heated wok and oil, it puffs quickly which then is easily mashed into small patches. But I believe this is not what the Chinese chefs will usually do. On TV, I always see them cooking this fake osmanthus by frying lightly beaten eggs in a wok containing a larger amount of oil over a volcano-like gas stove. So mine is more a tweak than is the classical way of cooking this dish.
And why is the dish named Mo Shu? This is something about the tree of osmanthus, which pronounces similar to Mo Shu. And because the egg in this dish is cooked to resemble osmanthus, the name is given.
Ingredients
50g lean pork
15g dried golden needle vegetables, ~40 pcs
10g cloud ear, ~10 pcs
1 each jalapeno red pepper, shredded
1 egg
1 tsp cooking wine, I use Shaoxing yellow wine
2 tbsp oil for frying




Marinades for pork
1/8 tsp salt
1/8 tsp sugar
1/8 tsp corn starch
1/4 tsp oil
Seasonings
1/2 tsp salt
1/4 tsp soy sauce
1/2 tsp dark soy sauce
1/4 tsp sesame oil
4 tbsp water
Thickening
1/2 tsp corn starch
1 tbsp water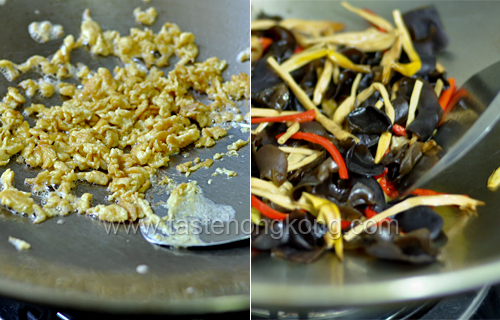 Method
Slice pork and marinade.
Soak golden needle vegetables and cloud ears in water for about half and hour. Cut off the hard ends from them. Rinse them under running water to make sure they are cleaned from dirts. Tear cloud ears into smaller pieces, about a thumb size, drain dry. Squeeze excess water from golden needle vegetables. Set aside.
Add soy sauce to season egg. With one beater installed, blend the egg with an electric mixer to form a foamy layer on top, about a minute.
Heat one table spoon of oil over high heat. As they are well heated, pour in beaten egg. Quickly stir it well and mash it with a turner into small patches but do not overcook. It is best to retain some moist in the egg while dish up
Heat another table spoon of oil in wok over medium heat, first fry the marinaded pork slices to almost done, 1 to 2 minutes. Then toss in red pepper, cloud ears, and golden needle vegetables and stir well. Sprinkle wine on sides of wok. Mix well all seasonings and stir in. Cover lid and cook for another minute.
Remove lid, add in egg and thicken with corn starch mixture (mix well before poung in). Stir to assemble thoroughly. Serve hot and enjoy.
To get immediate updates and new recipes from my blog, you may also SUBSCRIBE them via RSS feeds. See you there.