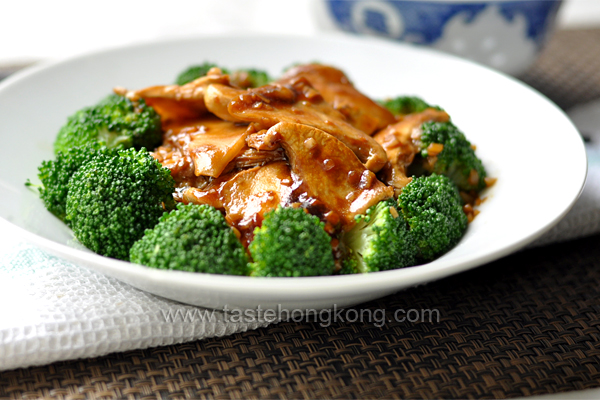 Stir-fried mushrooms with greens are dishes I often make. If not broccoli, it could be lettuce, boy choy or even Chinese cabbage with enokitake-mushrooms, shimeji mushrooms or Chinese black mushrooms. It all depends on what is fresh, good, and in-season,

After all – I often rely on one recipe and method: fry or sauté mushrooms and tumble them with a vegetable in an aromatic oyster sauce, a sauce frequently used for braising the real abalone too.
When eating this in a restaurant for the first time, I knew it was a mushroom, but its springy, meaty texture really cheated me, making me as excited as enjoying the real ones, though the taste was somewhat different.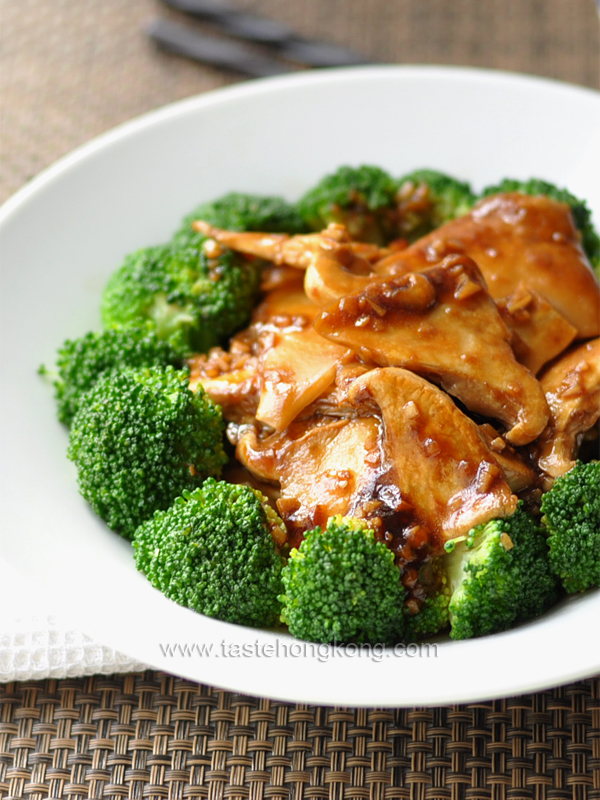 Sadly, this cap mushroom (bai ling gu 百靈菇) does not seem to be a common ingredient. I could only spy them occasionally among other fresh mushrooms in markets, not to mention in supermarkets.
Happy problem is, it gives me a chance to discover that my another favorite mushroom also works very well with this same recipe. It is this – meaty and springy king oyster mushroom, which I would recommend you to try too.
Besides, this dish is not only meatless but also can be easily made vegetarian by using a vegetarian oyster sauce than the ordinary one, which is what the Chinese vegetarian eateries does.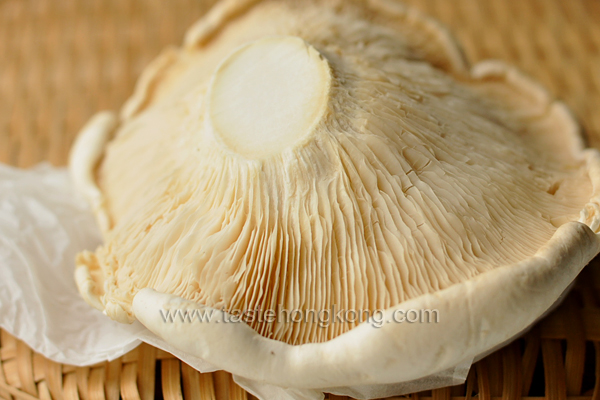 Ingredients
1 abalone cap mushroom 百靈菇, ~150 g
200g broccoli
2 cloves garlic, finely chopped
1 1/2 – 2 tbsp oil
For blanching broccoli
1 tsp sea salt
1 tsp sugar
2 tsp cooking
4-5 cups water
Sauce
1 tbsp oyster sauce
1/2 tsp soy sauce
1/2 tsp dark soy sauce
1/2 tsp sugar
1/8 tsp sea salt
1/2 tsp sesame oil
1/2 C water
1 tsp yellow wine
corn starch paste for thickening (corn starch : water = 1 tsp : 2 tsp)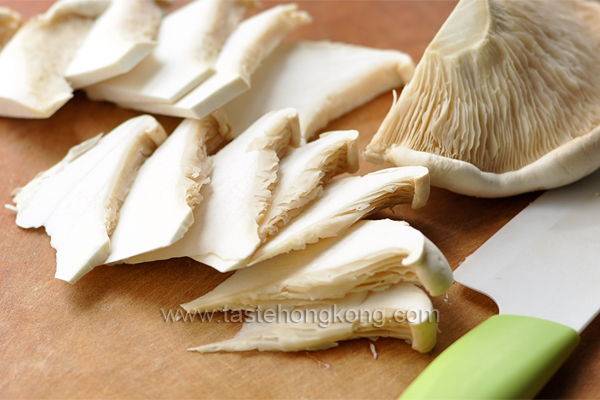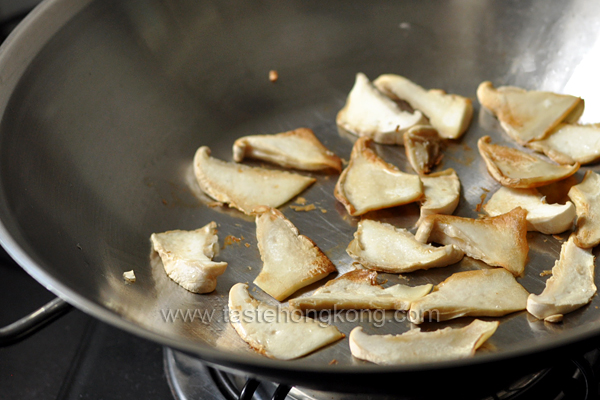 Method
Using a damp towel, wipe off any dirt from abalone cap mushroom. Half it vertically from the center and cut each half into about 1/4 cm thick slices.
Wash broccoli clean, cut into about 2 cm thick florets. Bring 4 to 5 cups of water to a rolling boil, add sugar, salt, and oil. Drop in broccoli, blanch for 1 to 2 minutes. Drain and arrange on dish (you may also choose to par-boil the vegetable for 1/2 to 1 minute and cook in the sauce later).
In a bowl, combine all ingredients for sauce (except wine and cornflour paste).
Heat a wok over medium heat until hot (like doing this). Add 1 table spoon of oil and distribute it evenly. Place slices of mushrooms in bottom of wok in one layer. Fry until the downside turned lightly golden, about a minute, lowering heat if required. Turn all slices to the other side and continue doing the same, adding more oil if needed.
Push the fried mushroom slices aside (or dish up if you want) and add half table spoon oil in center of wok. Sauté garlic until lightly brown, then splash in the wine.
Return the mushrooms to the center of wok and stir in the combined ingredients for sauce.
Raise heat if you've lowered it; keep stirring as the sauce comes to a simmer and until about one third of it is reduced.
Sample taste, add more salt if required (toss in broccoli to cook with the sauce and mushroom if you like). Thicken with cornstarch paste to your desired consistency.
Dish up; serve hot.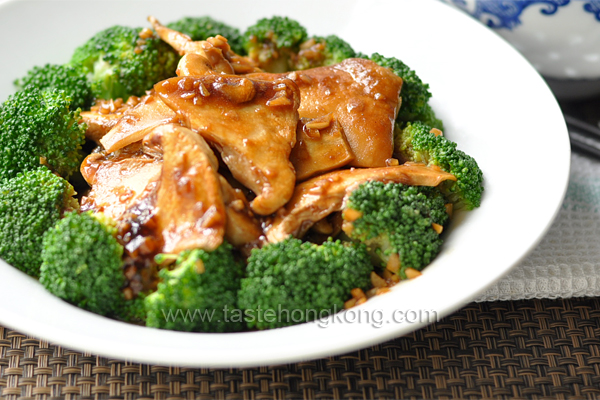 Enjoy!
To get immediate updates and new recipes from my blog, you may also SUBSCRIBE them via RSS feeds. See you there.