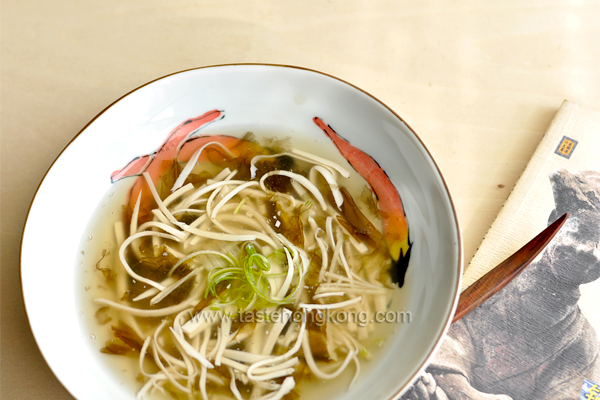 In the older days, this was a dish falls into the vegetarian category because the man who invented this dish was a monk, named Men See. To prepare, he skillfully sliced a fist-sized tofu into hair-thin shreds, said to be close to a thousand cuts, and added to a soup consisted of black moses (fat choy 髮菜). And the dish has been called Men See Tofu Potage 文思豆腐羹.

This is a smooth soup yet nothing is pureed. Like most Chinese potage, it is thickened with water chestnut powder, but I suppose you may substitute it with corn starch.
Nowadays, there are different adapted versions, mostly made up of a mixture of ingredients including both vegetables and meats. The one I have here perhaps is the simplest: only tofu, dried laver are used. I'm not skillful enough to make several hundred cuts out of my piece of tofu, but my thicker shreds have too contributed a silky texture to the soup.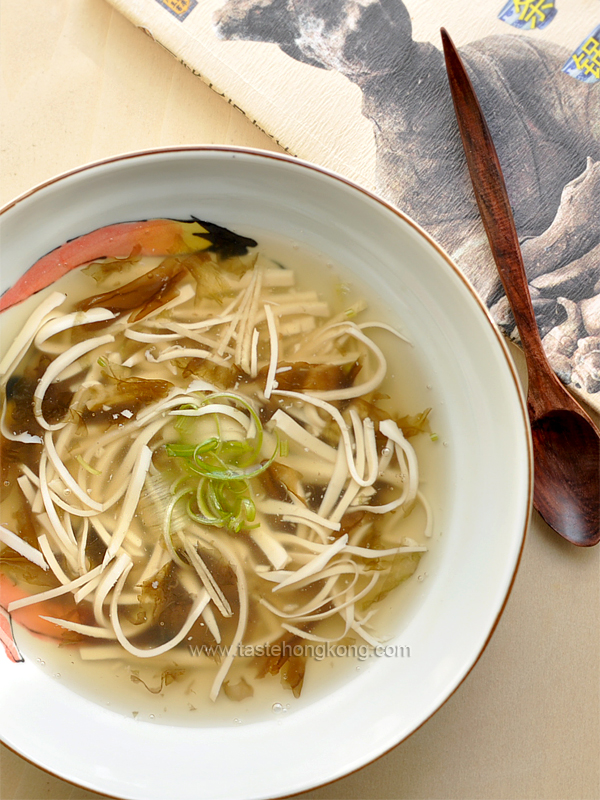 Shredded ginger (optional) to me is a great complement to the flavor of laver. I even drop a few of of them over the soup as it is cooked, wanting to taste the fresh aroma along with some crunchy texture.
Hubby is not a fan of laver, still, he likes this. And I could actually see him enjoy slurping down the noodle-like tofu. That is why I like naming this as Tofu Noodles.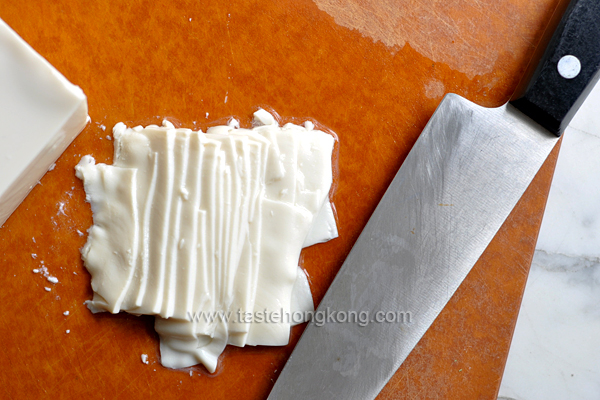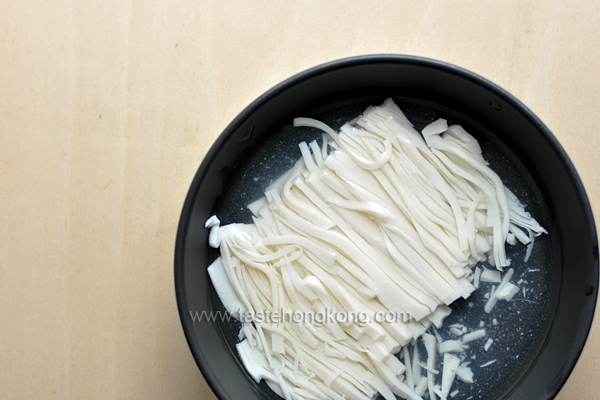 Ingredients
1 pc soft/silken tofu, ~200g
1g dried laver (seaweed)
2 cups vegetable stock (or meat stock for non-vegetarian)
1 tbsp shredded ginger, optional
1 tbsp shredded spring onion
2 tsp water chestnut powder, add 1-2 tbsp water to mix into a paste
Seasonings
1/4 tsp sugar
1/4 tsp sesame oil
pinch of ground white pepper
salt to taste
Method
Re-hydrate dried laver with water, for about 10 minutes, or until soften. Briefly rinse, drain.
Slice tofu into blocks of about 2 cm thick (this thickness is easier for thin slicing). Slice them as thin as possible. Allow each slice of tofu lay flat and stack one another but not aligning completely – such would make later shredding easier. As the tofu block becomes too thin after several slicing, lay it flat, and slice it horizontally than vertically (be careful with your knife). Then julienne the stack of tofu slice.
In a pot, add stock, re-hydrated laver, half of the julienned ginger, and bring them to a boil. Stir in water chestnut paste, about a spoon at a time, to your desired consistency. Then bring the soup to the boil again. Season with sugar, sesame oil, and ground white pepper. Regular heat to a simmer. Gently put in tofu shreds, simmer briefly, add green onion, remaining ginger and salt to taste.
Serve hot.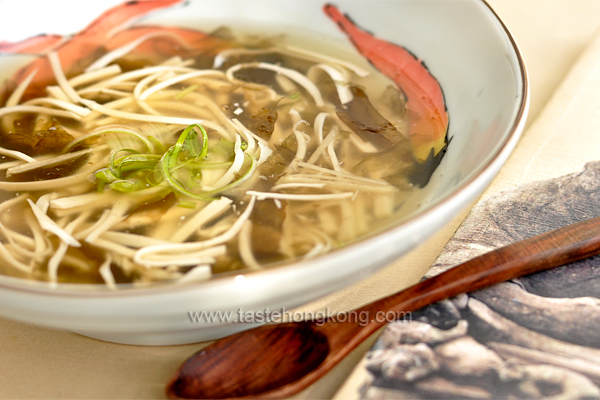 Enjoy!
To get immediate updates and new recipes from my blog, you may also SUBSCRIBE them via RSS feeds. See you there.