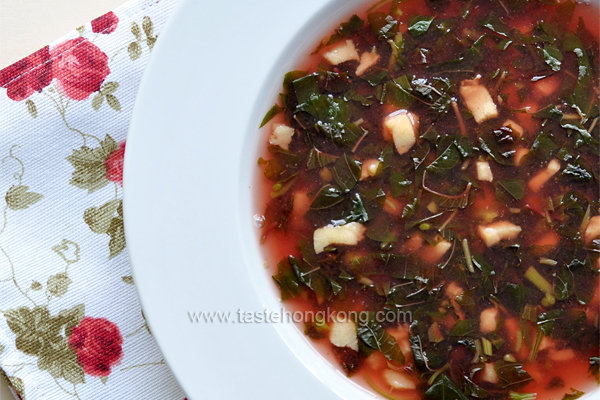 Have you ever tried Chinese snake soup? No fear, this recipe has nothing to do with snakes. It is more about the consistency.
Snack soup differs from most Chinese soups not only in the way that it is cooked with a weird ingredient but also it is thickened than watery. In Chinese, a thickened soup is specifically referred as 'gēng 羮', e.g. 蛇羮 (snake potage). So does this 'soup'. However, there is not without exception; a thickened soup like this is not called potage. A habit perhaps?
A 'watery' soup to me is not a bad thing. Say for this soup, it has to be watery because neither is it thickened nor is it cooked to become concentrated.
This is the first potage recipe I have here, and it is also one good to be cooked with or without stock.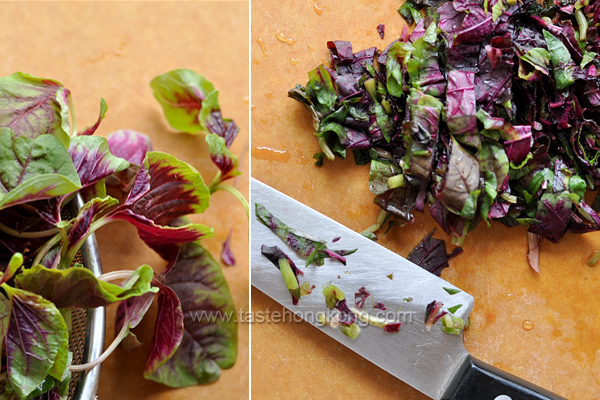 Ingredients
50g purple amaranth (it has twice the amount of iron as their green counterpart).
50g fish fillet, diced or sliced in the size of a finger nail
2 cups stock or dashi
1/2 tsp fish sauce
1/4 tsp sugar
1/4 tsp salt, or to taste
Marinades for fish
1/8 tsp salt
1/8 tsp ground white pepper
1/8 tsp corn starch
1/8 tsp oil
Method
Discard roots and old stems of amaranth. Wash and drain dry. Scald in hot water, drain again. Roughly chop amaranth.
Marinade diced fish fillet for 15 to 30 minutes (thaw, wash and pat it day before marinading, if required).
In a pot, bring stock to a boil; add chopped amaranth and fish fillets. Keep boiling for another 2 minutes or till done. Mix well the water and water chestnut powder to form a paste, gradually swirl into the soup to thicken but avoid lumps.
Season with fish sauce, sugar and salt.
Serve hot and enjoy!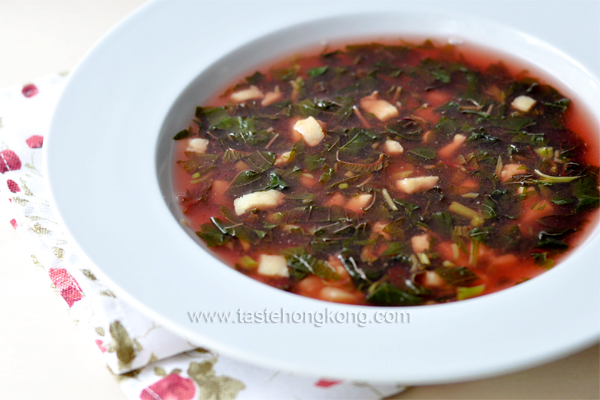 If not cooking with any stock
Crush 1 to 2 cloves of garlic and sauté them with a teaspoon of oil. Then add in the chopped amaranth, sprinkle some wine and add water to boil (the rest will be the same as you would do it with stock or dashi).
Note
The amaranth you see here is the leftover from a stir-fry and the fish fillet is part of the ready stock in my freezer, that is why they are in small amount. With the stock or dashi, they together yield about two bowls of soup. Feel free to multiply the amount you required or substitute shrimps for fish fillet.
To get immediate updates and new recipes from my blog, you may also SUBSCRIBE them via RSS feeds. See you there.