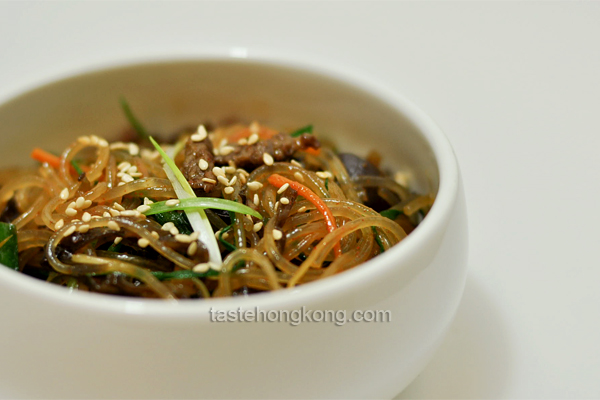 I have to agree with Ms Kim, Chairperson of the Korean Women's Association in Hong Kong, that this famous stir-fry can be prepared with just a few ingredients. And she demonstrated so. Using only beef, carrot, and onion along with the vermicelli (sweet potato noodles), she cooked a tasty and presentable dish of japchae in minutes.

What you see here is the stir-fry I adapted from Ms Kim's recipe. It is also a recipe from this cooking class, during which she also shared with us bloggers and media people a couple of tips as how to perfect the dish.
The cooking started off in just the same way as the usual recipe I know: beef slices were fried until just crisp, then carrot and onion were stirred in with vermicelli.
But as opposed to seasoning the vermicelli during frying, Ms Kim 'marinaded' it before cooking it with other ingredients. Although I hadn't cooked japchae this way, it looked both convincing and familiar to me (I used to marinade my rice noodles too) .
It turned out that the vermicelli was richly flavored with the soy-based sauce, contrasting the crisp and tangy taste of the two vegetables (which were cooked separately with beef). I just can't tell you how much I love that easy approach of flavoring the vermicelli; perhaps it is easier for me to share with you here the recipe adapted from Ms Kim – also the CEO of a group of F&B outlets.
p.s. To register their cooking classes (already full in March and April), simply get details here, where you shall also see pictures on making cabbage kimchi.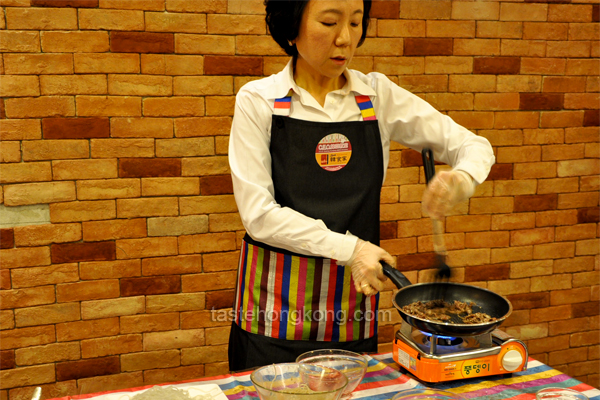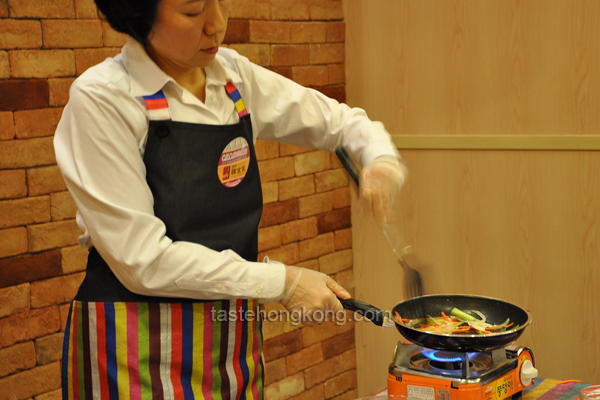 Ms Kim emphasizes that it is better to stir-fry the beef and vegetables separately.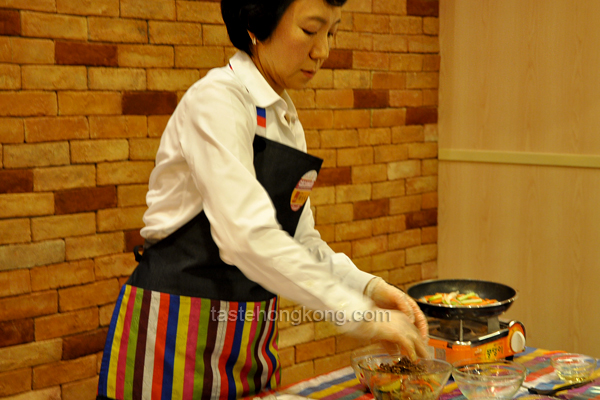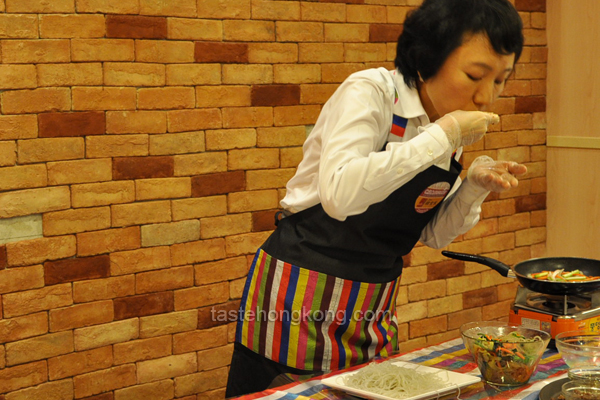 And she prefers to mix japchae by hand and sample its taste before reheating.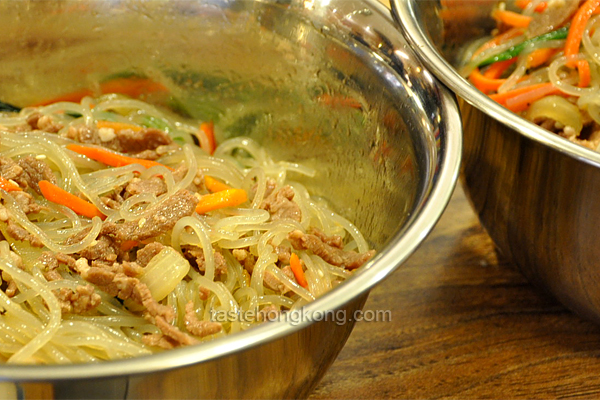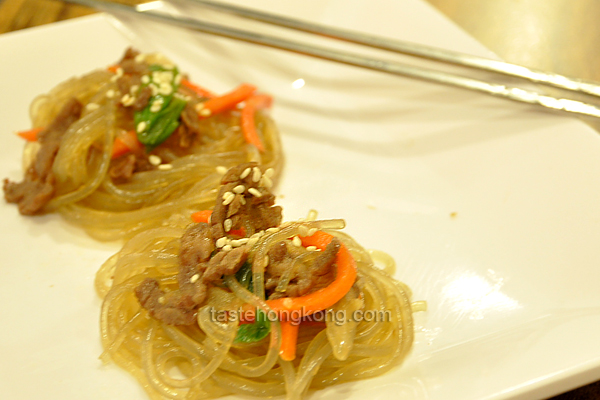 Isn't this hearty enough to arrange the japchae in bite-size portions?
Ingredients
1 pack dry vermicelli, 150g
80g beef, cut into 1/4 cm thin strips
julienned carrot, ~ 1 cup
julienned onion, ~ 1 cup
pinch of salt, or to taste
1-2 tsp toasted white sesame seeds
1-2 sprigs greed onions, sectioned
1-2 tbsp cooking oil
Marinades for beef
1/2 tsp soy sauce
1/4 tsp rice wine
dash of sesame oil
Seasonings
3 tsp soy sauce (The original recipe suggested 4 tsp Korean soy sauce but included no marinades as above. I used my regular soy sauce and flavored it with about a teaspoon of chopped garlic and pinch of ground black pepper.)
2 tsp sugar
1 tsp sesame oil
Method
Add soy sauce, wine, and oil to beef, mixing well. Marinade for no less than 15 minutes.
Boil the vermicelli in large pot of boiling water until softened, about 6 minutes. Drain under cold running water. Scissor the noodles into shorter sections, 6 to 8 cm in length. Coat well with seasonings and set aside.
Heat about a table spoon of oil in pan or skillet over medium-high heat. Add marinaded beef; stir-fry beef until lightly browned and just done, about 1 to 2 minutes. Dish up, including any sauce .
Again, heat another table spoon of oil in pan or skillet over medium-high heat. Add carrot, onion and some green onions, then stir-fry until just softened. Add pinch of salt and toss well, dish up.
Mix stir-fried onion, carrot, beef (including any sauce) with seasoned vermicelli in a large bowl. Sample taste, add more soy sauce if desired.
To serve hot, put all ingredients into pan and heat again, tossing well.
Dish up, garnish with sesame seeds and remaining green onions.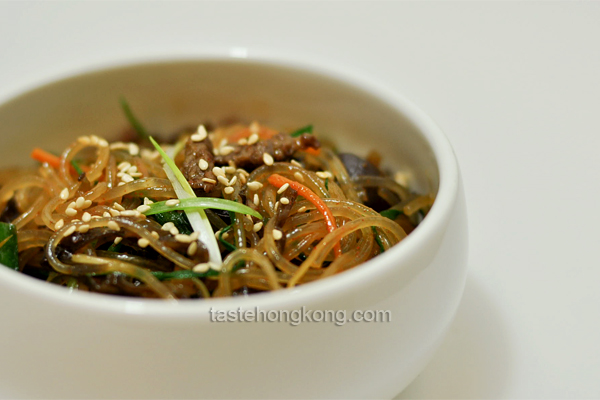 Tips:
1) Marinade the boiled noodles before stir-frying them with other ingredients.
2) Do not afraid of using your clean hands to massage the seasonings into the noodles, it helps coating the seasonings evenly. Wear food grade gloves if desired.
3) If you don't want the beef and the sauce to discolor the carrot and onion, cook them separately. This will also make each ingredient retains its own texture.
4) Reserve any sauce from the stir-fried beef, it adds more flavors to the noodles.
5) After all ingredients are mixed together, sample the taste of you japchae, making sure the dish will suite your taste.
6) Korean like serving this dish cool (especially as an appetizer), that means they will not reheat the noodles after the step of mixing all ingredients together. In that case, you may want to rinse the boiled noodles with drinking water than tap water.
7) You may serve this as an appetizer or as a side with rice.
Enjoy!
To get immediate updates and new recipes from my blog, you may also SUBSCRIBE them via RSS feeds. See you there.