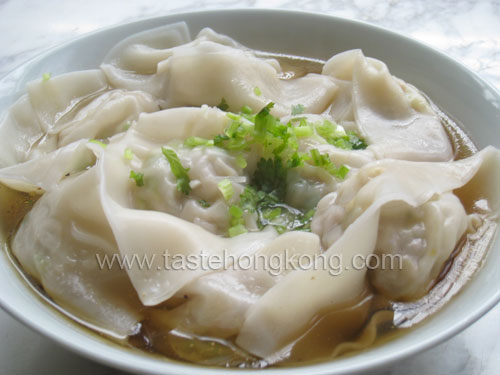 Making these wontons can be fun particularly when you do it together with your friends or family members, wrap, chat, cheer . . .

Ingredients
200g cabbage
100g minced pork
30 sheets of wonton wrapper
corn starch paste (corn starch : water = 1:1)
Soup
3 cups of boiling water
1/2 tsp salt
1 tsp light soya sauce
1 tsp sesame oil
a pince of white pepper
Or, simply use broth-based soup like chicken stock
Seasonings for Filling
1/2 tsp vegetable oil
1/2 tsp salt
1 tsp light soy sauce
1/2 tsp sugar
Method
1) Blanch cabbage in boiling water until soft. Dish up, allow it to cool and squeeze excess water. Finely chopped cabbbage and mixed it with minced pork. Add seasonings for filling.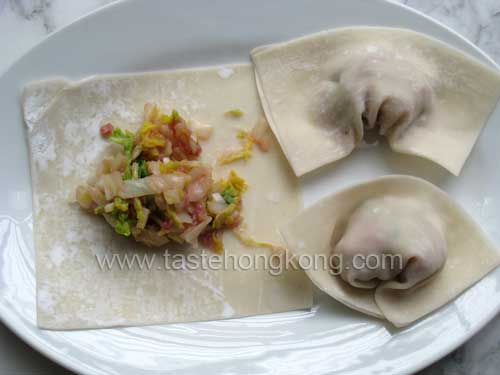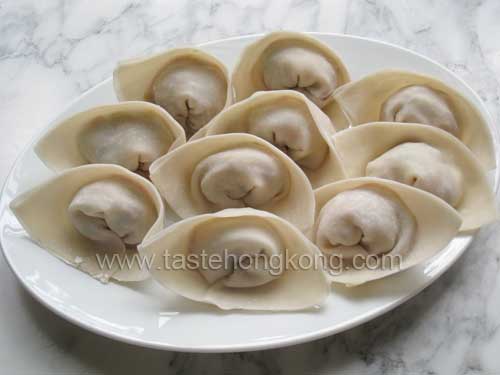 2) Place about 1 full teaspoon of filling in centre of the wrapper. Slightly paste the inside edges of wrapper with corn starch paste. Fold it in half, seal edges. Drag the lower right and left corners together and also seal them together with the paste. Repeat for the remaining wontons.
3) Boil 8 cups of water and carefully add in all wontons. Try gently stir the water while putting in wontons to avoid them sticking together. Cook wontons over medium heat for another 5-6 minutes.
4) Dish up wontons from water and put them in boiled hot soup.
Tip
When wontons float top during boiling, it means they are cooked. Suggest to cook for another ~1 minute to make sure the pork is well done.
The wrappers, also known as wonton skins, are usually bought from supermarkets or local stores than home-made.
To get immediate updates and new recipes from my blog, you may also SUBSCRIBE them via RSS feeds. See you there.