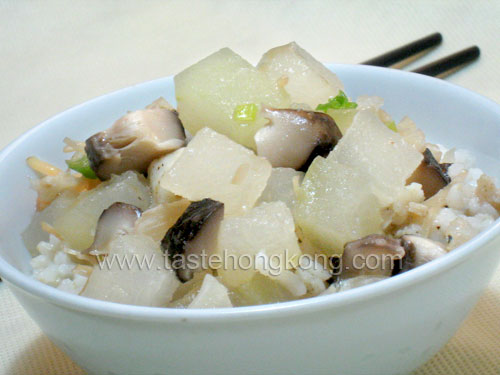 Unlike its name suggested, winter melon in Hong Kong is not only available in winter but also other seasons. Actually this dish is more popular during summer as it is light and healthly that appeals more to our appetite when the weather is hot and humid.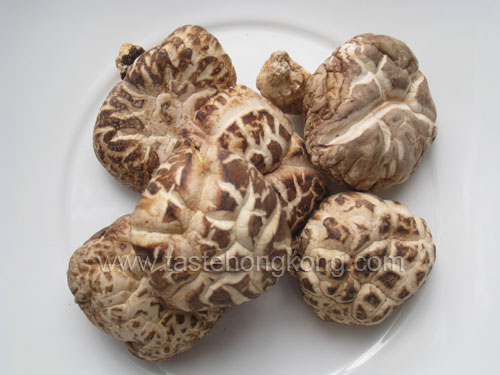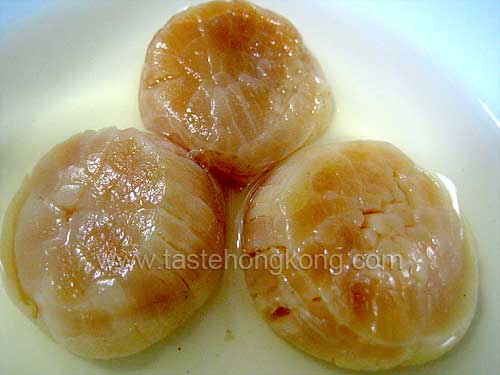 Seasonings
1 tsp salt
1/2 tsp sugar
a pinch of white pepper
Method
1) Dice shrimps, mushrooms, and water melon into similar size of cubes (~1/2 cm)
2) Rinse dried scallop and soak them in 1 cup of water for about one hour. Then briefly tear the scallops into strips and transfer them into a pot with the water retaining from soaking (this gives the soup a better taste) . Add another 1 cup of water together with shrimps, mushrooms and winter melon. Bring to boil.
3) Add the cooked rice, seasoning, again cook until boil.
Tip
May try to replace shrimps by fish fillets or even pork. If frozen type of shrimp or fish is used, suggest to marinade it with a pinch of salt and white pepper first. Don't bother if you don't find it convenient to cook rice, the soup is good enough to consume alone. Enjoy no matter which!
To get immediate updates and new recipes from my blog, you may also SUBSCRIBE them via RSS feeds. See you there.