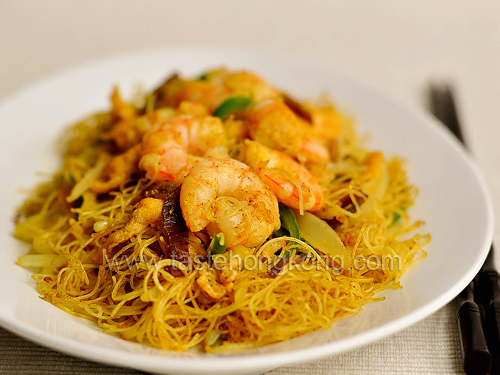 Among all my visits, though a few, I have not been able to find these noodles (in Cantonese Sing Chow Chew Mee 星洲炒米) in Singapore so far. Reasons?
So many different stories are there that I can hardly draw a conclusion. But if you believe what Wiki says, then it is not actually from Singapore, but a Cantonese dish of thin rice noodles stir-fried with curry powder, bean sprouts, barbecued pork (char siu), and vegetables. I might be selective in quoting this, well but the truth is, this is a very popular dish in Hong Kong, be it in established Cantonese restaurants or in small teahouses (aka cha tsan ting 茶餐廳).

And there are the dai pai dong (大排檔), that is the street-side open-air food stalls, where you might be able to witness their chefs tossing these noodles up in the air from the iron woks. To me, holding such a large cooking vessel is already a big challenge, not to mention manipulating the foods at the same time with one single arm. Gladly I have a way to cheat in my kitchen, let me share with you.
Ingredients
100g dried rice noodles
75g shrimps (~50g when shelled)
2 tbsp shredded barbecued pork
50g bean sprouts
1 jalapeno chili pepper
1/4 pc onion
1 egg, beaten with a few droplets of fish sauce
1 1/2 tbsp oil for frying
Marinades for shrimps
1/8 tsp salt
1/8 tsp ground white pepper
Marinades for rice noodles
2 tsp curry powder
1 tsp turmeric powder
1/2 tsp salt
1/2 tsp sugar
1 tsp oil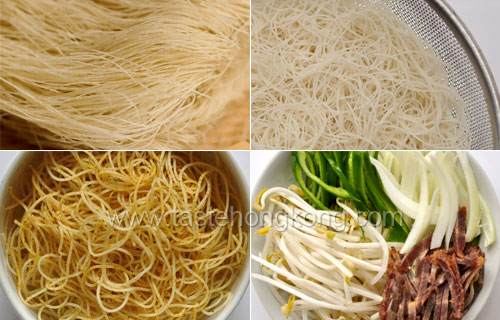 Method
1) Shell and de-vein shrimps; rinse, pat dry and marinade. Rinse all vegetables, drain dry; shred chili pepper and onion.
2) Scald dried rice noodles in hot water for 15 to 30 seconds or until they just get softened. I use the very thin type of rice noodles so it needs less than half a minute to soften them. If over-done, you will find them easily stuck together and stuck to the wok when frying.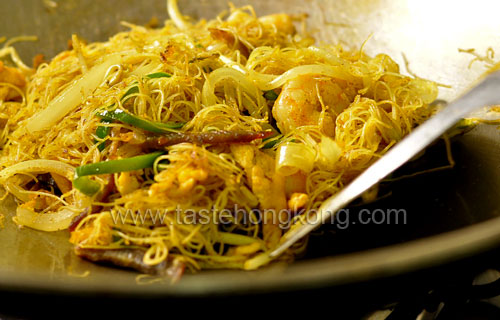 3) Here is where I cheated. Loosen the noodles in a colander and air dry it for half an hour or so. After the noodles are dried, mix them well with all the marinades, i.e. curry powder, turmeric powder, salt, sugar, and oil (add at last) in a bowl. Simply put, I can't toss with a wok so I add the seasonings as marinades in advance.
4) Over medium heat, heat oil in wok. When heated, sauté onion and chili pepper; add in the only seasoning, salt, and cook them for about a minute or until fragrant; push aside. Put in shrimps, stir fry until done (add some more oil if required), and followed by eggs. As the egg is half fried, stir in all ingredients including shrimps, onion, chili pepper, barbecued pork, marinaded rice noodles and bean sprouts. The noodles and bean sprouts need to be cooked for about a minute or so, during which just constantly turn and flip all of them to assemble well. Serve hot and enjoy!
To get immediate updates and new recipes from my blog, you may also SUBSCRIBE them via RSS feeds. See you there.