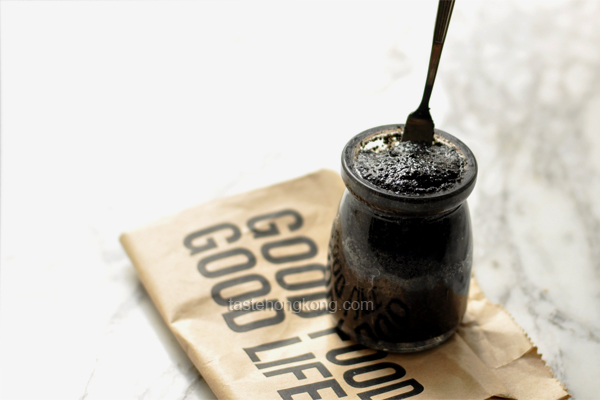 Toasted black sesame seeds are easy to love. I have increasingly been charmed by them because they are said to be able to delay ageing.
There are many ways I love eating black sesame seeds. Let me count: in sweet dumpling, with mochi or rice, as a spread on toast… The list goes on and on.

Yet, mere toasting is not enough if we aim for its healing properties. It was suggested that the seeds need to be steamed and dried under the sun repeatedly, nine times – which was what people did in the older days.
I know however, it is almost a mission impossible for me. But that explains why I steam the seeds before toasting them, adopting a doable strategy to yield the most out of them.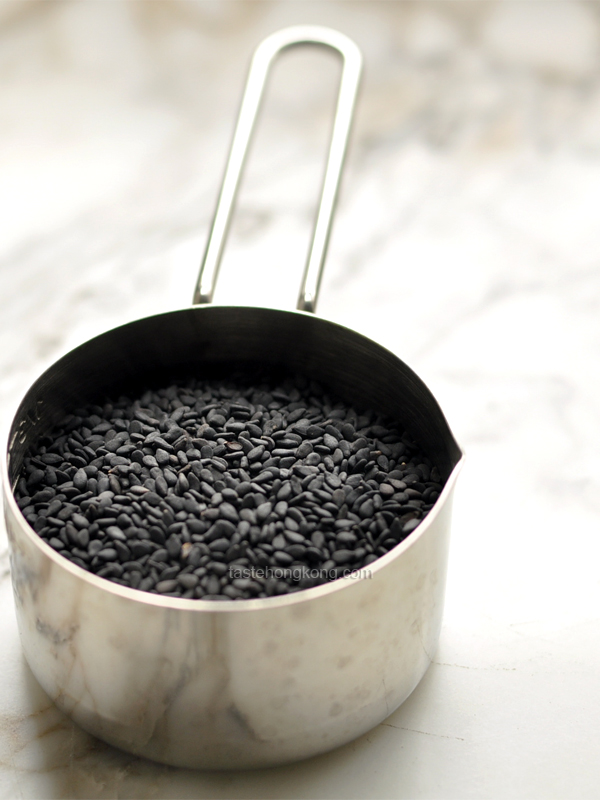 Here are the steps I use:
Washing
Pick out any impurities from the seeds by spreading out them to a thin layer before washing. Alternatively, put the seeds in a measuring cup (or bowl) and cover them with several inches of water, stirring lightly to make some of the seeds float to the top. Then, drain the water and catch the seeds with a fine sieve/colander. Repeat adding water, stirring, draining until very few seeds are remain, among which you shall be able to pick out debris or sands sunk to the bottom, if any.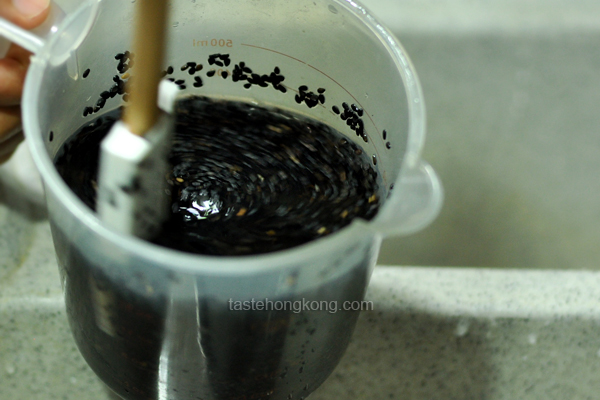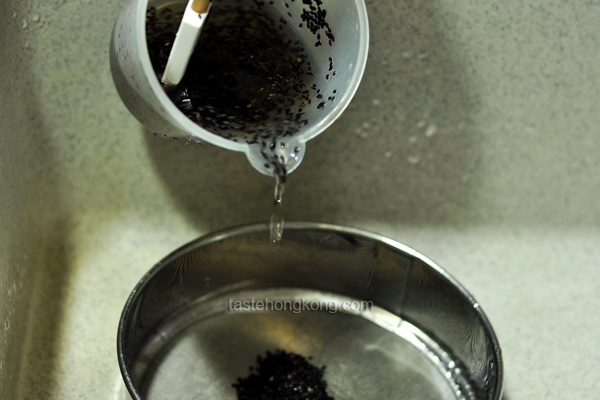 Steaming
Drain the seeds until there is no more water dripping; it would be fine if the seeds are still moist. There are many ways to steam the seeds, just choose one which you find it convenient.
1) Steaming basket
– Line the bottom of it with a piece cheesecloth (or any cloth with fine weave you use for straining food because you don't want the small seeds to escape from the basket
).
– Spread out the seeds on the cheesecloth in an even layer. Put the basket over a pot filled with 2 to 3 inches of water, making sure it fits well and won't tip over. Cover, bring water to a boil, and steam over medium heat for about half an hour (add more water if the pot goes dry). Or, you may also steam in a wok as in this recipe. Either way, do check that the bottom of the basket does not touch the water, preferably no less than an inch above.
2) Steam-proof plate
– If you don't have a steaming basket, just distribute the seeds evenly on a plate and do the steaming as above. But you may need a steamer rack
to sit the plate above water, and steam about 15 minutes longer.
3) Stainless steel sieve
-The fine sieve I use for washing the seeds can just be nested inside my rice cooker without touching the water. So I often employ this convenient approach for steaming – fill enough water in the inner pot, cover, then press the regular function for cooking rice, which takes slightly more than half an hour.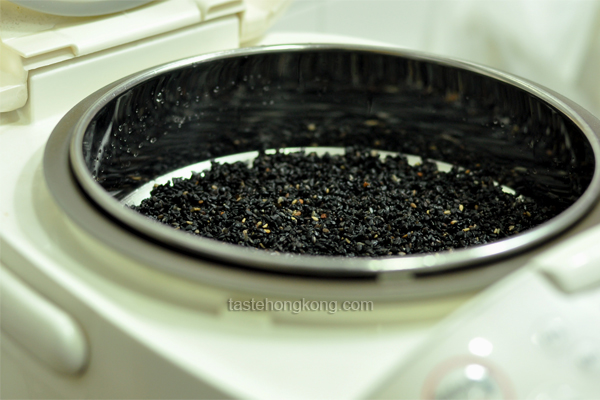 Many new rice cooker models comes with steaming baskets, but you may also need to line the bottom with a cheesecloth. The one on below is from Amazon:
Toasting
1) Stove-top
– Over lowest heat, add sesame seeds to the frying pan without any oil (ungreased) . Keep stirring continually until they smell fragrant and start popping a little, 4 to 5 minutes for half cup of seeds or less. When done, transfer to a cookie sheet or a large pan to cool.
– Tips:
* Use your widest frying pan, spreading out the seeds in a very thin layer.
* When done, do not allow the seeds to stay in the pan, the residual heat may burn them, causing a bitter taste.
* The seeds can be added to the pan after they are steamed and are still moist. but it will take you a couple minutes more to toast them well. So it is better to air dry or fan dry them before toasting.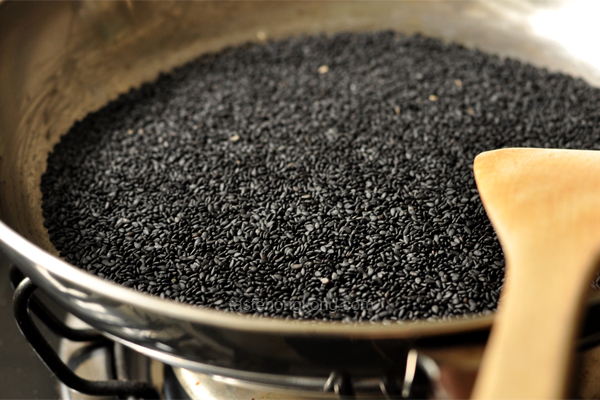 2) Oven
– Preheat the oven to 320 degree F. On a baking dish or a heavy duty baking sheet (un-greased), spread the seeds out in a thin layer. Roast in the middle of your oven for about 10 to 12 minutes, shaking the pan every 2 to 3 minutes (stir with wooden spoon if required), until they smell fragrant. Again transfer to another pan to cool.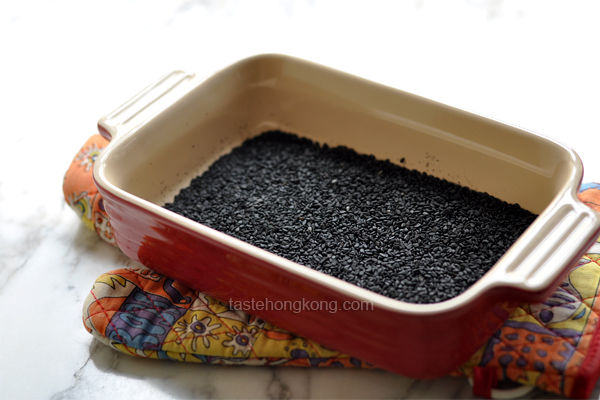 – Tips
* Although you don't need to man the toasting as much as over the stove, it is advisable to watch them closely toward the last 2 to 3 minutes. The seeds are so tiny that they could burnt in minutes, if not seconds.
* If the sesame seeds are somewhat moist, dry them in the oven (with fan on) at about 200 degree F a couple of minutes before toasting.
A simple recipe
Among the many ways to enjoy the black sesame seeds. The one I make most lately is a sweet black sesame paste.
And this is my simple way of making it:
1) Wash, steam, and toast black sesame seeds as above.
2) Ground the seeds in a food processor. Use a spatula to scrap the seeds down from the sides as needed, and continue with the grinding until they form into a powder (my machine can only achieve a rather coarse consistency).
3) Mix black sesame powder with honey. You need at least 1 part honey to 1 part of the powder to form into a paste. I have added slightly more honey in it.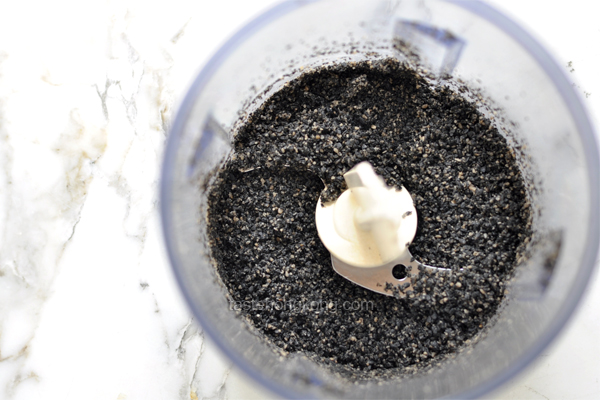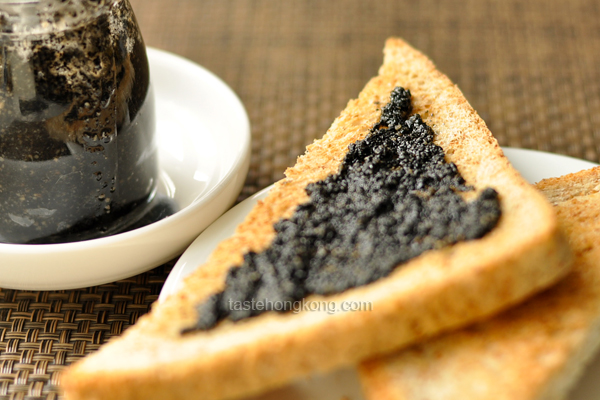 Toasted sesame seeds taste best when it is freshly toasted (but please let cool before eating), so I always prefer to toast only the amount that could probably be consumed within a week.
If only needed to consume a small amount of toasted black sesame powder, like adding them to rice tea, or pudding, I will use my pestle and mortar to grind a little of them.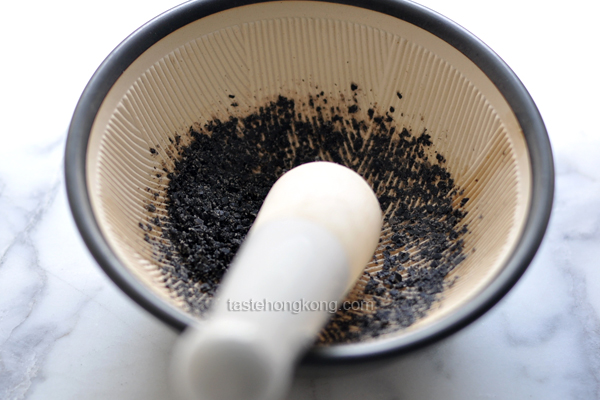 For variations, you may also reserve some of the sesame seeds to sprinkle on your rice and soup, or into your cakes and biscuits. Or, have some freshly ground seeds to go with your mochi.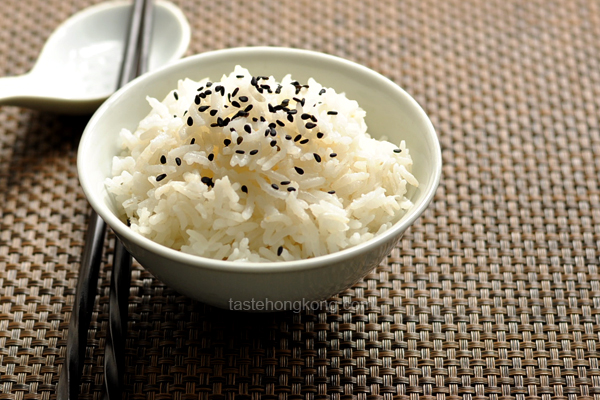 Eat well and enjoy!
To get immediate updates and new recipes from my blog, you may also SUBSCRIBE them via RSS feeds. See you there.