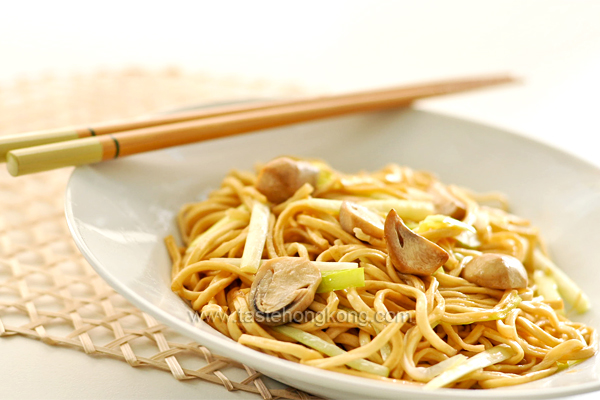 When Chinese dishes are named in English, I sometimes see surprises. Calling this Teriyaki Noodles is one interesting example. Here, I must admit I'm not innovative enough to go after that, thus this common name.
Like its traditional cousin – stir-fried noodles, these braised noodles are cooked by the very similar actions of stirring and turning, but emphasizing on reaching a critical moment that the sauce is precisely dried and that the noodles are still springy. Therefore sometimes it is also translated as Dry-Fried E-Fu Noodles or Dry-Fried Yi Mein. Whichever the translation is, in Chinese, the e-fu noodles cooked in this way is called 干燒伊麵.

That precise moment indeed vanished pretty quickly. While having all the sauce thoroughly coated the noodles but without scorching, I missed taking a snapshot of frying them in wok.
Braised E-Fu Noodles is a classic dish often served in Chinese banquets and formal dinners because since the older days they have been regarded as quality noodles, quality fried egg noodles to be specific. But the noodles used for this recipe, resembling a nest texture in patty shape as pictured below, only costs me about HK$10.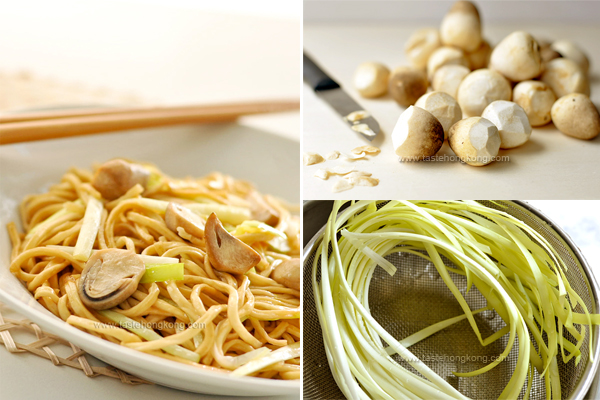 Ingredients
200g e-fu noodles
150g yellow chives
150g fresh straw mushrooms
2 cloves garlic, finely chopped
1/2 tsp cooking wine
1 tbsp oil for frying
Sauce
1 1/2 tbsp oyster sauce
2 tsp soy sauce
1/4 tsp salt (or to taste, because saltiness of oyster sauce varies)
1/2 tsp sugar
1/4 tsp sesame oil
1/8 tsp ground white pepper
1/2 cup stock or water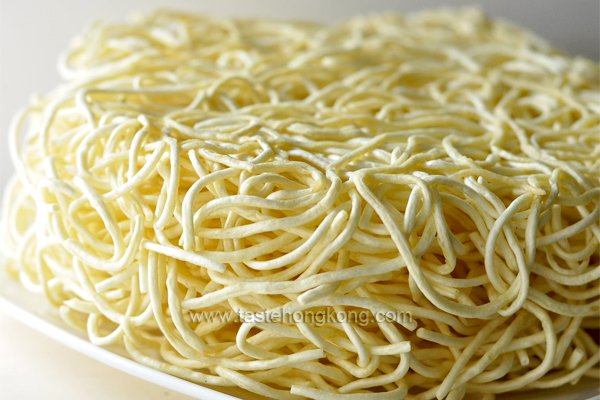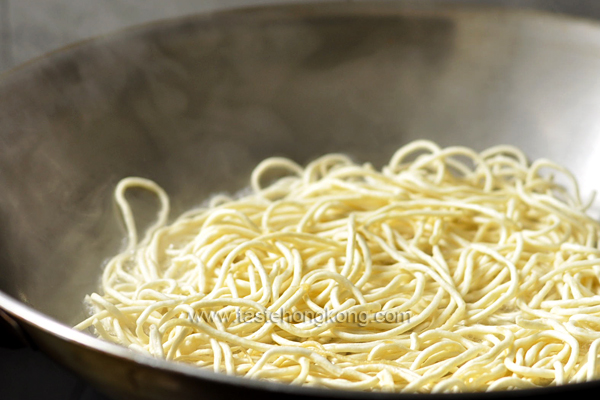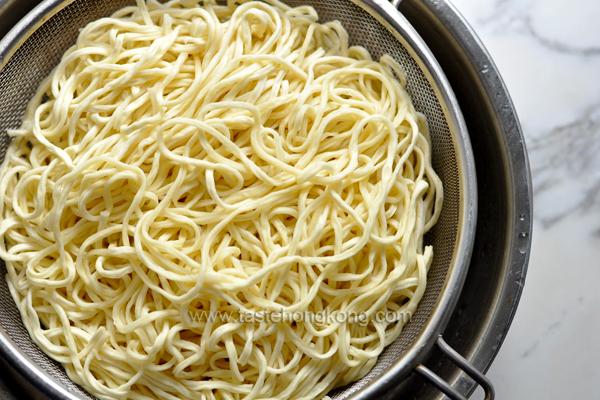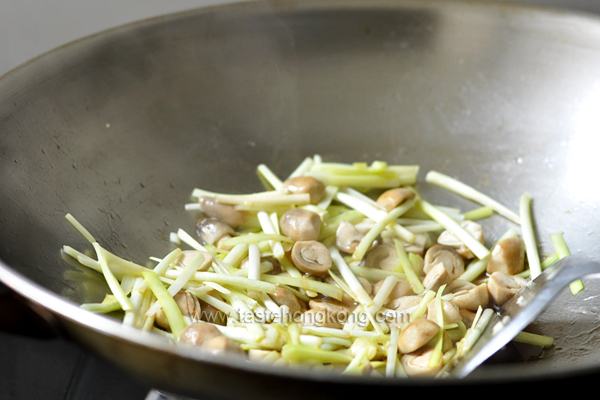 Method
Wash yellow chives clean, drain dry and cut into about 4cm length.
Briefly rinse straw mushrooms, pat dry and peel off any bruised skins. Depending on the size of your liking, half or quarter each.
Bring about 4 cups of water in the wok to a boil. Blanch noodles in the boiling water over high heat until just softened, roughly half to one minute.
Immediately transfer the noodles to a colander and rinse them under running cold water. Drain dry (shake and turn the noodles in the colander a couple of times to get rid of excess water). Meanwhile, have the sauce mixed well with you.
Discard water in the wok and wipe dry. Heat oil over medium flame, sauté garlic, toss in straw mushrooms and stir-fry them until lightly brown, about half to one minute. Add yellow chives, sprinkle wine on side of the wok and give a few quick stirs (I like the chives remain crunch even toward the end). Push them to one side of the wok. Or, dish up first.
Pour in mixed sauce in the center of wok. Bring it to a simmer, then put in noodles and combine them with chives and mushrooms. You need to constantly flip and turn them to avoid sticking to the wok. Stir well and until all the sauce is evenly coated to the noodles.
Dish up and serve hot. I also like serving it with chili sauce.
Enjoy!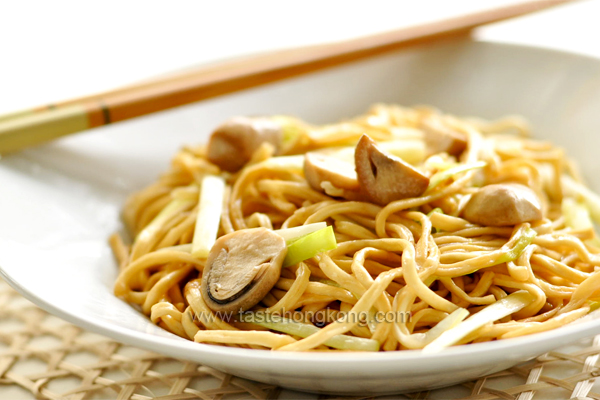 Note
Scissor the noodles in their middle before braising if you find them strangled together or too long for stirring.
Fresh straw mushrooms usually come with an earthy smell. When it is too strong for you, blanch mushrooms first and drain them dry before cooking.
To get immediate updates and new recipes from my blog, you may also SUBSCRIBE them via RSS feeds. See you there.