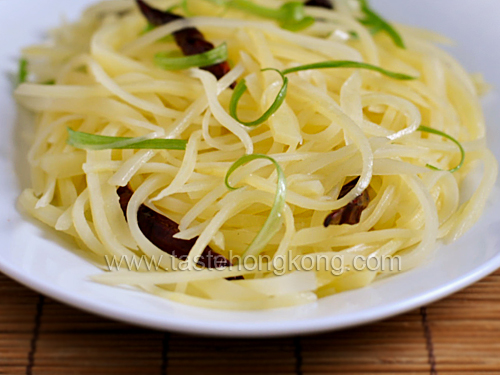 These pale-looking, spaghetti-like thin strips are shreds from a potato, may I assure you. I first encountered them when visiting Qxingdao in China, a city far away from Sichuan where this dish was originated. Then, I keep seeing this hot and sour potato shreds (written as 醋溜土豆絲 in Chinese and pronounced as Cu Liu Tu Dou Si in Mandarin) from Chinese cook books and Chinese food blogs. There are variations though, they all tend to include peppercorns and dried red chilies as the key ingredients .
To me, potato is not at all any alien food, but still I found it hard to associate these shreds with the potato family in my very first bite. I excused myself for too getting used to eat deep fried and baked potatoes, which are either crispy or fluffy. To describe these funny thin strips, I would say, they are more or less like cuts from a jicama, something crunchy indeed.

I rarely serve this dish with rice (my staple food) considered they are both high in carbohydrates. But I have been happy to enjoy it as an appetizer as soon as I get used to its crunchiness.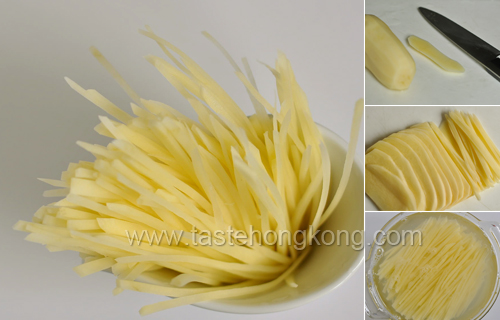 Ingredients
1 potato, ~230g
2 cloves garlic, crushed
1 tsp dried peppercorn
6 dried red chili
1/3 tsp sea salt
1 tbsp oil
1 sprig spring (green) onion, julienned, optional
Salt water
1 tsp salt
2 cups water
Sauce
2 tbsp black vinegar (I use Chekiang type)
2 tsp soy sauce
1 tsp sugar
1/2 tsp sesame oil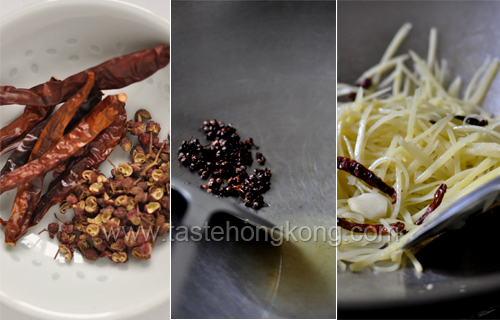 Method
Shredding potato : Peel, rinse, pat dry the potato. Cut a thin slice from one side to form a flatten bottom. Doing so will help better hold the potato in place while slicing it. Then, cut the potato into about 1mm slices. It doesn't harm much even the thickness of each slice is not the same. Mine differs as well. You may then choose to shred each slice one by one. But I like doing it with all slices stacked halfway. That is, lay flat each slice one on top another. Instead of aligning them edge to edge , I distance their edges on one side, from which the shreds are cut .
Soaking potato shreds : Soak potato shreds in salt water for about 15 minutes. This will help minimize the potato from turning rusty while at the same time washing away a certain amount of starch from the shreds. Rinse the shreds in a colander under running water and drain away excess water.
Stir-frying potato shreds : Over moderate heat, heat one table spoon of oil in wok. When heated, add in peppercorns, sauté till fragrant, about a minute. Discard peppercorns, but leave oil in wok (it is now a peppercorn-flavored oil). Toss in garlic and dried red chilies; sauté briefly. Add in potato shreds, stir-fry constantly for 2 to 3 minutes, or until done. Dish up. On the other hand, mix well all ingredients for the sauce for dipping, or, simply mingle them with the cooked shreds (which will then be colored in light brown) and, garnish with spring onion. Serve hot, or chilled which is particularly good for summer.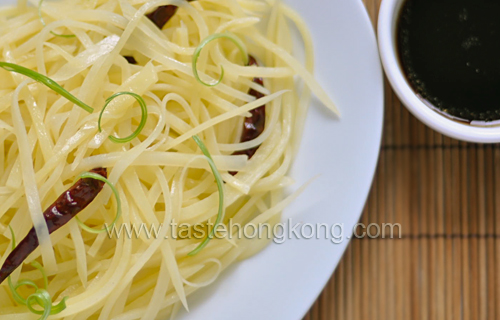 To get immediate updates and new recipes from my blog, you may also SUBSCRIBE them via RSS feeds. See you there.