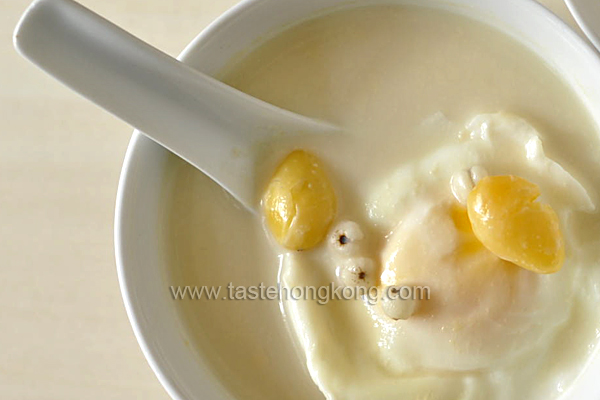 Not only due to a promise in my last post, but also because I particularly love making this classic Chinese dessert when climate turns cooler and drier. So I am here again to share a common way of preparing this sweet soup, also one of the most popular dessert here in Hong Kong, called 白果腐竹薏米糖水 in Chinese .

The beancurd skin, aka yuba or also commonly known among Chinese as tofu skin, used for making this dessert is the dried one. It is made from heated soy bean milk in a large open vessel for forming the skin after which it is dried. Carolyn Jung, author of foogal.com, has a wonderful shot here capturing the moment when a piece of yuba is just readily prepared .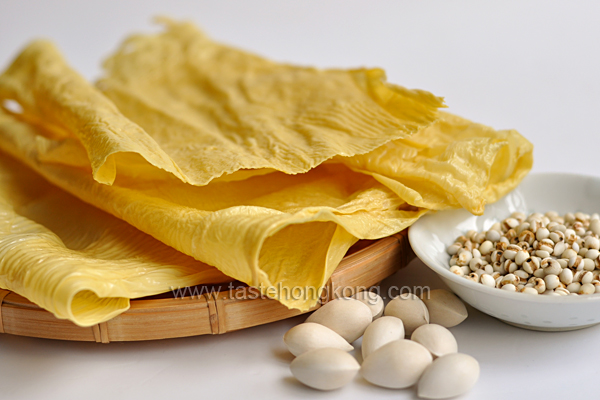 I think we drink more sweet soups in the drier seasons, believing them having the 'moisturizing' properties. This soup tastes very like soy bean milk yet it also has a unique sweetness from the ginkgo nuts and a nutty flavor from the job's tears, though both of their tastes are far more subtle than the beans.
We also like to have this dessert as a 'cooling' agent possible for tampering the 'heat' in our bodies. Barbecued foods, hot pot meals, or deep-fried dishes are all 'heated' items, yet they are among our favorite items in autumn and winter!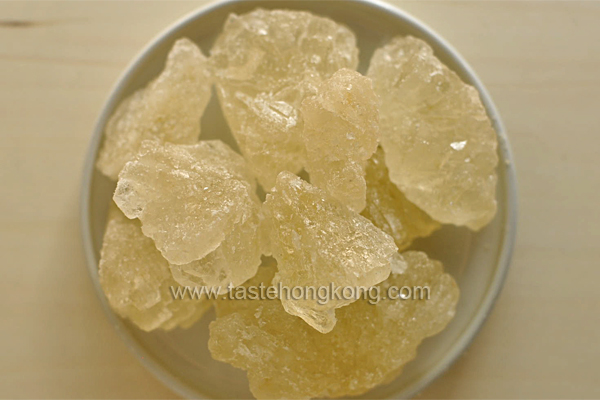 Ingredients
Job's tears are not recommended for pregnant women and ginkgo nuts must be thoroughly cooked; you may want to read a little bit more of them particularly if they are new to you (click details below).
150g dried beancurd skin (yuba)
10 ginkgo nuts >>details
2 tbsp job's tears (coix seed) >>details
70g rock sugar, or to taste
2-4 eggs, optional
~2 1/2 liters water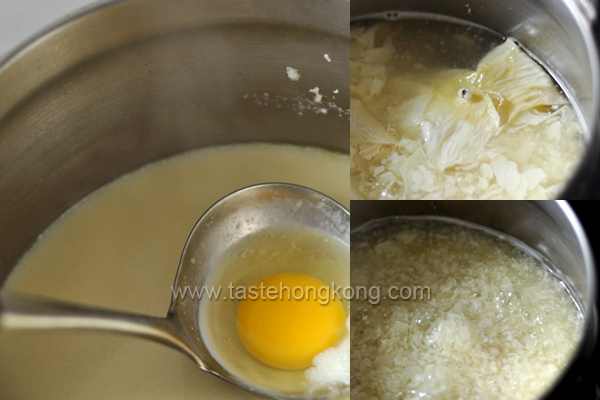 Method
Rinse job's tears and soak in water for about an hour. Discard water. Shell ginkgo nuts like this.
Bring about 2.5 liters of water in a pot to a boil. Over medium heat, put in job's tears, shelled ginkgo nuts and dried beancurd skins.
Give some gentle stirs to avoid the ingredients sticking to the bottom. The beancurd skins shall start breaking down into small pieces in a couple of minutes.
Cover, but leave the lid slightly opened to avoid spilling over (having a stockpot large enough to prevent overflow is thus preferred).
Add in rock sugar when the soup almost reaches your desired consistency, about 30 minutes.
Gently ladle shelled eggs into the boiling soup one by one.
Serve hot after the sugar is dissolved and the eggs are cooked.
Variations
It is also common that the beancurd skins are briefly cooked to retain a silken texture like boiled wonton wrappers. In that case, you may need to make sure both the ginkgo nuts and job's tears are thoroughly cooked first, roughly 30 minutes, (and also sugar is dissolved) before adding the beancurd skins to boil for another 3 to 5 minutes. Keep a closer look at the yuba; remove it immediately from heat as soon as it reaches your desired size. Mine disintegrated really fast. They had turned from larger pieces into rather smaller ones soon after I took a shot – Too slow I am!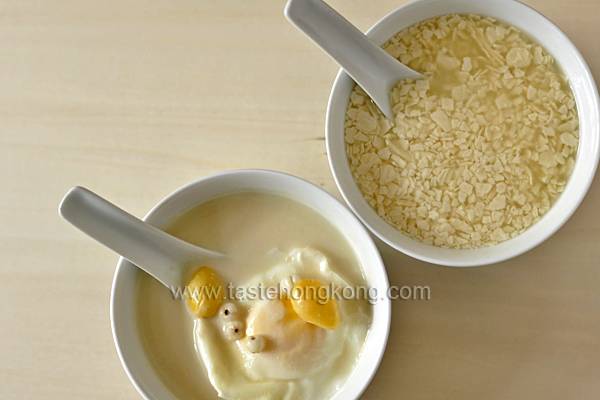 To get immediate updates and new recipes from my blog, you may also SUBSCRIBE them via RSS feeds. See you there.