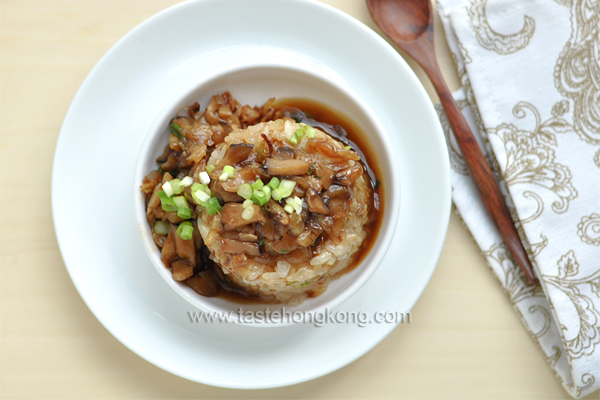 Like Japanese sushi, the sticky rice here is somewhat pressed. However, instead of being topped with a piece of sashimi (raw meat), it has on its top a thickened sauce made up of Chinese black mushrooms and dried shrimps.

Taiwanese calls this dish they made, 米糕, literally rice cake. But it looks like a 'cupcake' to me.
Sharing the same name as traditional Chinese rice cake though, this is not prepared with flours yet simply cooked sticky rice.
It looks mini, but one serving is already close to a small bowl of rice (this recipe makes about six servings). Eating rice usually is not that addictive, but this is an exception. Even if you could eat more, do limit yourself to a bowl or two in one meal as our stomachs need to work harder to digest sticky rice than ordinary rices.
This would be a vegetarian version if cooked without the dried shrimps; I guess you may easily find its original style with ground meat in most Taiwan's night food stalls. If you like to adapt it with ground pork in your kitchen, it can be done as simple as making the Pork Sauce Rice.
I use a ramekin to mould the rice into a cupcake shape, but I have to admit it is not necessary to shape and pack the rice as long as presentation is not a concern.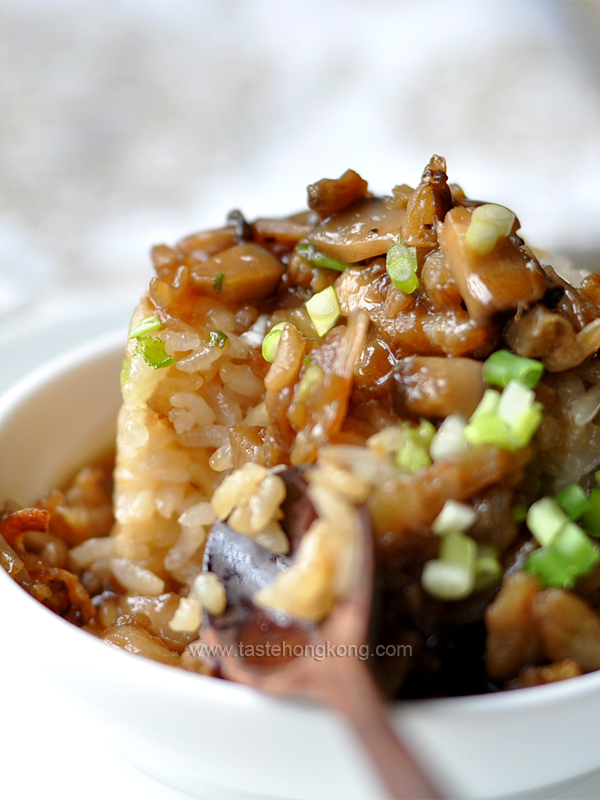 Ingredients
1 cup white sticky rice (glutinous rice)
10 cloves shallots, thinly sliced
2-3 sprigs of coriander or green (spring) onion, washed and coarsely chopped
~2 tbsp oil, I used coconut oil
Sauce
3 large dried black mushrooms
3 tbsp dried shrimps (skip this for vegetarian)
~1 tbsp oil, I used coconut oil
1 cup water (or water reserved from soaking mushrooms)
1 tbsp soy sauce
1/2 tsp brown sugar
1 tsp sesame oil
pinch of ground white pepper
1/4-1/2 tsp sea salt
~1 tbsp corn starch paste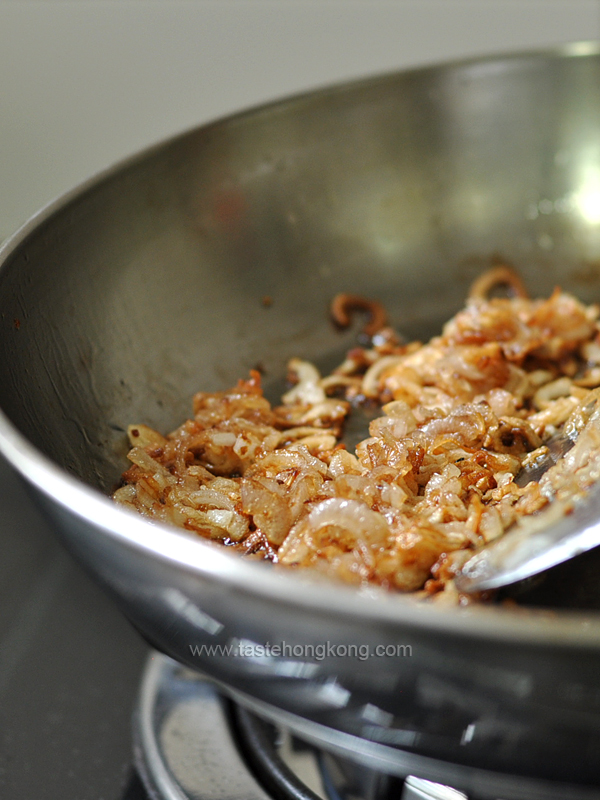 Method
Soak dried mushrooms in water (discard water after 1-2 hours), wash them with running water. Then, squeeze water from them and re-hydrate in water again for another 1 to 2 hours, or until soften. Before chopping mushrooms, squeeze out water .
Wash and soak dried shrimps for about 15 minutes, chop them into similar size as mushrooms (skip this if your dried shrimps are small).
Cook rice according to package instructions. You may need to soak rice for at least 3 to 4 hours or even overnight before cooking.
Heat oil in pan over low to medium flame, sauté sliced shallots until golden brown. Dish up and set aside. Reserve oil , if any
As rice is cooked, mix in browned shallot, coriander (or green onion). Pack the rice in ramekins.
To prepare the sauce, heat about a table spoon of oil (use the reserved oil if any) in pan, toss in dried shrimps, sauté briefly until fragrant. Add mushrooms, stirring, also until fragrant. Pour in water and bring to a boil; turn down the heat, cover and simmer until 3/4 sauce is reduced. Stir in soy sauce, brown sugar, sesame oil, ground white pepper and stir well. Sample taste, season with salt if required. Thicken with corn starch paste. Remove from heat.
Un-mold each rice cake in a dish by running a knife around the inside edge of ramekin, serve warm with sauce. Garnish with coriander or green onion.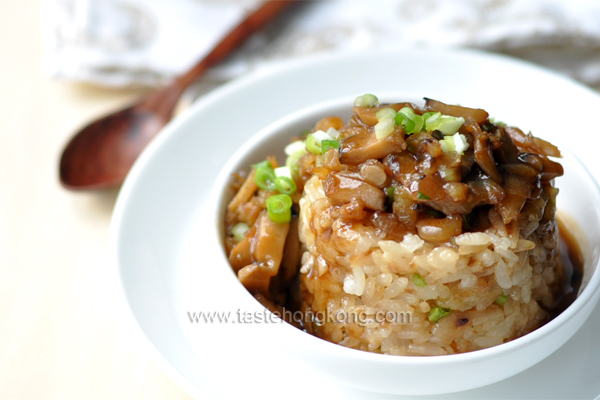 Enjoy!
To get immediate updates and new recipes from my blog, you may also SUBSCRIBE them via RSS feeds. See you there.