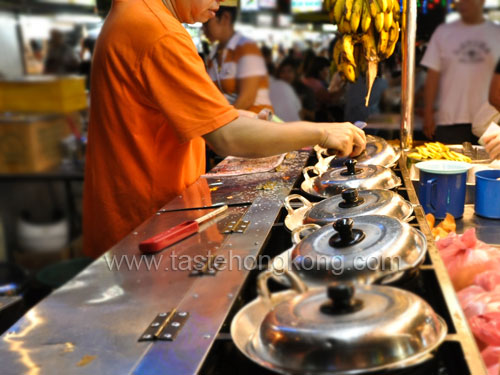 Excuse me for not posting any recipes for the past two weeks since this because I was visiting Penang and Langkwai, Malaysia about a week ago. Stayed in Penang for two whole days, husband and I had spent nearly every meal in eating hawker foods, which the city is renowned for.
In one single meal in Persiaran Gurney (新關仔小販中心), a popular hawker food center in George Town, Penang, we had tried all of these …

Char Koay Teow (stir-fried flat rice noodles)
The rice noodle are silken, slightly chewy, and neither too moist nor too dry. A mouthful of them are both spicy and sweet with a strong shrimpy taste and some subtle crunchiness from the bean sprouts. I was so intrigued by this dish that I had stood myself beside the stall trying to mentally record the way the chef cooked.
Goreng Kerang (stir-fried cockles)
As soon as I pick up the flesh of a cockle and have it landed on my taste buds, it seems that tens of aroma are released in my mouth. Juicy, flavorful and it should be one of the best fried cockles I have ever had.
Fresh Sugar Cane Juice
Simply fresh and naturally sweet. It is made from the raw sugar canes squeezed in front of me. Besides, a glass (actually it comes in a disposable plastic cup) of it costs only RM1.2 or so.
Chee Cheong Fan (steamed rice flour rolls)
As silken as the rice noodles, you may choose to accompany them with various seasonings, chili sauce, sweet sauce, soy sauce and last but not the least their famous shrimp paste sauce and a dash of roasted sesame seeds.
Wok Fried Pancakes
It is simply a pleasure seeing how the cook makes these wok fried pancake. Like playing magic, he manages his pancakes in five woks (large picture on top) at the same time. but each pancake he flips out is equally golden brown.
Banana Pancakes
These banana pancakes are served by the same hawker stall making the wok fried pancake. I must say I like the wok fried version more because this one tastes like too similar to most banana pancakes.
Soy Bean Custard
Probably a great portion of this custard content is agar agar, which is different from those primarily made from soybean juice that I usually savor. But it is worth a try if you still find capacity in your tummy.
Asam Laksa
To the lady cook: excuse me, your soup looks like made from the bottled laksa paste, but not fragrant. That is why this laksa are put at the end of this list, which I purposely arrange it according to my own preference.
A Wrap-Up
Char Kaoy Teow, Goreng Kerang and Sugar Cane Juice are the must-try if I am to visit this hawker food center again. Indeed, this was a happy dinner though we were sweating slightly while feeding us with the foods. Husband repeatedly looked cheered as he paid the bills (foods were served from different hawkers and he had to pay when a dish or a drink delivered to us). The whole dinner including all the above and a can of beer was just slightly more than RM30. Yet the taxies drove us to and from the hawker food center together cost us RM30 but each just took about five minutes to arrive.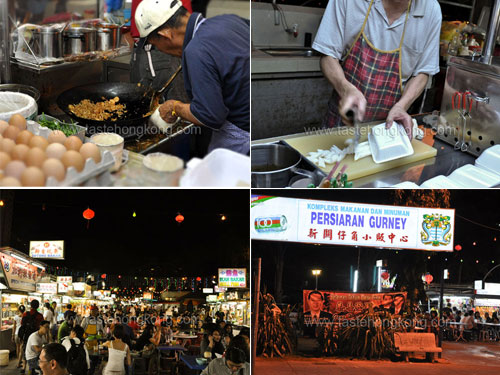 Getting Prepared to Penang
Penang to me is a charming city, and is a nice place to visit if you want to take a break from your hustle and bustle of life. But may I remind you that her weather is hot and the sunlight is very intense. So be prepared if you are going to explore around, especially on your own. My advice is to bring with you,
– more light clothes, you may need to change more than once per day
– a bottle of water wherever you go because the sun will make you sweat continuously
– sunscreen lotion
– hat
Read this Insider's Guide to Penang Hawker Food if you are also interested in her hawker foods. Thank you to Bee, author of Rasa Malaysia for informing me of her insider guide. Just regret that we hadn't got enough time to explore around. Besides, may I also take this opportunity to thank you the gentleman in Penang, who stopped his car in front of us and enthusiastically asked if he could offer us any help (we must have looked puzzled with the map). Also, the kind old lady talked to us at the bus stop, 'Get on, this is free.' And we were also fortunate enough to have met a nice lady, who showed us the way to walk up Kek Lok Si (Temple of Supreme Bliss) and told us what to do nearby.
Thank you every one, and see you next time, Penang!
To get immediate updates and new recipes from my blog, you may also SUBSCRIBE them via RSS feeds. See you there.