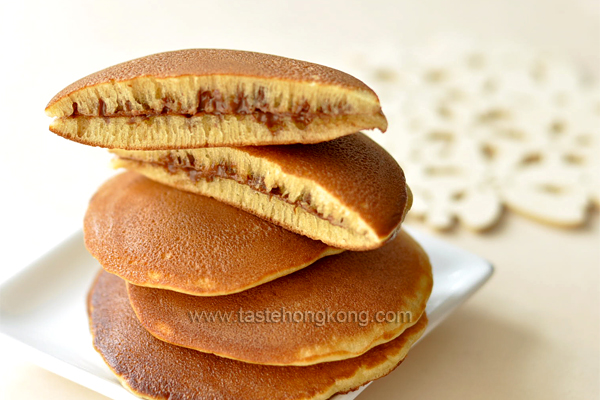 Dorayaki is not only for kids, although the Japanese manga suggests that the anime character Doraemon loves eating this confection (銅鑼焼き, ドラ焼き). I have to make this claim because I'm too mature to belong to any younger groups, but still, I do not feel odd to feed myself with it.
Although each dorayaki is essentially a type of pancake, it is little more than a breakfast companion for maple syrup or for cuts of fresh fruits. I say so, since I also like it as an all-time snack.
The classic dorayaki is made up of two pancakes sandwiched with sweet red bean paste (aka azuki or anko sweet beans paste). In this simple recipe, I paired up the dorayaki with nutella, which is more available than the canned azuki here. But honestly, whenever I have time to prepare my own red bean paste, I may easily change my mind.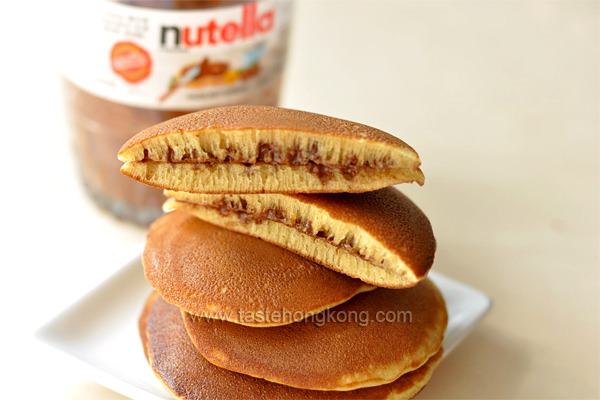 Shaping pancakes for dorayaki is a little bit more challenging than making those for breakfast because the two patties in pair, apart from being round, have to be in more or less the same size. But you shall soon see the steps are not that intimidating.
I have to admit, however, with each mouthful of dorayaki, I simply feel like travelling back to my younger ages. Just can't help saying this is a nice treat for kids, for adults, young and elder ones included.
Ingredients
1 egg
45g cake flour
40g brown sugar
1/4 tsp baking soda + 1 tbsp water
1 tsp honey + 1 tbsp water
~3 tbsp nutella or ~3 tbsp red bean bean paste
~1/4 tsp cooking oil for pan frying
yields about 6 pancakes of about 8 cm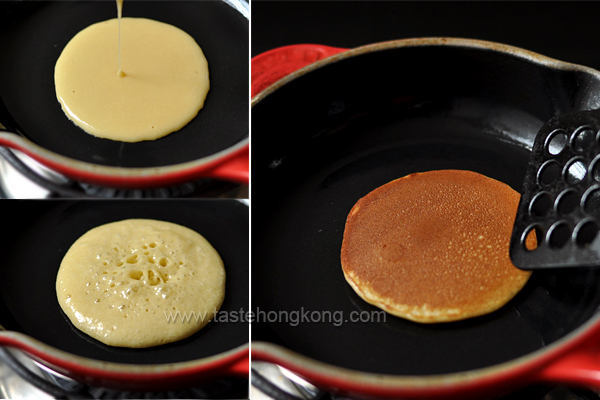 Method
Beat egg until become frothy and add sugar. Whisk to dissolve.
Dissolve baking soda and dilute honey with water. Add them in the egg mixture.
Sieve in cake flour. Mix the wet and dry ingredients with a spatula but do not over-mix; break up any lumps by pressing them against the side of mixing bowl.
Cover bowl with a cling film, let the mixture rest for about 30 minutes.
Heat skillet over low heat, spray (or brush) a barely visible layer of oil on it. Ladle batter (slightly more than 1 table spoon) onto skillet. Flip pancakes after bubbles rise, about one minute and a half, and the bottom is golden brown. Fry the other side for another half minute or until done (the second side will not be evenly browned as the first due to the bubbles).
Repeat with the remaining batter; brush oil on skillet if required.
Sandwich two patties with nutella or red bean bean paste. Serve warm. If not consume immediately, seal or wrap the dorayaki to prevent it from turning dry.
Enjoy! Enjoy these no-milk pancakes that are cooked with little oil!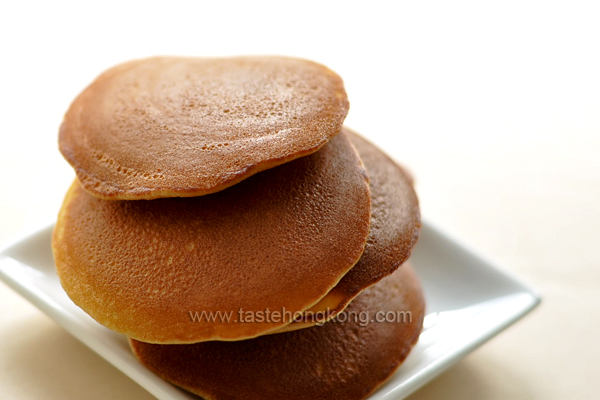 Note
Pouring batter over one point without shaking help make a rounder pancake (I don't make perfect round shapes either). And, same amount of batter in each pour will give you pancakes of more or less the same size.
Make sure to cook these pancakes over low heat as the honey content in them burns more easily. If the skillet gets too hot, remove from heat for a while.
Do not apply excess oil for frying as the edges of pancakes will turn irregular than smooth.
To get immediate updates and new recipes from my blog, you may also SUBSCRIBE them via RSS feeds. See you there.