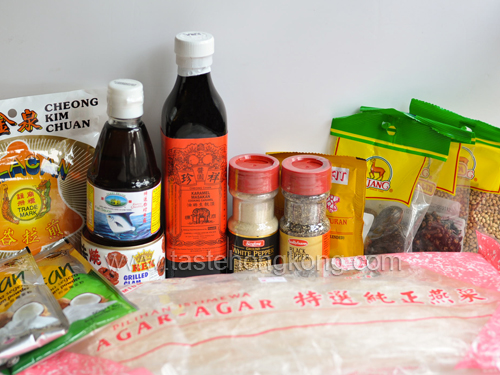 When I was in Penang early this year, I happily fed myself with lots of hawker foods. Equally happy was that I toured a supermarket in George Town. In less than an hour (maybe much less than that as I felt not shopping enough), I bought some fresh fruits, snacks and a bag of cooking ingredients with which I brought home.
In the past few months, most of them have kept entertaining my taste buds, often reminding me of the flavors of Malay foods. Although I have not yet finished all these stocks, greedily I am getting ready to shop for another batch of edibles again in Malaysia soon. I love their dark soy sauce, belacan, black pepper, sugar (though I missed it out in this shot) …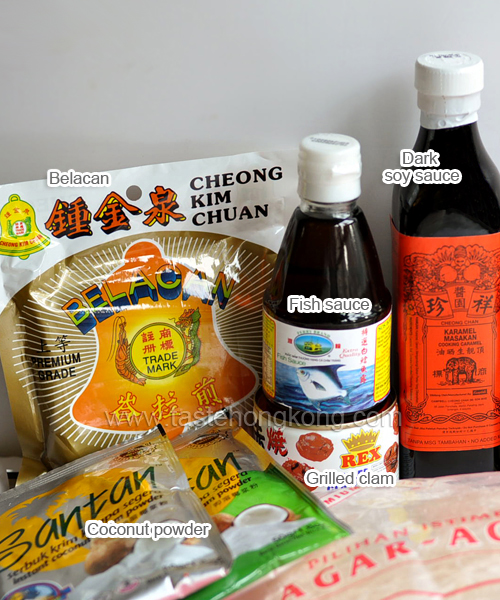 Dark soy sauce
With a large red label printed mostly in Chinese, the dark soy sauce almost deceives me in terms of its origin. Having had a closer look, I'm assured that it is a PRODUCT OF MALAYSIA with NO MSG and believe it or not, it is manufactured by Campbell. I am glad that I have picked it not because of its brand name behind, but for reasons it proves to me that it is a great sauce for stewing, for mingling and frying with noodles. And It is probably the thickest soy sauce I have ever tried
Belacan (Shrimp paste)
I bought the belacan from a shop near Kek Lok Si (Temple of Supreme Bliss) in Penang. I use it for stir-frying vegetables, for making soup base. A small amount of this belacan is almost as salty as the same amount of salt but comes with a pungent flavor of dried shrimps. No doubt, it is also a great helper for cooking a flavorful dish of Char Koay Teow (Stir-Fried Flat Rice Noodles).
Spices
Spices, dried herbs, and seasonings there are displayed one section after another but prices of them are mostly at a fraction of ours. You shall not be disappointed if you are looking for bottled pastes – laksa paste, chili paste, rojak paste, sweet and sour paste, nearly all types of S.E. Asian pastes you could name. Since I am not a big fan of most pre-mixed pastes, I grabbed mainly the raw ingredients. Their black peppers please me as much as the ones I usually have, but again they deserve more credits because of their lower prices.
I made a foolish move however. I brought back from more than a thousand mile away the brands of coconut powder, fish sauce and grilled clams which actually are all available in Hong Kong!
So what are the best local foods to find in Kuala Lumpur where I will be visiting next week? Curry powder, tamarind paste, red chili flakes are already on my list… How about hearing advice from you as well?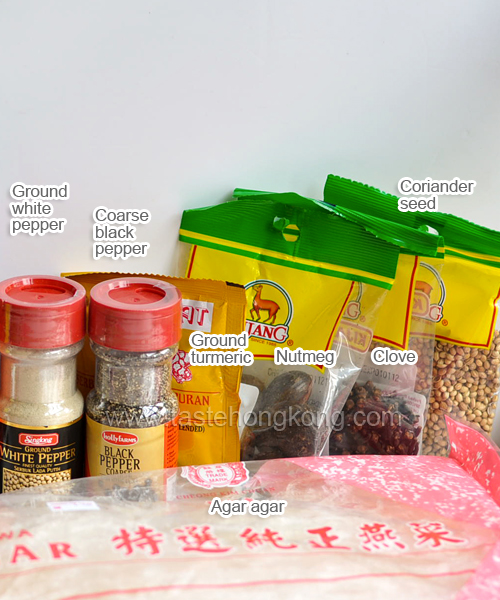 To get immediate updates and new recipes from my blog, you may also SUBSCRIBE them via RSS feeds. See you there.