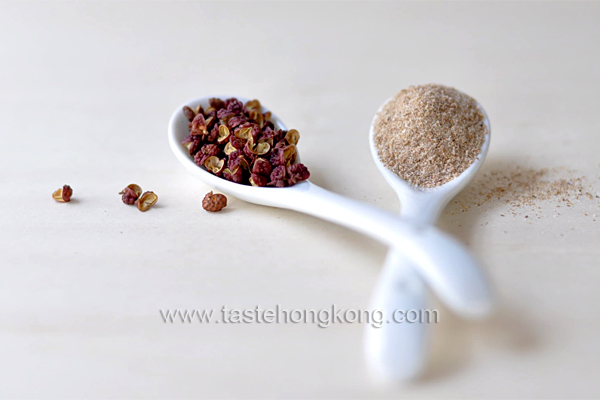 It is a common ingredients for making many popular Chinese dishes. Surprisingly, though, not many stores or supermarkets here have it on their shelves. Even I do locate a bottle, very likely there would be some flavor enhancers included.

I have little doubt why peppercorn salt, as a ready condiment, is less popular. True to it name, this flavored salt is made from only two common ingredients – Sichuan peppercorns and sea salt, not to mention that it is incredibly simple to prepare at home.
But, it is NOT only grinding and blending the two together. We need to process them in an un-oiled wok first (called 'white wok' 白鑊 in Chinese). Sounds familiar? Yes, it is one of the traditional Chinese ways of toasting spices or foods for bringing out their full flavors. Frying dried shrimp roes is one of them.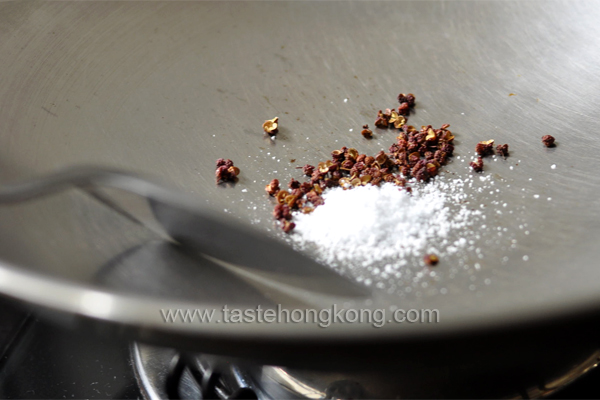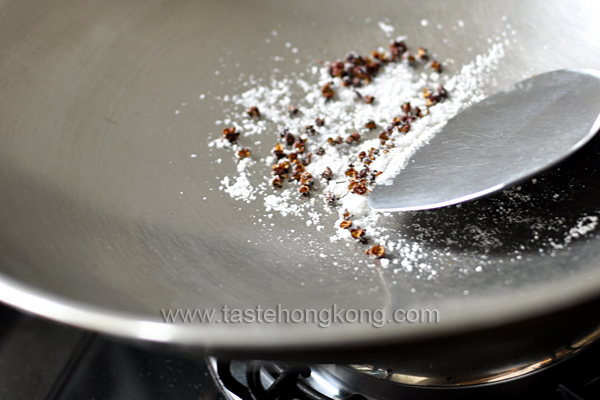 Peppercorn salt is suitable for use with different meats and seafoods, like pork, chicken, shrimp and squid, it also goes well with tofu, pan-fried or deep fried. Either one, simply stir in an appropriate amount of peppercorn salt, chili powder and sugar, and ready with you will be a dish of Peppercorn Salt Tofu 椒鹽豆腐. For deep-frying, coat tofu with batter or flour before frying.
Although the numbing taste of peppercorn salt can always be complemented by other spicy and sweet seasonings, I seldom add them ahead, allowing it to adapt to different dishes.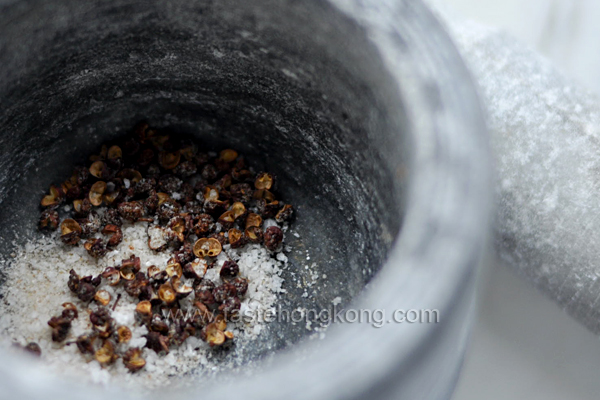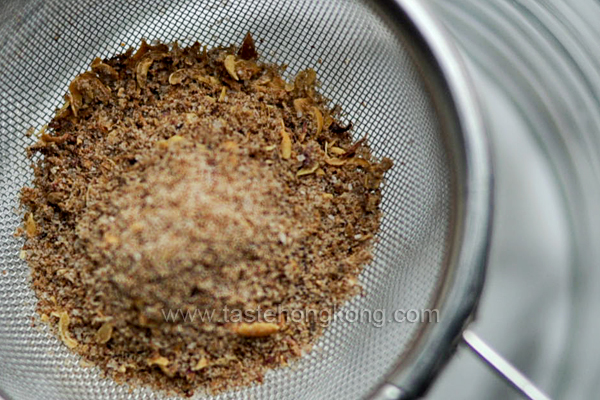 Ingredients
1 1/2 tsp Sichuan peppercorns
1 tsp sea salt
Or, peppercorns : salt = 1.5 : 1
Method
Shake peppercorns in a sieve to let go dusts. Then, lay them flat and screen out twigs, thorns or blacken seeds, if any.
In a wok or skillet, sauté peppercorns and salt over low heat by turning them constantly until fragrant, about 3 to 5 minutes. The salt shall look slightly brownish by then. Let cool.
With a pestle and mortar or an electric grinder, grind them into a powder.
Sift through a fine sieve; discard hulls.
Note
Though peppercorn salt can be stored in an air-tight container, its aroma will fade overtime, so make only a moderate amount each time.
Just a Recent Dish with Peppercorn Salt
They were re-hydrated dried silver fishes, which were dusted with corn starch and fried. I added my peppercorn salt plus some chili powder toward the end of cooking.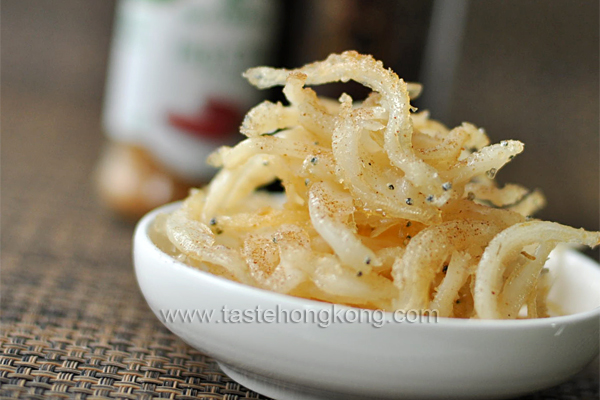 Enjoy!
To get immediate updates and new recipes from my blog, you may also SUBSCRIBE them via RSS feeds. See you there.