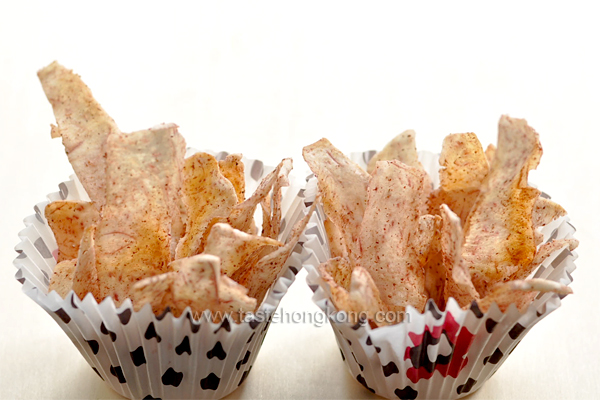 Helping me to slice a chunk of taro into these papery thin slides is an old friend of mine. It is not a food processor nor is it a mandolin slicer. It is my hand-held peeler, silently responding to my repeated requests for close to ten years, I believe.

The taro slices came out from the peeler on average were barely one mini-meter thick despite that some are thinner or thicker. When baked (or roasted) in my counter-top oven, they turned golden, crisp and aromatic in less than ten minutes.
To cope with the irregularities I created, I grouped the taro slices of similar sizes and thickness in one tray for roasting (this would help avoid scorching the thinnest or under-cooking the thickest).
With the five-spice powder, these taro chips demonstrate the character of an Asian snack. Yet having had the many merits of roasted foods – crunch and flavorful, they are as addictive as snacking on potato chips. But eating too much roasted chips would make our bodies feel heaty (sympton like sore throat). Good news is, we do not need to finish all of these immediately after cooked. In an air-tight container, they can be kept in good shape for up to a week.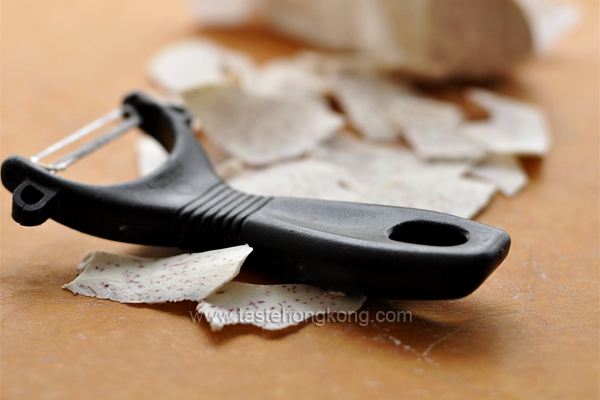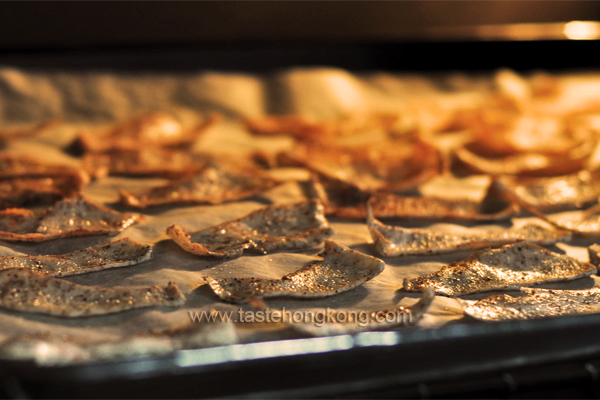 Ingredients
quarter of a big taro, ~ 250g
3/4 tsp salt
1 tsp Chinese five-spice powder
1 tbsp cooking oil
Method
Peel the hard brown skin off from taro (knife is better than peeler for this). Wash clean and pat dry.
With a peeler, make slices as if you were peeling off very thin skins, no more than 1 mm thick and resembling the size of a potato chip if possible.
Season taro slices with salt and five-spice powder. Then coat them with oil. Rest for about 10 minutes.
Meanwhile, preheat oven with broil (roast) function to 100 degree C.
Line baking tray with a parchment paper and spread oiled taro slices on it in one layer until full. Repeat the same for the remaining taro slices.
Roast until upward facing sides turn slightly brown (the edges will curl up as well), about 3 to 5 minutes. Flip the chips over and continue to broil the other side for another 3 minutes or till done. If any taro slices brown first, just remove them while continue roasting others.
Sprinkle more salt to taste. Cool the chips on rack before eating. Enjoy!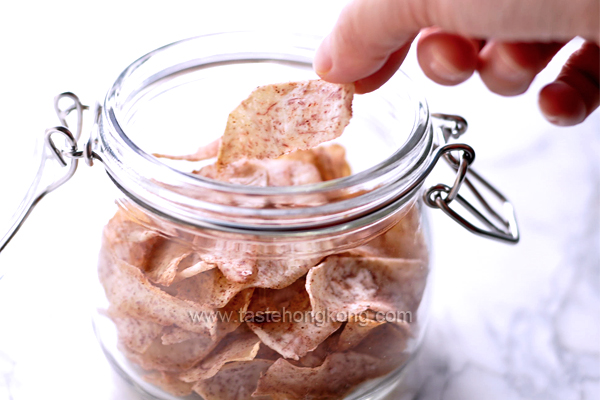 Note:
If you are buying one whole taro, it is best to divide it into four sections lengthwise, making each more manageable for slicing by the peeler.
Uncooked taro can cause itchy skin, so wear hand gloves when peeling.
For the remaining knobbly or remaining chunk of taro, you may simply cook it in another dish.
To get immediate updates and new recipes from my blog, you may also SUBSCRIBE them via RSS feeds. See you there.