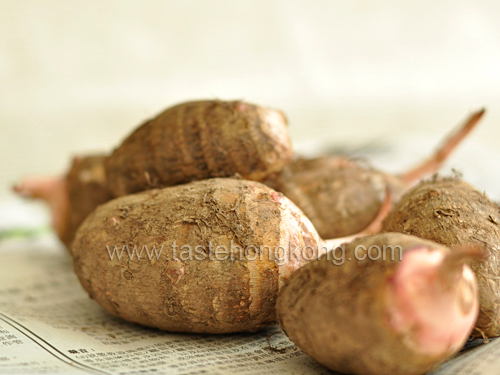 I want to make some noise here for the baby taro, a food supposedly to be included for celebrating the Mid Autumn Festival aka Full Moon Festival or Lantern Festival.

Compare with other foods for the Festival like moon cakes, pears, pomelos, grapes and pomegranates, these baby taros perhaps are the least expensive, costing only six to seven dollars per 500g. But unlike their counterparts, they are almost invisible in the supermarkets here.
No doubt, I don't grow these taros at home. These little guys are imported from the mainland and can be found in the traditional markets as the Festival is approaching and until winter.
According to the Chinese lunar calendar, Full Moon Festival occurs on the 15th day of the eighth moon every year when the moon is presumably the brightest and roundest. This year, we shall soon enjoy viewing the full moon on this Wednesday, September 22, 2010. To us Chinese, the day also symbolizes family reunion, similar to thanksgiving.
Why eating baby taro?
A saying suggested that it was the first food discovered at night in the moonlight. But I have a feeling that it is somehow related to the growing habit of taros. When these babies grow, they always love to attach to the larger main tuber of the taro plant. And this seems to echo the Chinese tradition that favors extended families living under one roof. Mind you, I just make up this reasoning.
Anyway, let's celebrate, get reunion! And happy Mid Autumn Festival every one!
I am showing here a traditional way of preparing baby taros, possibly the simplest version.
Ingredients
8 baby taros
~ 2 cups of water
1 tsp Chinese five spice powder
1 tsp salt
sugar to taste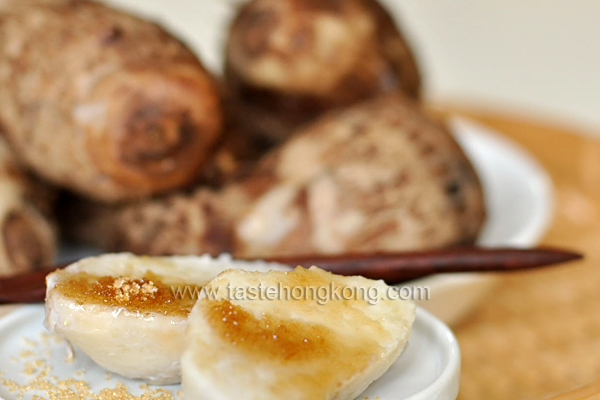 Method
Rinse taros; cut off sprouts, if any. While rinsing, also brush off muds from their hairy skins. We have to be gentle here because they are still babies and their skins are too thin for heavy brushing.
Bring the water to a boil, add Chinese five spice powder, salt and taros. Cover.
Turn to low-medium heat, simmer for 10 minutes. Remove from heat but don't open lid until water cooled down. Doing such will help soften the taro without boiling for too long, and allow the seasonings to permeate the softened skin.
Peel off skin, serve with dash of sugar.
Enjoy them as snack or dessert!
Note:
The cooked taros can be prepared ahead and stored in fridge for up to a week. I like to serve them warm by reheating them in a toaster oven under lowest heat for 7 to 8 minutes.
To get immediate updates and new recipes from my blog, you may also SUBSCRIBE them via RSS feeds. See you there.