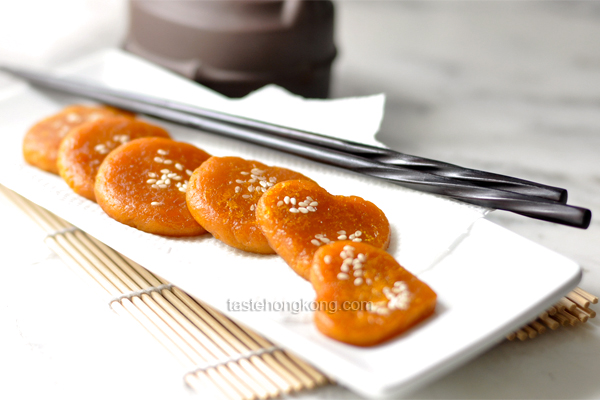 This pancake has been known for its soft and delicate texture, therefore is also given the name Pumpkin Soft Cake 南瓜軟餅.
For making about ten mini pancakes of this, I used roughly a quarter of a halved pumpkin. If the supermarket had not labeled its origin, I would not have thought that the squash was from Korea, because it looked exactly the same as a Japanese pumpkin, aka kabocha, which usually comes with a dark green, hard skin and a round flat shape. And, which I believe is also a member of buttercup squash family.

I picked a halved pumpkin of which the flesh was deep orange (some were a bit yellowish there) and the skin was brownish green in color, the clues suggesting that the pumpkin would be mature and sweet enough.
It cost me an amount about half of the Japan origin.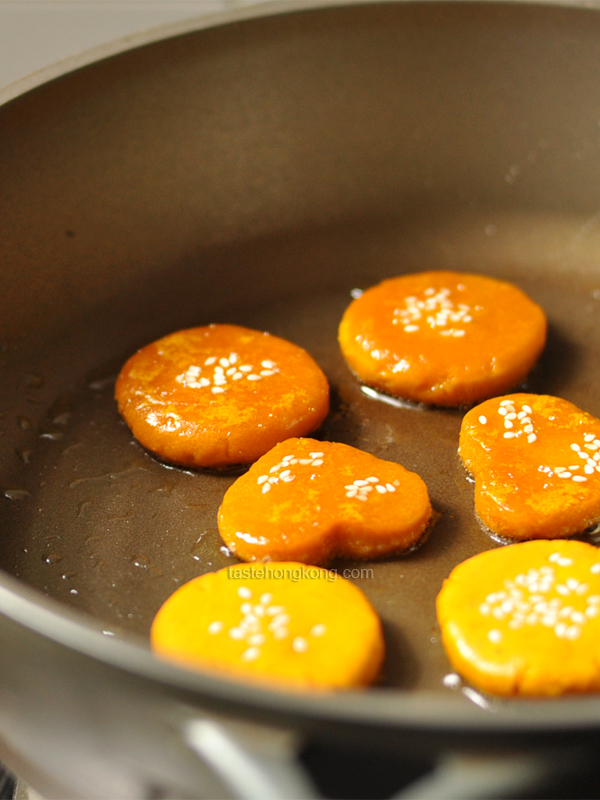 You may of course choose other types of pumpkin for this recipe, but I would recommend picking ones that offer the best sweetness. My bias is to prepare the pancake dough with least sugar and flour, allowing the flavors of pumpkin to dominant.
The pumpkin-rich dough however might be trickier to handle because it will turn pretty sticky once being fried. But you may easily get around it by employing a non-stick frying pan and cooking the pancakes on low heat. I know some seasoned cooks could fry them with stainless steel or cast iron pans, the trick is to coat the pancakes with beaten egg first or otherwise deep-fry them.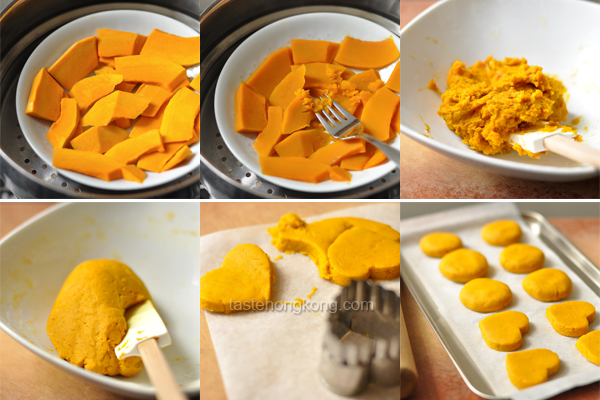 Fried, the pancakes shall be slightly crisp on the surface and delicately sticky inside, resembling a piece of fried Chinese Lin Go 年糕 (Cantonese) or Nian Go (Mandarin), but are made easier.
Probably this is the simplest version of the Chinese pumpkin pancake. Another popular way to make this is to wrap in it a filling made from sweetened red bean paste. For that version, you may need to use more sticky flour (see tips at the end).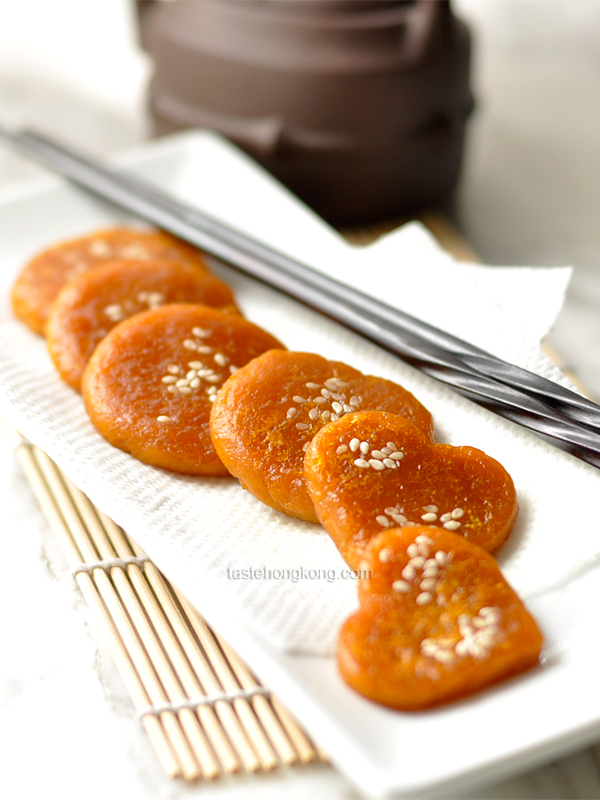 Ingredients
40g glutinous (aka sticky or sweet) rice flour
120g seeded and skinned pumpkin
20g light brown sugar
small pinch of salt
cooking oil for pan-frying
1-2 tsp white sesame seeds
Method
Cut pumpkin into roughly 1/2cm thick slices and steam them over medium heat for 10-12 minutes or until tender. Discard water, if there is any.
In a large bowl, mash the steamed pumpkin (I used a fork). Then add in sugar, salt and half of the glutinous rice flour, mixing well. You would want to do this step quickly and while the pumpkin is still hot, in order to help dissolve the sugar more evenly. Besides, adding warm mixture to the sticky rice flour shall make the dough a bit more elastic (but also stickier).
Add in remaining sticky rice flour. Knead the dough (I prefer to using spatula than hand as the dough is still somewhat sticky) until the sides of bowl are fairly clean.
Grease your hands, divide the dough into 10 portions, and shape each between your palms to form a ball and then a disc.
Alternatively, you may place the kneaded dough between two parchment papers and roll into about 1/2cm thick and cut with you cookie cutter (also grease it first).
Sprinkle (or generously coat) each with sesame seeds, pressing lightly to coat. If the discs are not thin enough, flatten them to about 1/2 cm thick.
Lightly coat a non-stick frying pan over LOW heat, lift disc-shaped dough one by one and land it gently onto the pan.
Fry each side for about 2 to 3 minutes or until done (you may half it and check if the cross section has a uniform color all through).
Serve warm.
Tips
* Water content of pumpkins vary, I would therefore suggest adding the remaining half of flour little by little until a dough is form.
* To make a dough for wrapping a filling, you will need 1 part of sticky flour to 2 parts of pumpkin puree (the ratio in this recipe is 1:3). This shall make the dough more pliable for wrapping.
Enjoy!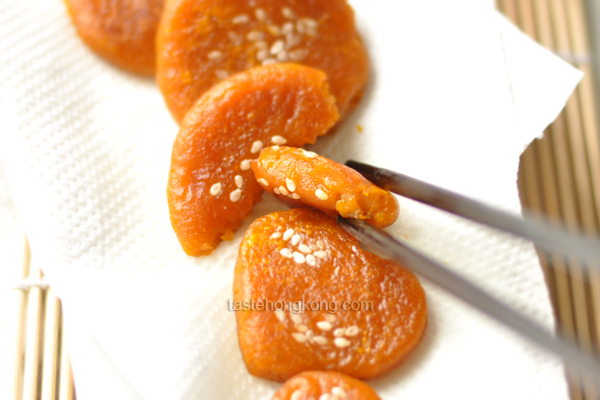 To get immediate updates and new recipes from my blog, you may also SUBSCRIBE them via RSS feeds. See you there.