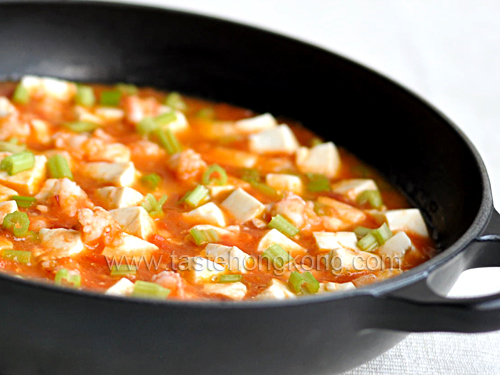 The type of tomato I bought for making this dish are probably one of the best tomatoes I have ever had, almost seedless, flesh is dense and meaty. Sadly, except in some supermarkets, it is not our habit here to have different kinds of vegetables labeled. I tried to find out the name of them, but the stall keeper answered in a short, abrupt tone, 'Meaty Tomatoes', as if that was the most specific answer.
Whether or not the answer is elaborate enough, she is correct; so meaty are these tomatoes that two of them are enough for cooking into a pretty thick sauce for stewing.
I choose stewing than stir-frying because it is not easy to keep the tofu, silken type in particular, in good shapes if it is to be assembled with other ingredients by constant stirs. But, as the tomatoes are cooked into a sauce, I can have the tofu bathed in it gently.
I do like to add herbs to flavor tomatoes. My mind however changes as I also like variations. Here, I use Chinese celery as the replacement for added crunchiness. Like celery, Chinese celery is also a kind of vegetable, but comes with a stronger pungent flavor.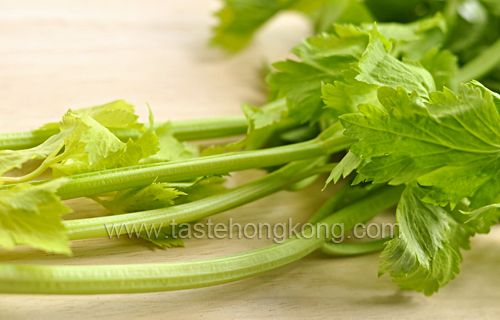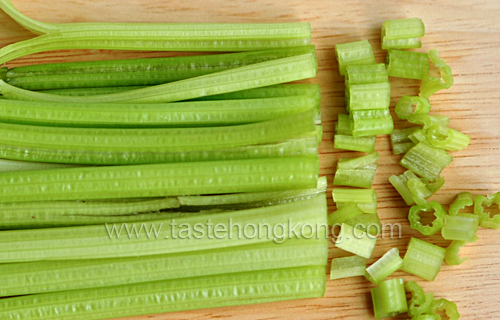 Ingredients
2 each tomato, ~320g
1 bunch Chinese celery, discard leaves and dice the stalks
1-2 pcs silken tofu, ~300g (if you have any leftover tofu, here is a good use of it.)
8 pcs shrimp, diced
2 cloves of garlic, finely chopped
1 tsp oil
1/2 cup water
Certainly, rinsing is required before cutting vegetables
Seasonings
1/3 tsp salt, or to taste
1/4 tsp ground white pepper
Marinades for shrimps
pinch of salt
pinch of ground white pepper
I use leftover shrimps from my fridge, for every 50g of shelled shrimps, it is prepared like this. I would add a bit more if there were some more left.
Seasonings for tofu
2 cups water
2 tsp salt
Corn starch mixture
1 tsp corn starch
2 tsp water



Method
Dissolve salt in water for seasoning tofu. Soak tofu in the salted water for about half an hour. Right before cooking, drain off water, pat dry tofu and cut it into about 1cm cubes. I season the tofu in advance because it will be simmered very briefly in the sauce.
Make a cross cut on the skin of the bottom side of each tomato. In a saucepan, bring water (sufficient for covering the tomatoes) to a boil, blanch tomatoes for a minute or so. Heat off, spoon out tomatoes; let cool a while and you shall find it easy to peel off their skins along the cross, which actually cracks. Cut them into chunks and seed them if any.
Heat one tea spoon of oil in a pan over medium heat. Sauté garlic until fragrant, then toss in tomatoes and stir fry, 1-2 minutes. Pour in half cup of water, turn heat to medium-low and let simmer for 10 minutes or when the mixture is reduced to about two-third of its original amount and most tomato chunks are broken down. Mash any bigger pieces of tomato flesh with a spoon, if there is any.
Stir in shrimps, Chinese celery (I keep one table spoon for garnishing), and seasonings. Lastly, gently put in tofu. When the sauce boils again, stir well the corn starch mixture, add it in bit by bit to thicken the sauce according to your liking. Move the tofu cubes to one side if you don't want to mash them while thickening the sauce. Dish up, garnish with Chinese celery. I serve this hot with rice. Enjoy yours.
To get immediate updates and new recipes from my blog, you may also SUBSCRIBE them via RSS feeds. See you there.