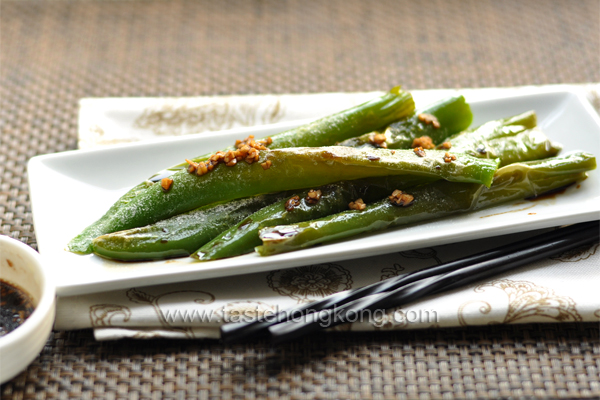 The interesting part of this simple recipe, as I was told, is that the peppers are dusted with sugar right before serving. Prior to that, just pan-fry the peppers until their skins are blistered and coat them with a sour sauce.

The result is a savory dish resembling a dessert topped with icing sugar.
There is no special ingredients in this recipe – strictly speaking, all we need are some long thin chilies (aside from oil and sauce), according to the lady who sold me these peppers and verbally detailed the recipe.
I added garlic. I done so, probably having been inspired by the popular Chinese Sichuan dish – Peppers with Tiger Skin (虎皮尖椒) which are usually cooked with more oil and spices. Unless you hate garlic, I strongly suggest that you chop up some and let them steep in the sauce before applying to the dish.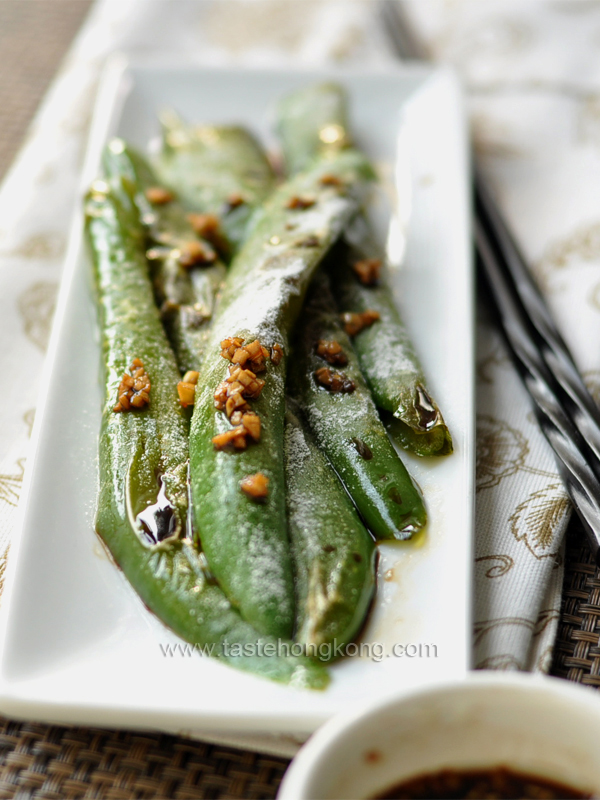 The chili pepper I used is called 尖椒 here, literally 'pointed pepper', which comes with a rather thin, cone-shaped pod. I guess it is in the same family of Anaheim Chili.
When you only want to do a quick meal, this should be hearty enough for a simple side plus a main like this, this and this.
I have to agree, this is an interesting starter too.
Ingredients
~150g long green chili peppers 尖椒
2 cloves garlic, finely chopped
1-2 tbsp cooking oil
yields 1 serving
Sauce
2 tbsp black vinegar or balsamic
1 tsp soy sauce
pinch of salt to taste
~1 tsp icing sugar, I used ground rock sugar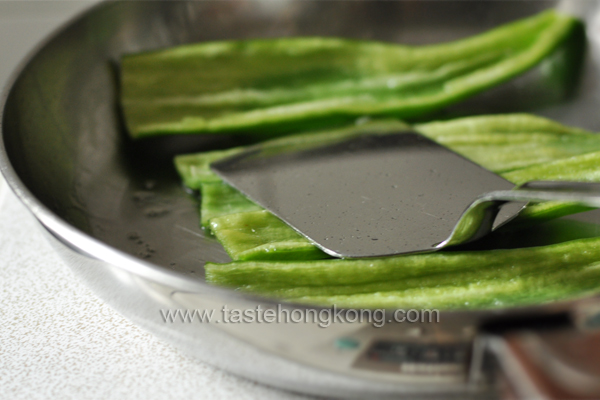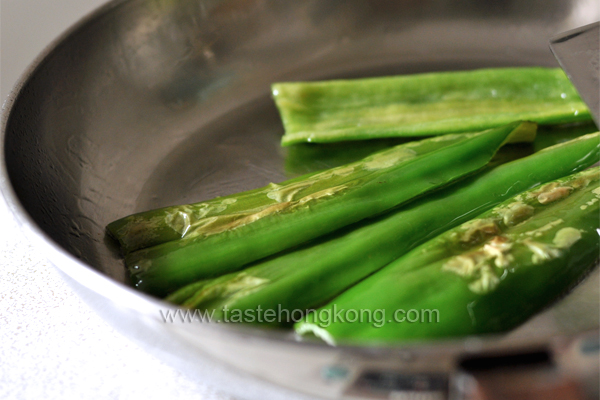 Method
Mix well all ingredients for sauce, and add in chopped garlic. Steep for no less than 15 minutes. Check taste and set aside.
Rinse chili peppers; pat dry. Trim off stems and cut peppers lengthwise into halves. Remove seeds and veins (they may be hot, so wear gloves as required).
Over medium flame, heat pan with oil, swirling it around to distribute evenly. Place peppers, skin facing down, onto the pan, preferably with least overlapping (so you may need a larger frying pan).
Press peppers with a turner onto the pan to flatten them a bit, frying until their skins are blistered over half their surface and nicely brown, about 3-4 minutes. Lower heat if required.
Flip to the other side (adding some more oil if required), and fry for another minute or two, or until the peppers are cooked through.
Dish up, pour sauce all over the peppers. Serve hot with icing sugar dusted all over their surface.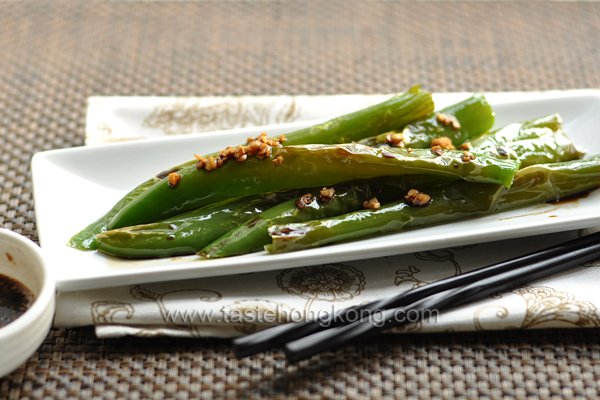 Enjoy!
To get immediate updates and new recipes from my blog, you may also SUBSCRIBE them via RSS feeds. See you there.