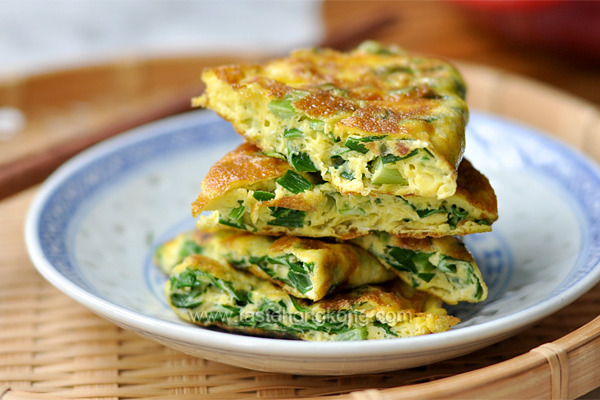 Cooked like omelets, these fried eggs however are not served in our breakfasts. Instead, they have been one of the simple main dishes that my family usually enjoy with rice.

The chives need no sautéing before adding to the beaten egg. Simply wash, chop , dump them into the beaten egg and mix in two seasonings – fish sauce and a few droplets of wine. While being fried, the chopped chives will release an aroma to the eggs, making the omelet pungent enough to taste.
It is up to us whether to cook this with a pan or a wok. Using a pan, these omelets are easily fried to equally thickness. In a concave wok, where egg mixture recesses well in the center, sometimes I'd make them into dumpling-like shape, but smaller in size than these.
Serve this dish with or without a dipping sauce is a personal choice. I enjoyed it with some chili sauce to spice up my appetite (you may want to add some more fish sauce to taste if you are not serving this with a salty, hot sauce).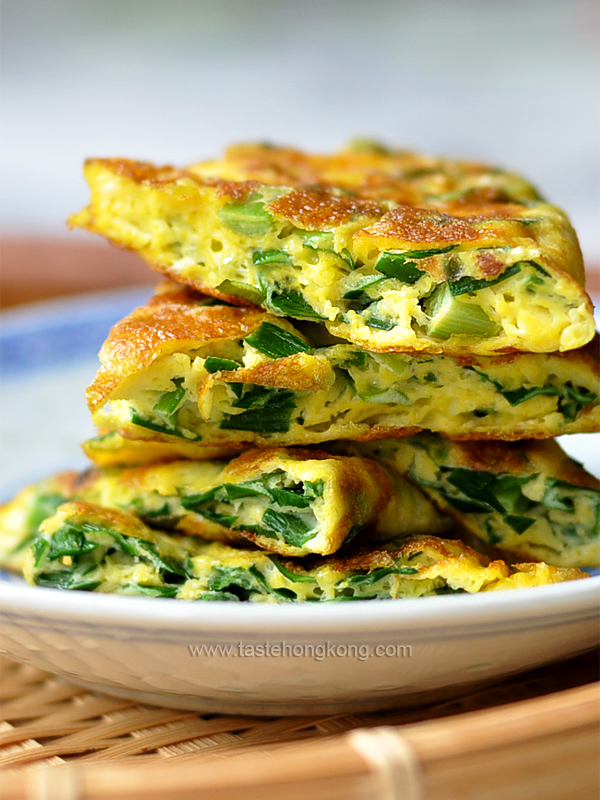 Adding starch to the mixture is optional too, I like having it there to help the omelet set better.
By the way, it is said that insects don't like the smell of Chinese chives, so supposedly no pesticide is applied to them. Have you ever heard of the same?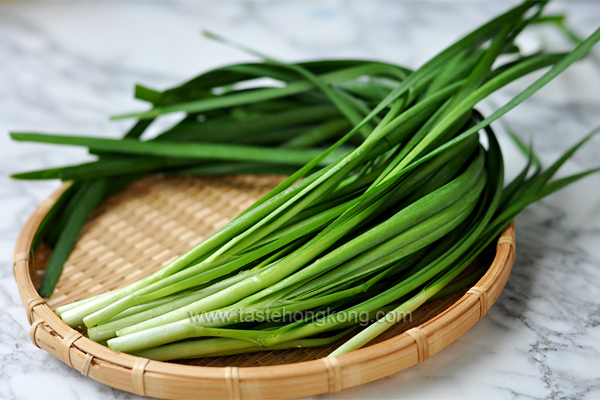 Ingredients
4 eggs
~100g Chinese chives
1 tsp fish sauce, or to taste
few droplets of cooking wine
corn starch solution (2 tsp starch + 2 tsp water), thoroughly mixed
4 tsp cooking oil
~1 tbsp chili sauce, optional
yield 4 omelets, ~14cm each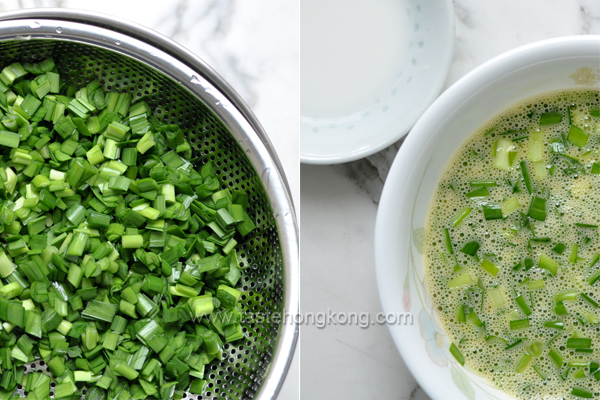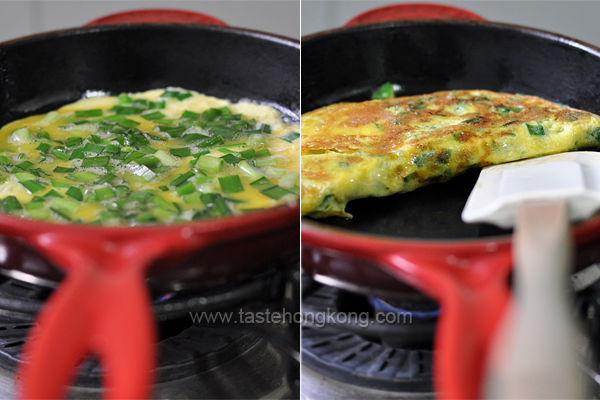 Method
Wash Chinese chives, drain away excess water. Gather and align them lengthwise on chopping board and coarsely slice them crosswise, about half cm in length.
Beat eggs (I use a pair of chopsticks), fish sauce and wine in a bowl until they are frothy. Stir in Chinese chive and corn starch solution.
Heat about one tea spoon of oil in pan (mine is a 16 cm pan cast iron pan) over medium heat. When the oil is hot, add one fourth of the egg mixture – give it a good stir before spooning out to avoid the starch depositing to the bottom. Swirl the pan to distribute the egg mixture evenly over the surface. Regular heat to low. Wait until the omelet is puffed and 80-90% of it is set on the surface. Using a spatula, fold the omelet in half. Continue to fry it until inside is done and both sides are browned, about half to one minute; flip the omelet once or twice to brown evenly. Dish up.
Repeat with the remaining egg mixture.
Cut omelets into wedges, serve warm (you may keep the fried omelets warm in an oven heated to about 100 degree C), with chili sauce to taste.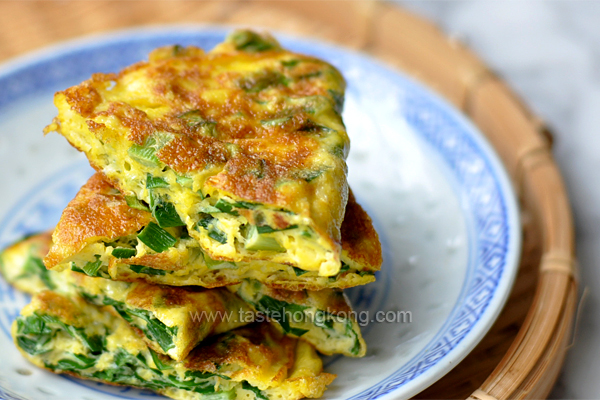 Enjoy!
To get immediate updates and new recipes from my blog, you may also SUBSCRIBE them via RSS feeds. See you there.